News
September 3, 2020
Donor Spotlight: Amanda and Jorge Mejia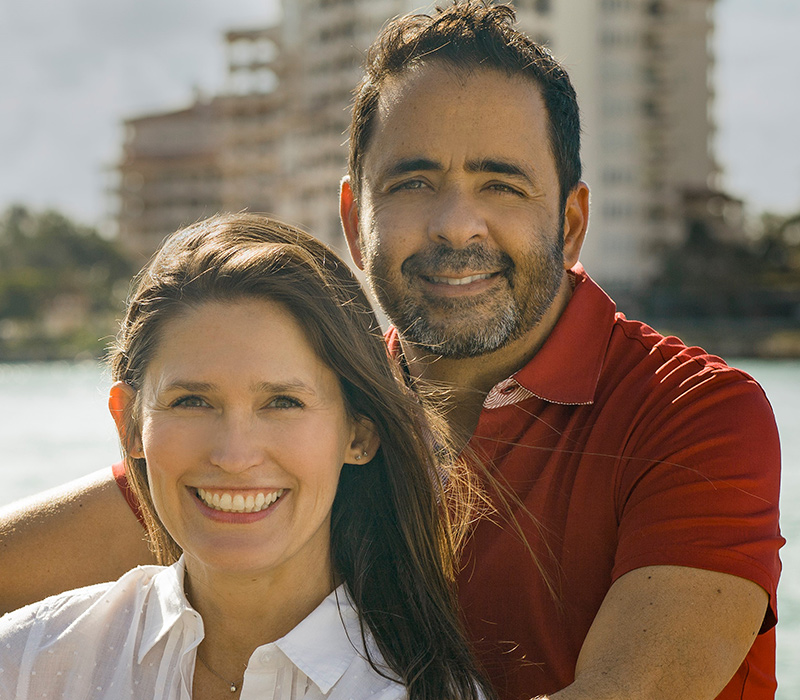 Amanda and Jorge Mejia, photo by Laura Coppelman

For nearly 10 years, people have come to the New World Center to be inspired, moved and to connect with culture and community. For Amanda and Jorge Mejia, it is where their love of music, Miami and each other has blossomed.  
NWS even helped Jorge, a decades-long Miamian, woo Amanda to leave New York for South Florida. "NWS is what changed my mind about Miami," said Amanda. "I found like-minded people who were interested in the same things I was; NWS was the first place for me to feel like Miami could be my home."
Together Jorge and Amanda are helping shape and support Miami's cultural landscape—a forward-thinking view that took root in the New World Center's own Rooftop Garden, where Jorge proposed to Amanda by naming a bench during the building's construction. "Amanda thought I was buying a plaque for me and my dog, Milo, but I surprised her with our names together," said Jorge. "I had to make a fake plaque for the engagement, though, since the real one wasn't yet ready."



Newly engaged in the New World Center's Rooftop Garden with fake bench plaque

For Jorge—a composer, pianist and Steinway Artist, author, Latin Grammy Award nominee, and President and CEO of Sony/ATV Music Publishing Latin America and U.S. Latin—NWS has always been a part of his periphery while growing up in Miami, surrounded by music. Now, he and Amanda—a women's rights advocate and Chief Financial Officer and Senior Director at the AHA Foundation—especially enjoy NWS's new music concerts and supporting new artists.
As NWS donors, they are also supporting the causes that are near and dear to their hearts. "We see NWS as the embodiment of what Miami is and can be, and by extension what we would like other places to be," said Jorge. "For us, it is important to contribute in two specific areas—environment and education. Music education is one of the key areas of education – period. Musicians are taught from an early age to listen to each other, to work together, to lead, to solve problems – music is a necessity for a better world." Amanda agrees: "We've seen that in stark relief during the pandemic, all of us have turned to the arts for comfort, joy and peace during this time of upheaval. I'm always struck by how much NWS emphasizes accessibility and welcoming all—this innovative place that wants to bring people together to enjoy music. I love that we are part of something so accessible and that's expanding to other organizations."
The New World Center is at the heart of that accessibility for Jorge, who says the campus is vital for our South Florida community. Until we can all be there again for live music, Amanda and Jorge reflect on some of their favorite musical memories. "Last season's collaboration between NWS and Miami City Ballet was really special. The seating arrangement that allowed for the dancers' platform was so intimate and witnessing the high level of artistry between both groups was unforgettable," said Amanda. 
Jorge has his own upcoming collaboration with Miami City Ballet—a commission of a short piece that will soon be choreographed and recorded for a fall release. NWS Bass Fellow Antonio Escobedo joined musicians from Miami's many cultural institutions to record the work. "Miami has such a breadth of artistic potential and I hope this project reflects that," said Jorge. Like he promised Amanda a decade ago, "Miami is a young city and a great city, and you can be a seminal part in how this city is formed." Mission accomplished.
---