News
March 4, 2018
Dylan's Music: Finding a Voice at NWS
Miami's own Dylan Zediker may be classical music's biggest fan. 
At three years old, Dylan spoke only 10 words and was diagnosed as being on the Autism spectrum. He began speech and behavior therapy, but his family noticed an immediate positive response to both music and dance. His parents, Garrett Zediker and Maria Molina, began playing YouTube videos of classical music, where Dylan quickly became enamored with Johann Strauss' The Beautiful Blue Danube waltz and André Rieu.

Dylan has never looked back.
"It's fascinating to observe the role that music has played in both his life and progress," said Garrett. "It seems music is an inspiration that makes him work hard in his school work and training."  
From there Dylan fueled his new-found passion with the Berlin Philharmonic's Digital Concert Hall, where he would stream live concerts at home, and learned about one of the Philharmonic's horn players, Sarah Willis. Dylan became an immediate fan of Sarah's Music—her Deutsche Welle TV show—as well as her Horn Hangouts.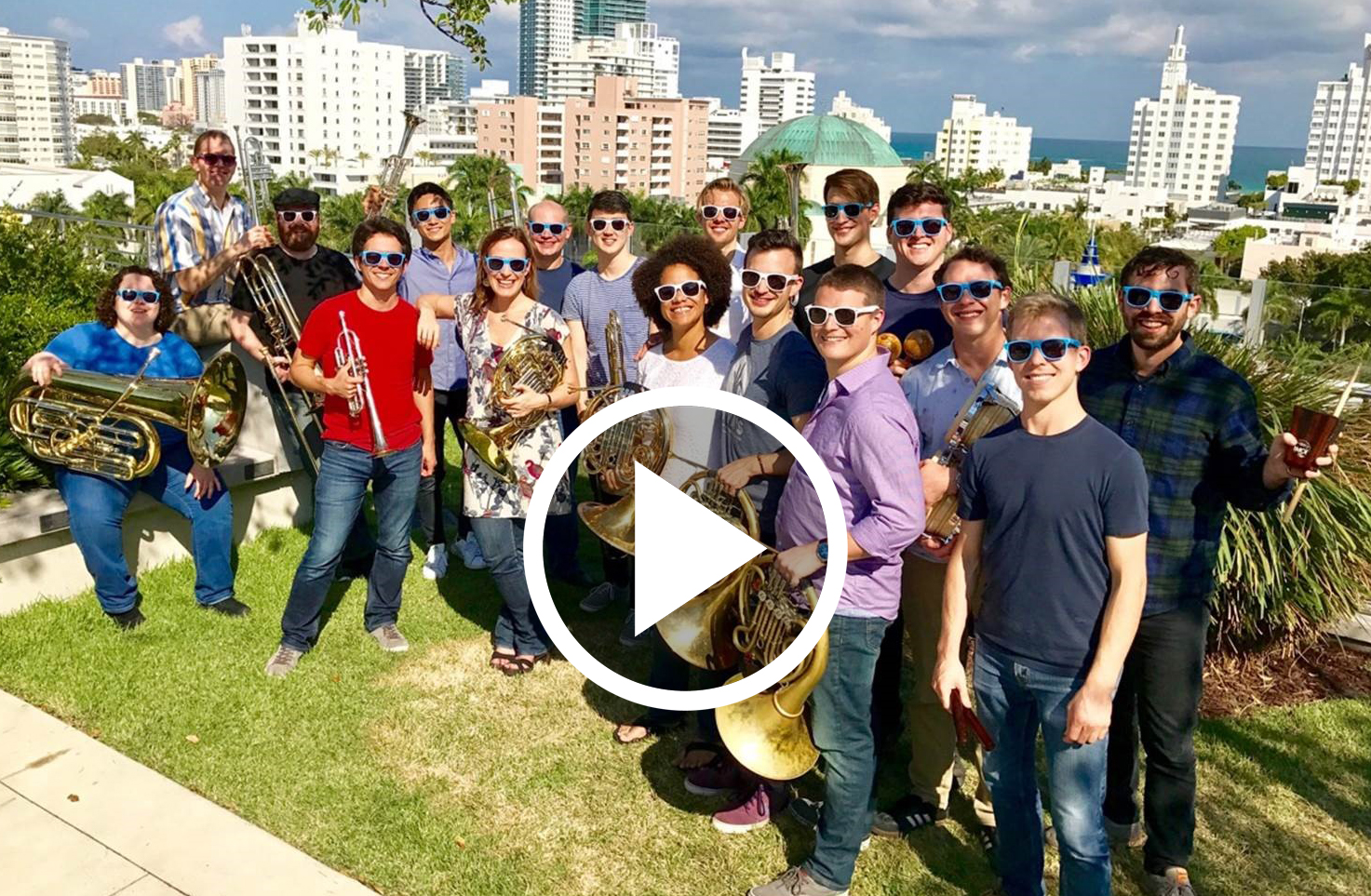 Sarah's Music: New World Symphony, February 2017
After a year and a half of watching everything he could, Dylan was determined to meet his musical hero. Sarah, a frequent Visiting Faculty member at NWS, coordinated a meeting with Dylan at the New World Center.
On February 12, Dylan, now 9, donned his suit with flowers and Valentine's candy from Dylan's Candy Bar to meet Sarah and NWS Brass Fellows for an unforgettable afternoon.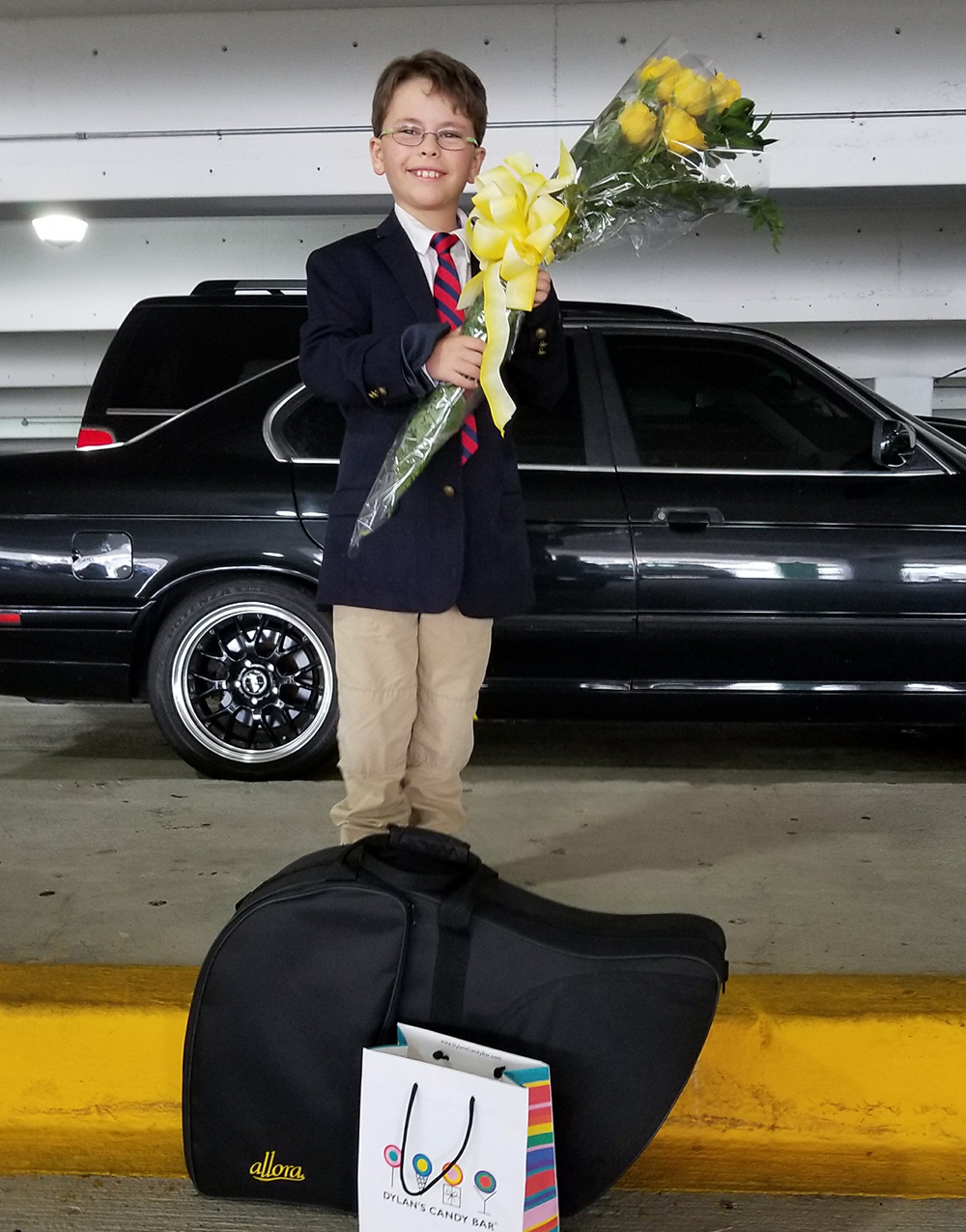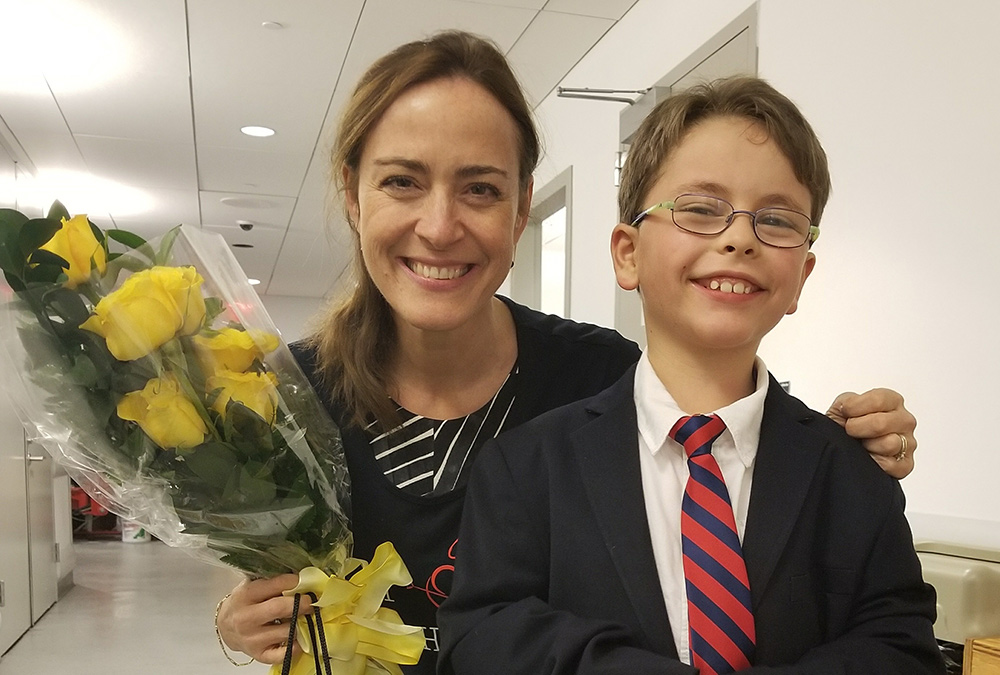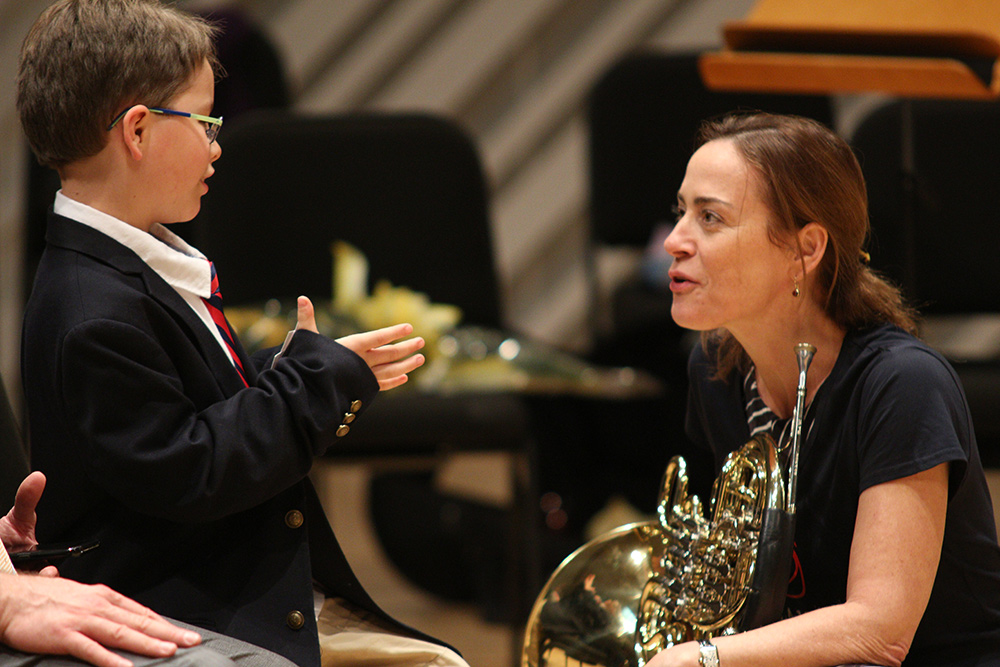 This was Dylan's first time to closely interact with Fellows by sitting on stage while they performed, learning about their instruments and even conducting their ensemble.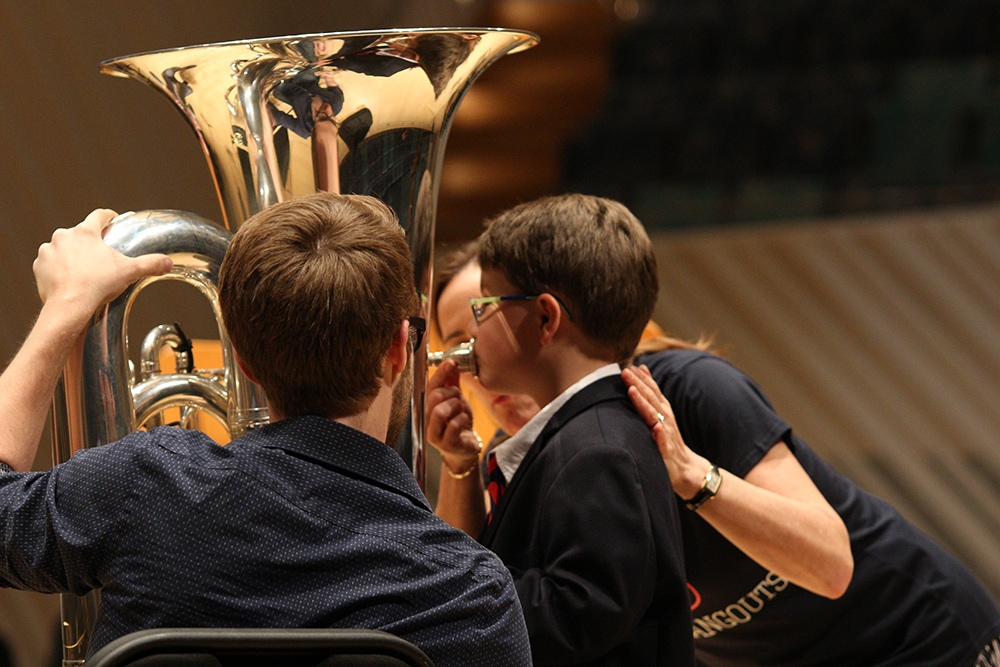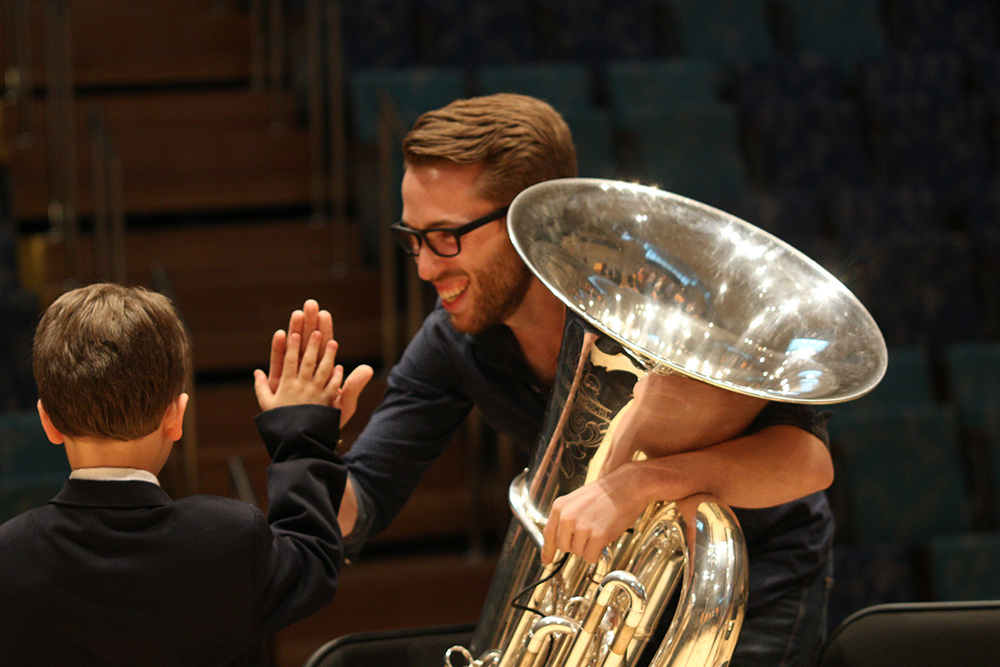 Afterward, Sarah took Dylan outside to SoundScape Park with their horns.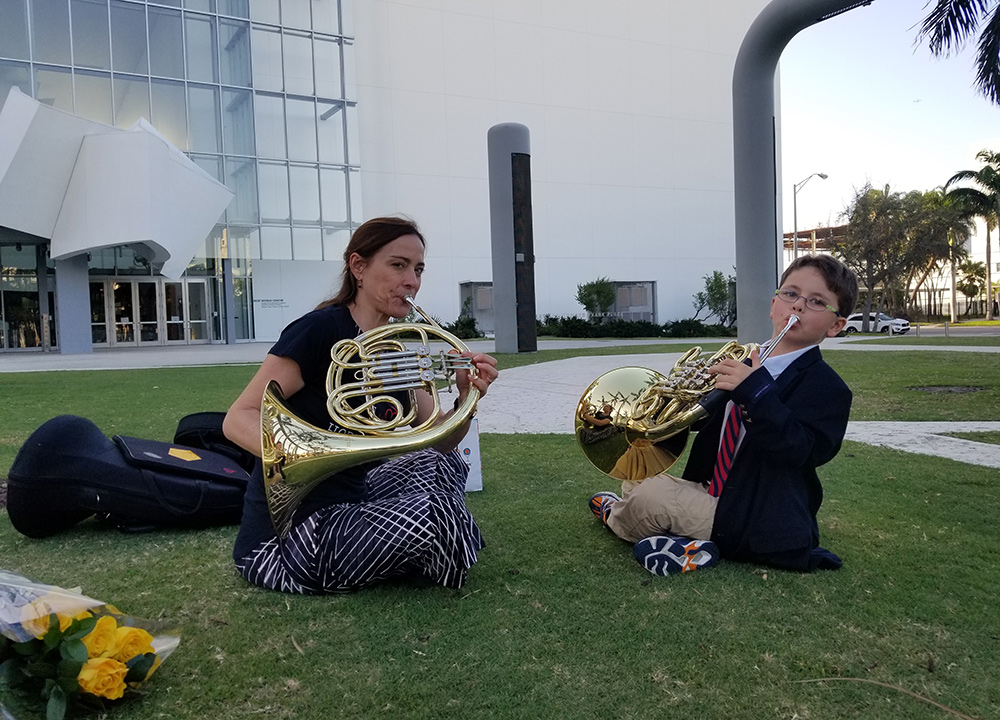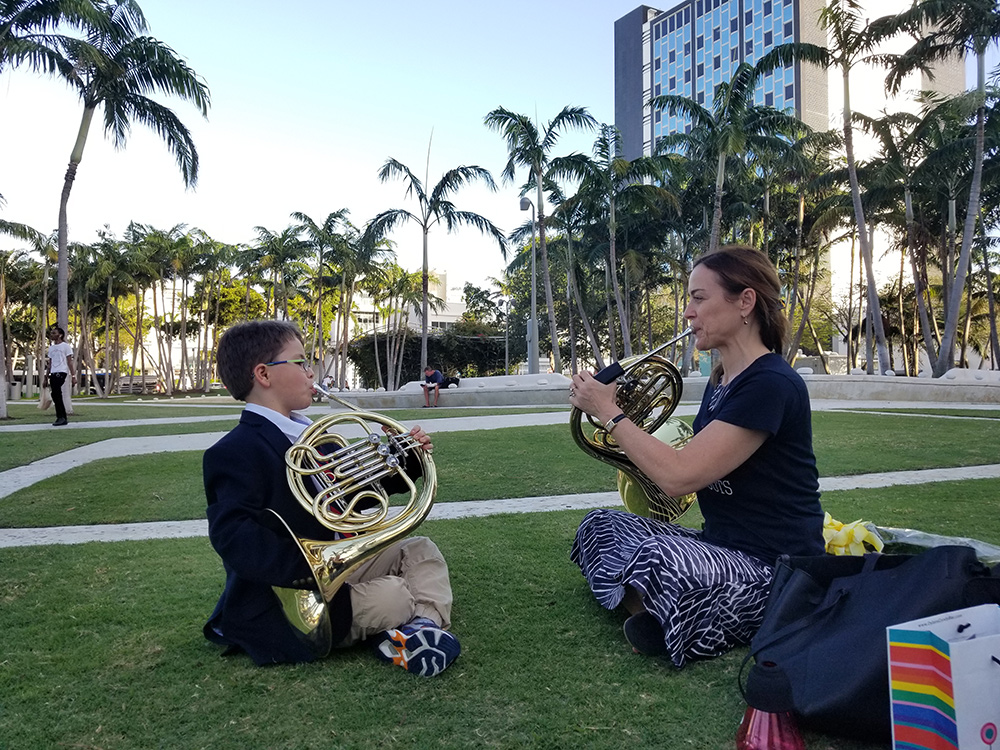 "I felt very honored and was touched to see how much meeting me and the NWS Brass Fellows meant to Dylan," said Sarah. "It was important for me to take time to go out in SoundScape Park and play horn, just the two of us together. He didn't say much, but his eyes shone and he smiled and smiled. These musical experiences live on inside a child and I think his afternoon with us was something he will never forget. I am so happy and grateful to be able to give back the gift of music in this way, and now Dylan and I are friends for life!"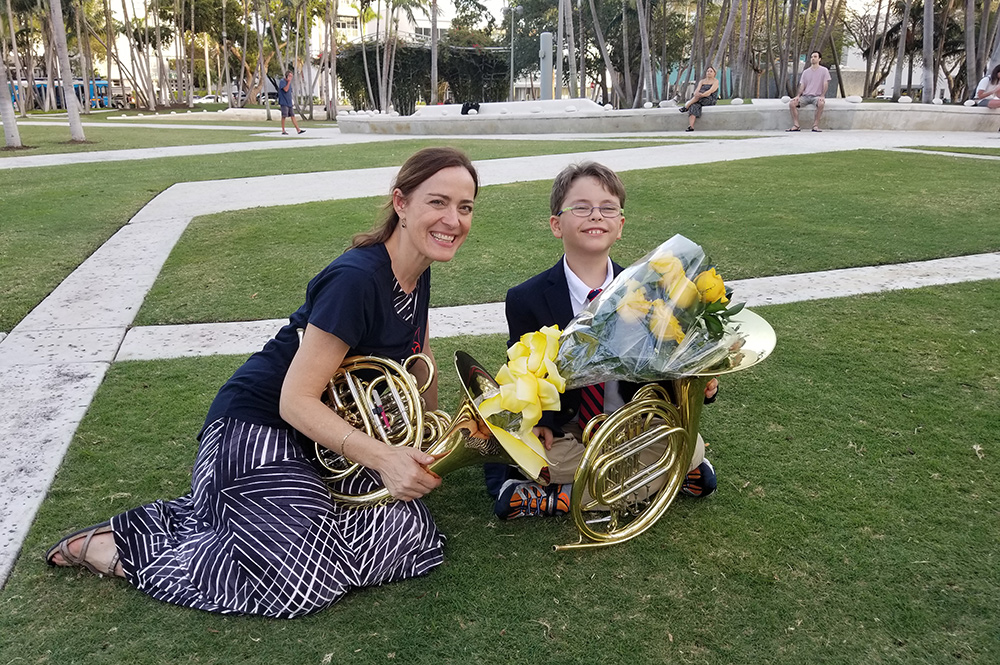 Dylan—no stranger to NWS—first started attending our Concerts for Kids in 2015, but was first overwhelmed by the stimuli inside the concert hall. "We would sit outside to listen. The NWS ushers were so caring; they allowed Dylan to explore the hall between performances," said Maria.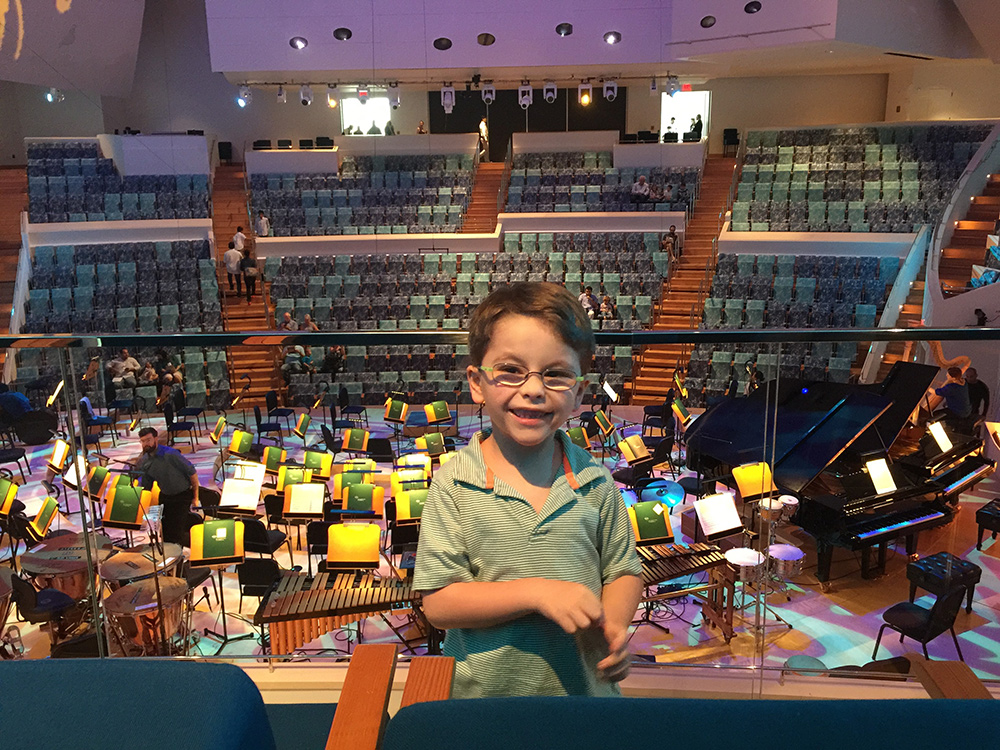 "Dylan wants to be a conductor. He calls MTT his hero and NWS Conducting Fellow Dean Whiteside his buddy. Standing on the conductor's podium was a dream come true for him."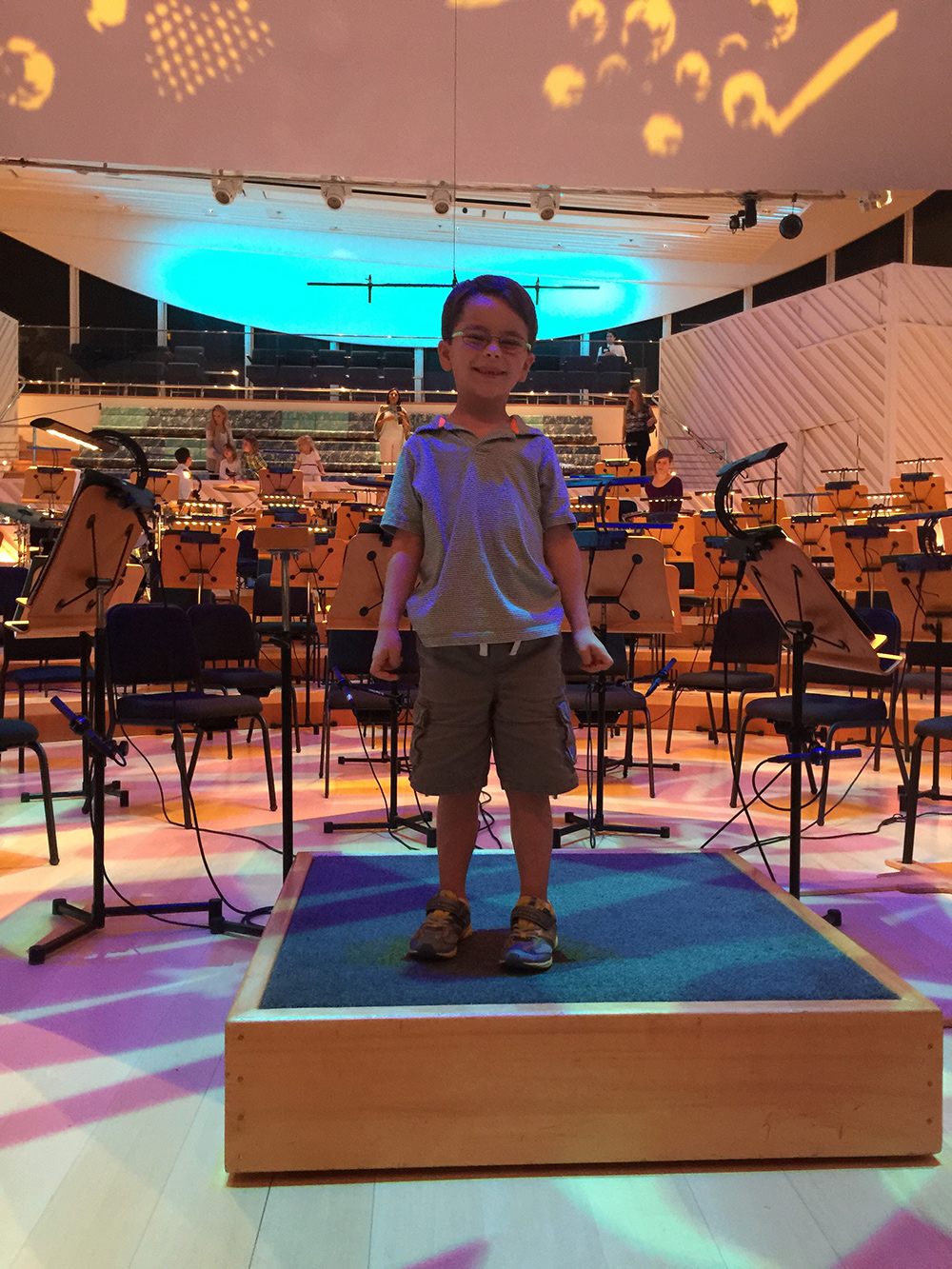 "Dylan has embraced everything about NWS," said Garrett. "He gravitates to every event and idea. If he is not actually attending, then he is reading about the events and listening to the sound clips online." Dylan also loves WALLCAST® concerts, and now enjoys them from the comfort of NWS's Sensory-Friendly Environment, which Maria calls a "game changer" for Dylan. "He wants to be in there and it's a wonderfully supportive and understanding environment."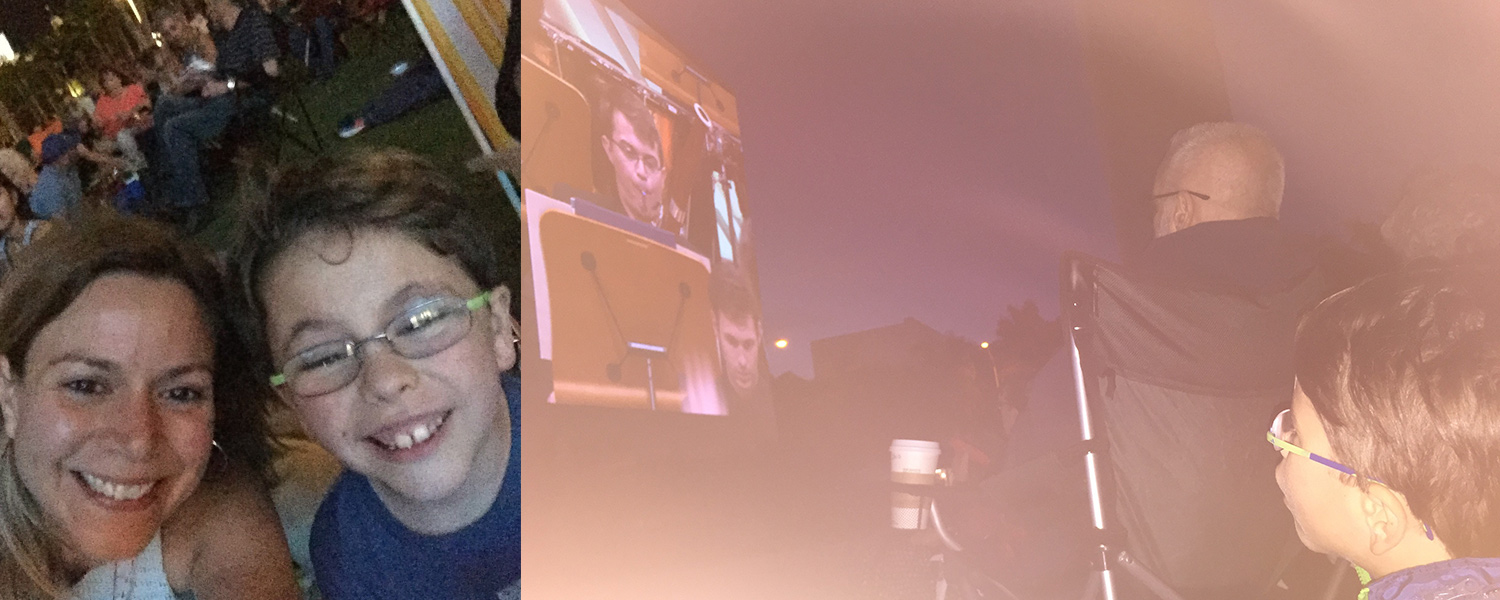 "Over the past several years we attend all sorts of concerts and WALLCAST® concerts at NWS," said Garrett. Literally every chance we get. In fact, sometimes we sit out front in SoundScape Park during the day and play music, share a picnic and talk about life. Interestingly, Sarah Willis had no way to know that NWS, including the front lawn, is one of Dylan's "happy places" where he becomes relaxed and focused. Our recent adventure at NWS was an inspiration of the sort that changes lives."
"I'm so proud of him," said Maria. "He still struggles, but music erases all of that. It makes him feel great and confident. He's worked so hard to get here; we'll do everything we can to foster this passion."
"I am certain that the New World Symphony was the threshold that opened the door to a vast world of inspiration to him," said Garrett. "NWS has inspired his mind and been a solid and consistent reason he has progressed so far. His continued focus and inspiration—fueled by NWS and the many musicians that grace our community with their talent—is a blessing to us."
Dylan's Favorites Playlist:
     Tchaikovsky:  Swan Lake
     Bernstein:  Mambo from West Side Story
     Beethoven:  Symphony No. 9
     Prokofiev:  Montagues and Capulets from Romeo and Juliet
     Michael Jackson:  Smooth Criminal performed by David Garrett
     Debussy:  Clair de Lune
Learn more about the New World Symphony's Sensory-Friendly Environments.
Dylan and mom Maria enjoy the Sensory-Friendly Environment in October 2017. 

Select photos courtesy of Garrett Zediker and Maria Molina.
---