News
April 16, 2021
Exploring World Flutes with Jack Reddick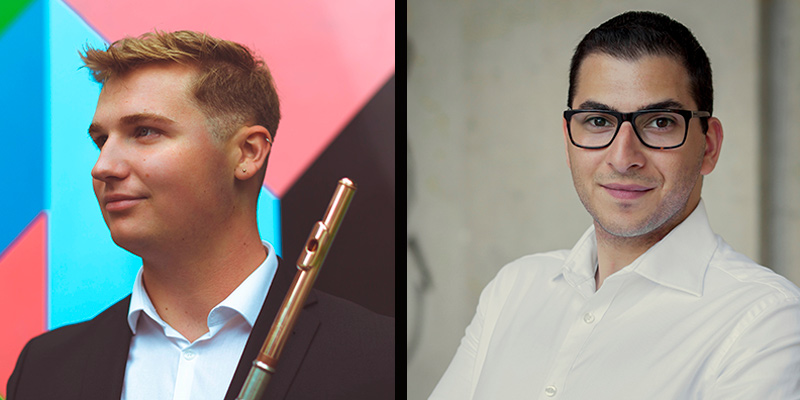 Jack Reddick and Joe Monticello
On Monday, April 19, 2021, Flute Fellow Jack Reddick will present a virtual recital called Exploring World Flutes. The program consists of three world premieres of his commissions as part of his NWS BLUE project. The new works by composers Toby Hession, Joshua Hickin and Eliza Marshall feature instruments such as flute, bass flute, bansuri, shakuhachi, sao truc, Xiao, dizi and more. 
Leading up to his recital, Jack sat down with NWS Archivist (and fellow flute player) Joe Monticello to discuss his background, musical passions and explain what led him to pursue this exciting NWS BLUE project.
Exploring World Flutes is a free event which airs on Monday, April 19, 2021 at 7:00 PM ET via Facebook, YouTube and the NWS webpage. Additional information may be found here.
This interview has been edited for length and clarity.
 ----------------
Tell us a little bit about yourself and your musical background.
My name is Jack Reddick, I'm 23 and from Surrey, just south of London.
I was 11 years old when I began playing the flute. Prior to that, I was a chorister, and the transition from vocalist to flutist seemed like a very natural choice. Those next few years saw me moving around schools in search of better music programs until I ended up at Chetham's School for Music in Manchester, where I studied with Laura Jellicoe and Belinda Gough. I then went on to the Royal Academy of Music in London for four years, where I studied with William Bennett, Kate Hill, Karen Jones, and piccolo with Helen Keen.
Ever since I was 14, I've been interested in other instruments. I've played clarinet, saxophone, viola, tuba, piano, and all these world flutes, which have gradually become larger parts of my life. I've always enjoyed playing orchestral', solo repertoire, musical theater shows, and film sessions—the goal is to finish off my career having done all of these things throughout my life.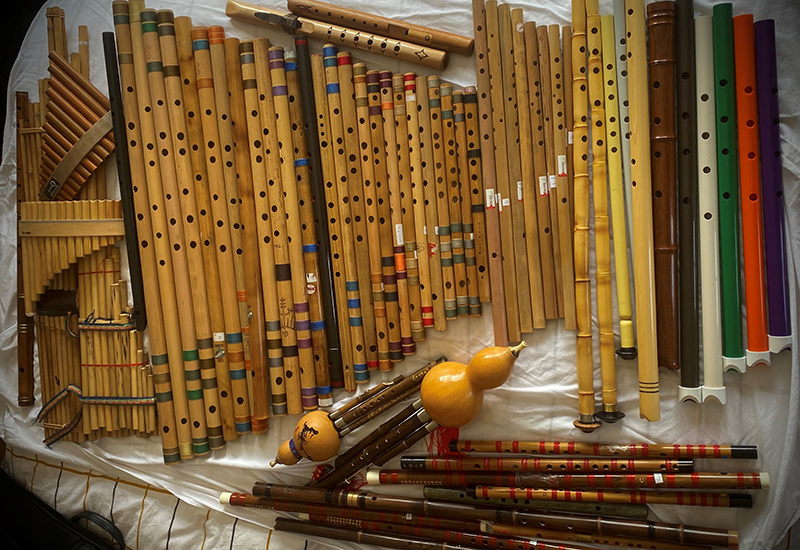 How did you first get interested in world flutes?
As soon as I moved to London to start my studies at the Royal Academy of Music (RAM), a friend of mine had just composed a musical which combined Chinese and English art. Half of the show was in Chinese and the other half was in English. He asked if I would fancy playing, and I said "Yes, absolutely!" I found a shop called 'Rayman' in Chalk Farm near Camden in London where they sell southeastern Asian instruments. I went and saw this plethora of flutes on the wall and thought "Oh, God, this is where it starts!"
I purchased a few and went home to watch YouTube videos and teach myself how to play. I started to do loads of research and listen to music from various cultures, and I realized there were flutes from around the world that I never knew existed. Here I thought my expensive silver flute was everything, but it so clearly was not. There were flutes that one could buy for a hundredth of the price, which sound equally as beautiful in their own way.
I was fortunate enough to watch several West End shows where these instruments play a large role, such as Miss Saigon and Lion King, and I realized that this was what I love. That's where it all started.
Do you remember the first world flute you played/tried/owned? 
Yes, I think it was a Chinese Dizi. I bought three, and I was wondering why it wasn't working. I quickly realized it was because I did not have the membrane on! From Dizi, I went on to Bansuri.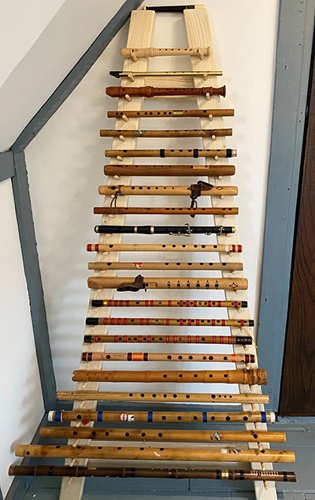 How many world flutes do you own now? 
Somewhere between 50-100? I don't actually know… probably more! Several typically live on a stand my dad built to display them.
How and why did you decide on a commission for world flute instead of western flute? 
The short answer would be because there are already so many pieces written for western flute. I just love the sound world of these non-western flutes, specifically those made from bamboo. They are just so magical and are not explored enough outside of the film industry, where they are actually used quite a lot. They are not typically heard by audiences that usually listen to western classical music, so that inspired me to bring the two together and introduce it to audiences that are used to hearing me play on Western flute.
What do you feel are some of the challenges presented to the performer and composer when bringing a new work for world instruments to life? 
I suppose the first thing is that all these world flutes come in individual keys. Other than the sáo trúc from Vietnam which is chromatic, they typically only have a 2.5 octave range comprised of a diatonic scale with a few chromaticisms in-between if you are careful with your fingers.
Describing this to a composer who is used to writing for western instruments in western style is quite difficult, as they would write a melody, and I would have to then investigate which world flute works best for that melody. Sometimes this answer would be quite obvious, but other times, I would find myself sitting there for 15 minutes trying to find out which flute in which key would work most successfully. That was quite difficult, actually!
I also stressed the importance of making sure that we were engaging in the most culturally respectful way after having each done our due research into the respective instrument and culture. It was very important to me to introduce things that I have learned over my studies of these instruments and their stylistic languages.
For example, most composers, without having done their research, might not know that the shakuhachi is pitched in a minor pentatonic scale and that the vibrato comes from your head, or that the dizi is really, really loud! In the studio, I would jump from instrument to instrument, and I would go from bansuri to the softer shakuhachi to the loudest dizi, and the sound engineers would have to quickly adjust the microphones!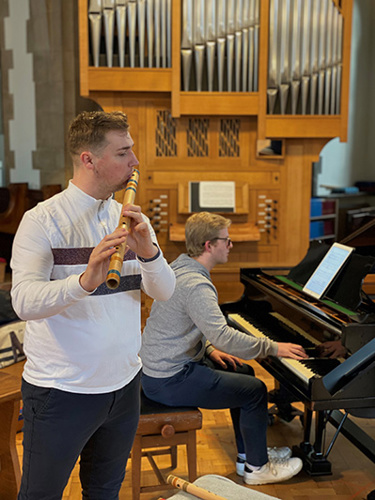 Jack Reddick and Toby Hession
What drew you to working with these particular composers? 
Eliza Marshall is a world flute goddess, playing the flute in Lion King and so many film sessions. She was an obvious choice for me, as I thought it would be a nice idea to have two world flute players on the recital. She has also been writing a lot of music over the past year, and I was eager to collaborate to that end.
I've known Josh Hickin for about 10 years. We're from the same area and studied at Chetham's and RAM together. He actually came and visited me in Miami and has been to the New World Center to watch some concerts. I thought it would be nice to have that connection, and since he lives within a reasonable distance, we were able to actually get together (socially-distanced, of course) and go back-and-forth between flutes, which was quite fun.
Toby Hession is a similar case, we also went to Chetham's together. We've collaborated in several shows, and his music is very much a sound world that I knew bansuri would lend itself nicely to.
That was my process in finding the composers, and it has been a pleasure working with them.
Tell us about your experience working with world flutes in non-traditional repertoire. 
As predominantly western flute players, we get used to being able to play anything on the western flute with a bit of practice. It is, however, much more difficult to play something that is very chromatic on a world flute – unless you want that kind of sound world of "ghost notes" or "half-notes." It is a bit like the Baroque flute, whereby you cannot expect to play 21st-century repertoire that exists for the modern silver flute on a Baroque flute and expect it to sound the same.
It's about allowing the composers to experiment with you to identify what is going to work and which flute it can work on while avoiding the cliché of the "wooden flute" midi on Sibelius, for example. Each of these instruments has their own qualities which make them unique, and it is about doing your research and not putting them under one bracket and expecting them to play equally in tune or sound the same by our western theoretical standards.
Do you have any advice for performers or composers who may wish to engage with world instruments but are afraid or hesitant to do so? 
Research, research, research. Listen to how the instruments are played traditionally and allow that to inform your performance and approach.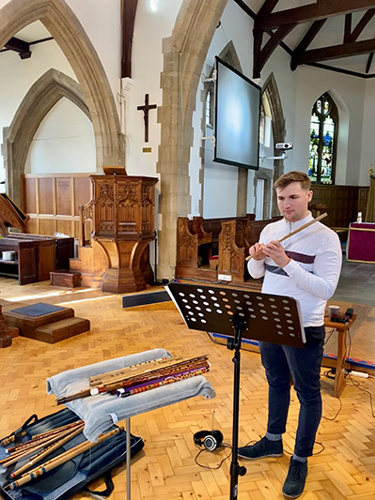 What do you know now that you wish you knew at the beginning of your project? 
I wish I knew how expensive it is to put on a performance! I was absolutely clueless at first, and my budget was initially for a live performance in Miami. I had to completely reshuffle my finances to hire a studio, videographer, sound engineers, as well as purchase instruments that played in specific keys just for this repertoire, but it all came out within budget and could have gone a lot worse, I suppose! The blessing in disguise with being in London for this was that I was able to communicate with people here and work out the monetary value of things.
I also wish I knew never to try recording three brand new commissions in a studio on the same day! It was absolutely exhausting. With multiple flutes on your mouth – I will never do that again! I'll do it over two days next time…
Do you feel this project has brought you closer with these instruments? 
Absolutely. There were certain instruments that I was really motivated to learn and learn as well as I can. For instance, I've had these shakuhachi for a couple of years now, but with an unrelenting orchestral schedule, I was never able to fit in the time to practice them. During this project, I was able to start practicing the vibrato and a full chromatic scale, which is something I would not have otherwise had the time to dedicate to. Learning how to apply the vibrating membrane that is responsible for giving the dizi its distinctive "buzz" was another task I was able to fine-tune under the scope of this project.  
Having the opportunity to work with traditional musicians who have dedicated their lives to these traditions via Zoom was an amazing experience, which allowed me to feel more confident and stylistically informed. My studies with Emmanuelle Rouaud, a French performer of shakuhachi, were eye-opening in several ways and she changed the way I physically approached the instrument. I was able to take a number of bansuri lessons with Madhav Haridas, with whom I studied ragas by ear. Ragas are completely different from anything we experience in western music and having perfect pitch did not help at all! It was amazingly difficult, but I practiced diligently and learned so very much doing so. I also took Ney and Duduk lessons during this period, and while these instruments are not featured on the upcoming concert, the experience gained in the course of my studies is invaluable.  
How many flutes do you use in the concert? 
I think it is around 20 – I didn't keep exact count, but quite a few!
Is this a project you would have undertaken outside of the NWS BLUE projects? 
Without NWS BLUE project funds, I can't imagine I would have been able to do something of this scope. Having an orchestra that can fund and support an initiative like this makes me so very grateful, and I am thrilled to bring these instruments to light in this way.
Exploring World Flutes

Photos provided by Jack Reddick. Exploring World Flutes is an NWS BLUE project, made possible with support from the Maxine and Stuart Frankel Foundation. 
Posted in: BLUE, concerts, events, Fellows
---