News
December 4, 2017
Fellows unveil original works with video during Miami Art Week
This Thursday, December 7, marks the anticipated performance of BLINK, BURN., an experimental collaboration between New World Symphony Fellows and undergraduate students from the School of Art at Pratt Institute in Brooklyn. The immersive performance includes four works that explore the cycles of nature and time through creation, destruction, lifeblood and rebirth.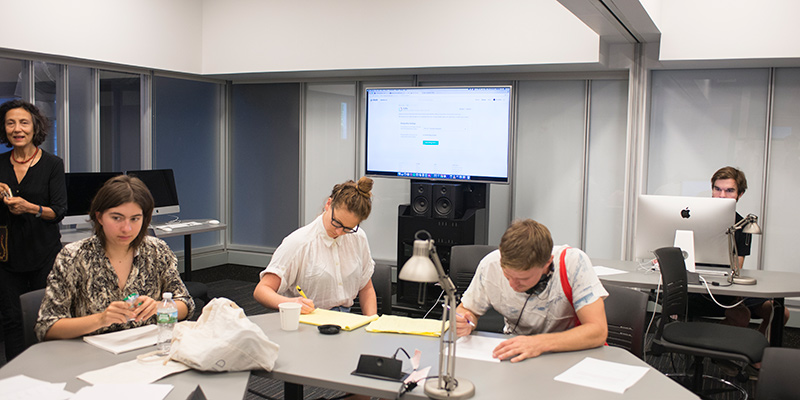 Bass Fellows Andrew Chilcote and Mary Reed are two of six participating Fellows who pursued unique partnerships with their Pratt team members.
Andrew re-imagined Lukas Drews' Zodiac Suite to create a dialogue between sound and image. The style of Lou Goncalves' textured image work is inspired by the work's musical momentum, intensity and notations.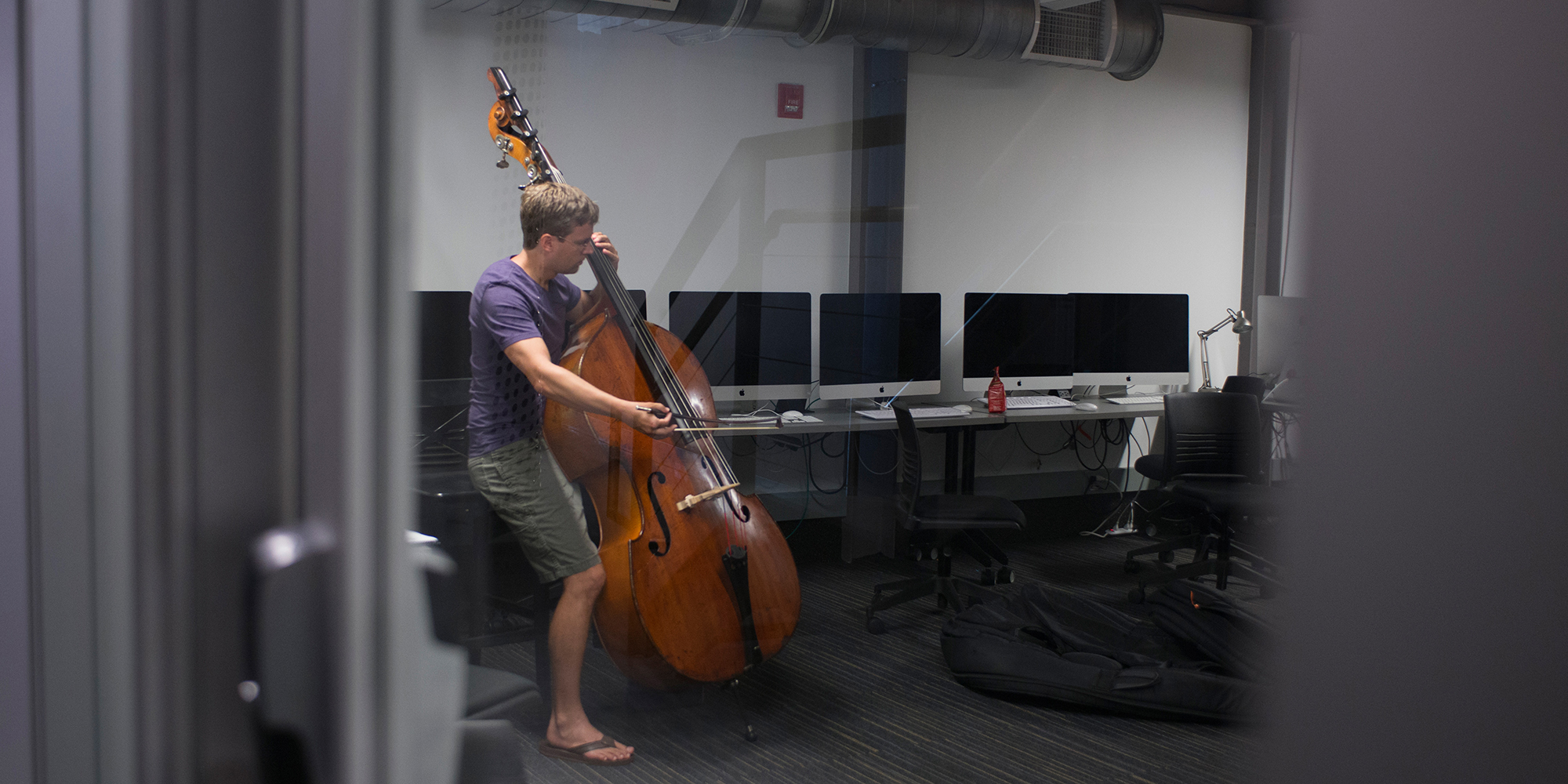 "I have been involved with a few video pieces during my fellowship and it is an area I had been interested in further exploring, as I felt in a lot of instances visuals and music complimented each other very well and elevated one another to a new aesthetic level that either element on its own could not obtain," said Andrew. "When the opportunity for this project arose one of my first ideas was to use the solo bass piece Zodiac Suite by Lucas Drew. I had seen this work performed before on a traditional recital and was left feeling unsatisfied by the music on its own, but wondered what would happen if the music were just one element in a larger artistic collaboration. After working with the Pratt students I'm confident that this work will see a new life as a live audio/visual performance, one which would make the composer proud."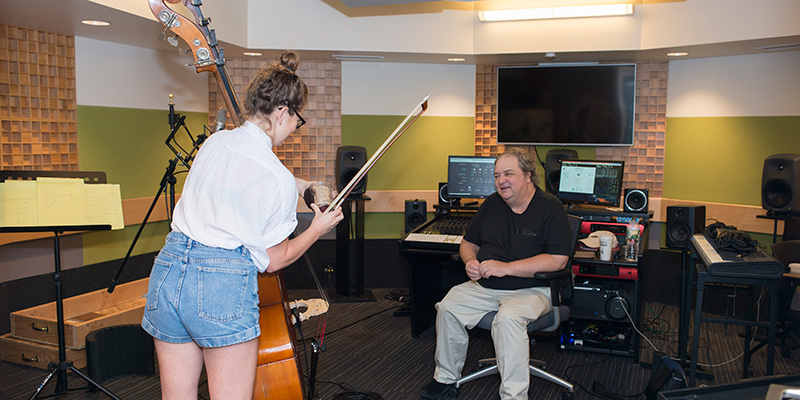 Mary Reed composed her own work Cosmicomics to pair with stop-motion, hand drawn animation, collage and live action video for Ex Materia.
"When this project was proposed to us, there were very few parameters, and I absolutely loved the freedom in that," said Mary. "Our daily work as orchestral musicians is incredibly structured and I'd been feeling curious about what I could do outside of the orchestra, searching for some creative autonomy. It was kind of terrifying to commit to writing my own piece, but ultimately, I knew that it was something I'd wanted to do for a long time and this was the perfect opportunity.
My inspiration comes from non-classical music tastes like Grouper, Bjork and Juliana Barwick, but also from the classical worlds of Steve Reich and John Luther Adams. The result, Cosmicomics, is something minimal and repetitive, expansive but intimate. The intention was to create something beautiful that suspends your sense of time and despite dissonance, always feels warm. I am amazed by how beautifully the film captures the tone and pace. 
I was partnered with group of four incredibly skilled, brilliant and all around radical humans who were willing to make a short film inspired by my composition. While we were workshopping in Brooklyn there were a lot of abstract conversations about the themes, images and styles we felt could be representative of the music. These discussions were liberating and nothing like what I usually do in the practice room.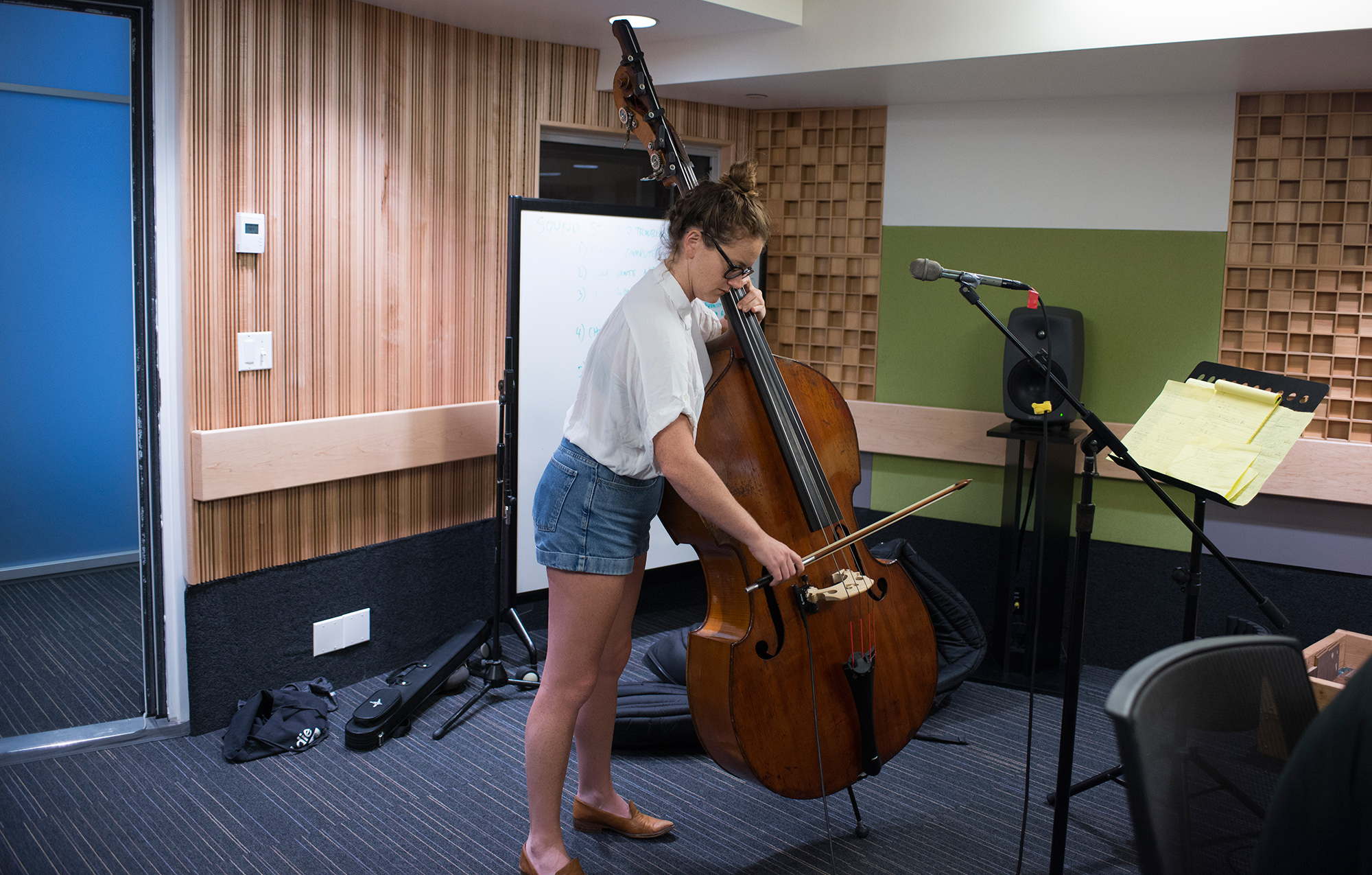 Ultimately, the most important thing I've realized through this collaboration is that there are universalities in any creative process. Whether it be making a film, composing a piece of music or performing the bass part of Sibelius' Fourth Symphony, everyone feels the influence of traditions and the need to find an artistic voice or sound."
BLINK, BURN. is sold out, but standby seating may be available the night of the performance. Please call the NWS Box Office at 305.673.3331 for more information.
Photos courtesy of Pratt Institute.
Posted in: Events, Fellows, Technology
---