News
October 26, 2016
From prodigy to pioneer: NWS alumnus Teddy Abrams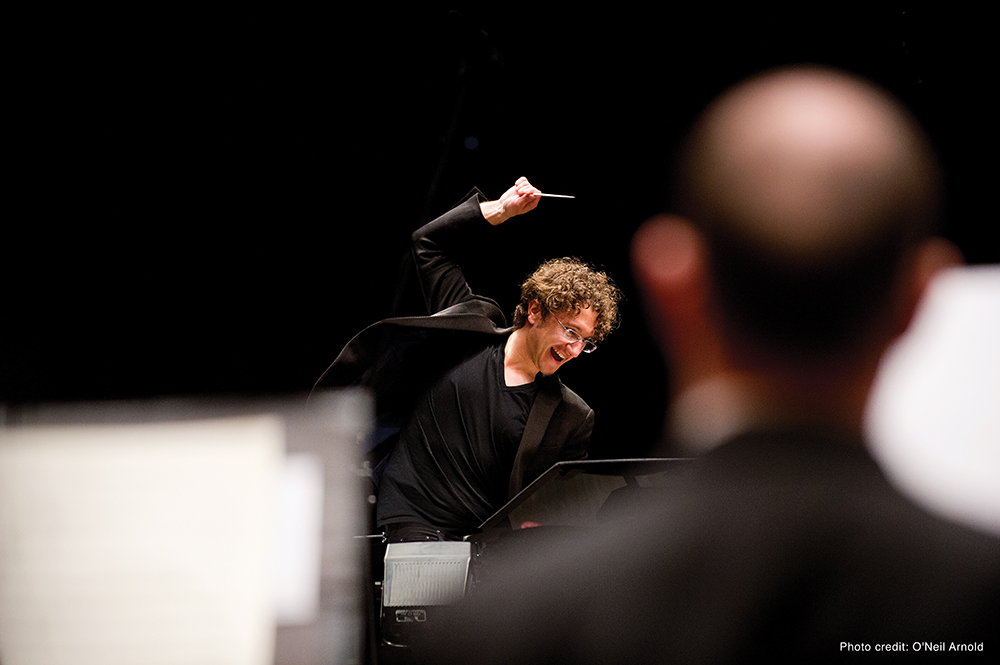 Teddy Abrams. Photo by O'Neil Arnold. 


One of the most exciting voices in classical music today is Teddy Abrams, New World Symphony (NWS) alumnus and the Music Director of the Louisville Orchestra since 2014. At the time of his hire, he was the youngest conductor to lead a major American orchestra. And at 29 he has been credited with reinventing a legacy orchestra and changing how audiences experience classical music.
Abrams has been honing his conducting craft for nearly 20 years. As a child he did not imagine that he would make a career out of conducting, but he was already deeply inspired by the role a conductor played in an orchestra.  
"It felt like some kind of mystical, genuinely magical, otherworldly experience to watch this many musicians with different instruments and minds somehow aligning...I must have identified the conductor as a source of energy for this," said Abrams.  
He built up experience conducting solos and playing both piano and clarinet at various Bay Area orchestras in his early teens and graduated from the San Francisco Conservatory of Music at the age of 17, having skipped middle and high school altogether.
While most know Abrams for his work in Louisville, Kentucky, he was also the New World Symphony's Conducting Fellow from 2008 to 2011, where he further honed his craft after graduating from the Curtis Institute of Music.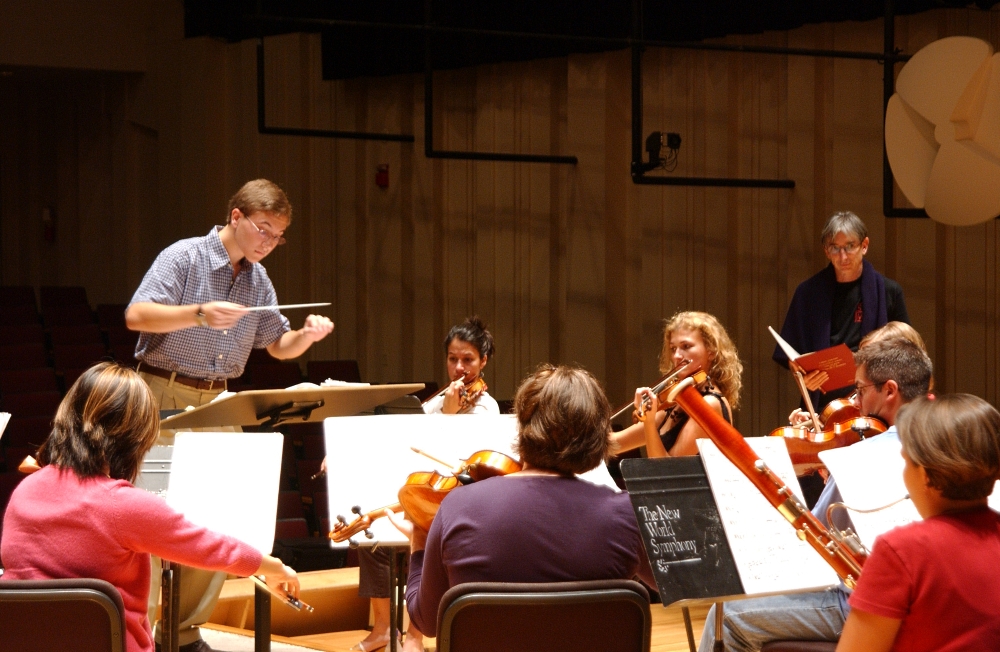 Abrams leads a conducting workshop with Michael Tilson Thomas and conduct­ing Fel­low David In-Jae Cho at the Lincoln Theater in 2003. Abrams was 16 years old. 


Abrams' intersection with NWS almost seems like fate; he credits a concert conducted by Co-Founder and Artistic Director Michael Tilson Thomas as the reason he wanted to become a conductor. At nine years of age, a young Abrams wrote a letter to Tilson Thomas asking if he could provide conducting lessons and soon, a mentorship developed.
By the time Abrams began his fellowship at NWS in 2008, he had already worked alongside Tilson Thomas during various workshops and master classes from age 15—including a conducting workshop with NWS at Carnegie Hall.
"I owe everything to Michael and to New World Symphony because they took crazy risks and had a lot of faith in what I would be able to absorb."


Music meets community
Prior to Abrams' arrival, the Louisville Orchestra faced decades of fiscal deficits and filed for bankruptcy in 2008.His arrival sparked a creative resurgence, one that has garnered national attention and was even featured in a documentary series produced by PBS titled Music Makes a City Now.
He has become known for bringing the orchestra to the Louisville community, often by way of unique musical interventions, such as a block party to close the orchestra's season and a chamber concert in an unassuming UPS location.
He's helped realize and oversee outreach programs like the Landfill Orchestra, that teaches children about music by helping them make instruments from recycled materials and repurposed junk.
"My role in Louisville is to be a steward of music—which  is a really broad job that goes beyond the orchestra, it's about connecting people to music," Abrams says. His youthful genius has proved an asset in the revitalization of the Louisville Orchestra, allowing for fresh perspectives to fill its classical music community, an institution whose average concertgoer is typically around retirement age.


A laboratory for orchestras
There is no question that Abrams' time spent as a Conducting Fellow at the New World Symphony has influenced him deeply. It is the symphony's commitment to experimentation in audience engagement and innovative programmatic formats that has continued to resonate for him, both personally and professionally.
With many institutions of classical music facing increasingly tight financial constraints, there is little opportunity to fund experiments, Abrams explains, and there's even less room to revisit an idea that was unsuccessful.
He refers to the New World Symphony as "the national laboratory for orchestras," as it invests in the research and development of new ideas, and examines the trial-and-error of projects and experiments that could forge new paths forward for the classical music world. "New World Symphony invests on behalf of the entire orchestral community…Having the latitude to try something, have it not work perfectly and do it a better way is huge," he states.  
Abrams goes on to explain how "music organizations, especially orchestras, do something that doesn't work and never try it again," adding, "they're afraid to try anything at all."
"New World Symphony has really demonstrated that, if you have a great idea, you have to cultivate it. It could take several seasons to get it right, it could take several seasons to grow—and  they're doing that for everyone [in the orchestral world]."

During his fellowship, Abrams recalls being floored by the early models of the Frank Gehry-designed New World Center Performance Hall that would open in 2011, the last year of his fellowship.

"Just being in a place where people were dreaming like that...I remember feeling so inspired...The world of music isn't often one you associate with big picture thinking -- there's a lot of worrying about just getting through the financial year whereas, here, they are building a music temple."


A second home
At Louisville, Abrams has continued his relationship with the New World Symphony, as he often sources ideas for new programs from the NWS slate; a number of NWS Fellows have also gone on to win positions in the orchestra. He also continues to conduct concerts with NWS since completing his fellowship in 2011.
One of his most ambitious programs with the New World Symphony is An American Musical Journey, a sprawling three-hour program that explores the last hundred years of American music; highlighting the relationship to composed music and various American musical movements including folk, jazz, rock, pop and even techno.
Abrams explains that one of the primary focuses of the evening's program is to understand how "composers who find inspiration from the music of the people [go on to become] composers that resonate with today's society."
Between his work in Louisville, serving as the Music Director for the Britt Orchestra Season in Jacksonville, Oregon, and his national and international conducting appearances, Abrams keeps a busy schedule but, he maintains, "New World Symphony is my second home."

Teddy Abrams returns to conduct the New World Symphony this Saturday, October 29 through a powerful three-part celebration of America's musical history. Click here for tickets and information for "An American Musical Journey."

---