News
June 9, 2021
From the Archives: MTT honors Anne Frank with Audrey Hepburn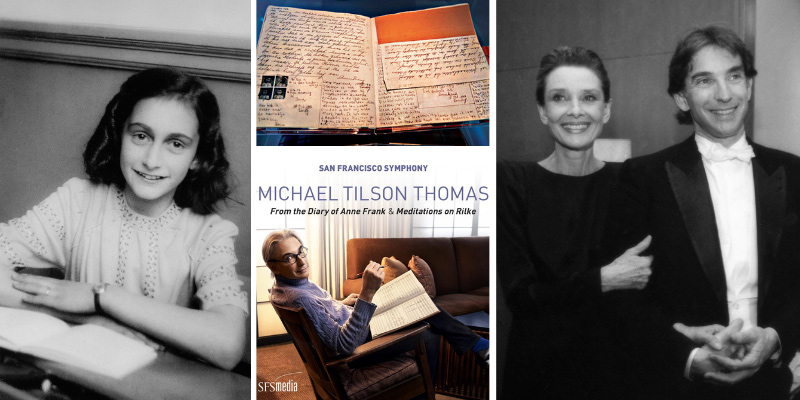 Anne Frank in 1941; photo of diary (Telegraph); MTT's Grammy Award-winning recording and with Audrey Hepburn in 1990
June 12 would have been the 92nd birthday of Anne Frank, the forever 15-year-old girl whose diary detailed the two years she spent in hiding in Nazi-occupied Amsterdam. In the nearly 75 years since it was first published, The Diary of a Young Girl has captured hearts worldwide and given voice to the innocence lost during the Second World War. Anne was gifted the diary in 1942 on her 13th birthday, writing "I hope I will be able to confide everything to you, as I have never been able to confide in anyone, and I hope you will be a great source of comfort and support." Michael Tilson Thomas has helped ensure her poignant words are never forgotten through his work From the Diary of Anne Frank for narrator and orchestra.
In the late 1980s, MTT was contacted by actress and humanitarian Audrey Hepburn, who asked if he would compose original music inspired by Anne Frank's diary, a piece UNICEF would commission and she herself would narrate. MTT composed a four-part work using text taken from Anne's diary that he and Hepburn chose together. In 1990 MTT and the New World Symphony gave the world premiere with Hepburn in Philadelphia before embarking on a multi-city UNICEF benefit tour.

MTT and Audrey Hepburn rehearse with New World Symphony in Miami Beach, 1990
Audrey Hepburn felt a deep connection with Anne Frank. Both were born the same year and spent their childhoods in the Netherlands—just 60 miles apart. Her son, Luca Dotti, said Hepburn knew passages of Anne's diary by heart, passages that devastated her upon first reading. She was haunted by her own war-time memories, causing her to turn down multiple offers to depict Anne in film.
Before the world premiere of MTT's work, Hepburn said, "Today, I feel I can pay tribute to her [Anne], to her spirit, and to the millions of children who suffered her fate. I think Anne Frank would have been very happy to know that her words one day would help other suffering children. And what lovelier way to do it than through man's highest form of expression: music—through Michael Tilson Thomas' music? I know his talent, sensitivity and tenderness will bring even greater understanding to this little girl's feelings, her hopes and her dreams."

Anne Frank; Audrey Hepburn with Anne's father, Otto Frank, and his second wife Elfriede (Luca Dotti/Anne Frank House)
Of the piece—which he describes as a melodrama in the form of symphonic variations, MTT said he wrote it as "a vehicle for Audrey and her role as an ambassador for UNICEF. While some of the words concern tragic events, so many of them reflect the youthful, optimistic, inquisitive and compassionate spirit of their author. Above all, we wanted these qualities to come through in the piece, and so I have derived the themes…from turns of phrases in traditional Jewish music, especially the hymn to life, Kaddish."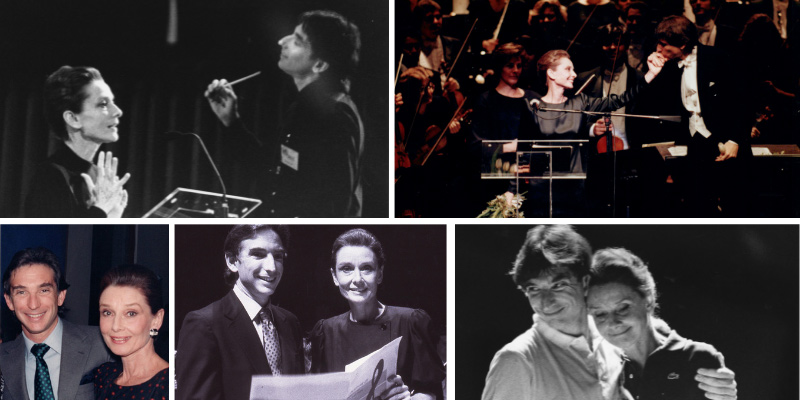 MTT with Audrey Hepburn on 1990 UNICEF tour with New World Symphony
In his book Dutch Girl: Audrey Hepburn and World War II, Robert Matzen said of the 1990 premiere: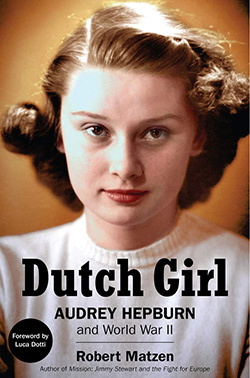 So there Audrey was, swathed in Givenchy and serving as UNICEF's Goodwill Ambassador for these readings that were accompanied by firebrand forty-five-year-old composer Michael Tilson Thomas, who had written music for the passages to be played by his Florida-based New World Symphony orchestra.
"I was never cut out for public speaking," Audrey said of the tour with Anne Frank. "My mouth gets dry and my hands get clammy. It's exhausting." But she did it, reading among others her very favorite passage, one not about imprisonment or gloom or Nazis, but about life and hope: "I wonder if it's because I haven't been able to poke my nose outside for so long that I've become so crazy for everything to do with nature. Nearly every morning I go to the attic and from my favorite spot on the floor, I look up at the blue sky and the bare chestnut tree on whose branches little raindrops glisten, like silver, and at the seagulls as they glide on the wind. As long as this exists, and I may live to see it—this sunshine, these cloudless skies—as long as this exists, I cannot be unhappy."
Of the magic of these performances Tilson Thomas would say that only Audrey Hepburn could have been his partner on such a journey with Anne because both Dutch girls knew that war, and that Netherlands, and that sisterhood. He said, "To hear the fine delicate phrasing she gives…with the music providing the fabric, it's as if you were listening in to Anne Frank herself." Both Audrey and Michael knew in their hearts that Anne was with them in spirit.

Before completing his 25-year tenure as Music Director of the San Francisco Symphony, MTT revisited the work with mezzo-soprano Isabel Leonard as narrator. Their live recording earned MTT his 12th Grammy Award for Best Classical Compendium in 2021.
Photos of MTT and Audrey Hepburn courtesy of NWS Archives and its Todd Levy Collection.
Posted in: Alumni, From The Archives, MTT
---