News
February 27, 2017
Jarrett McCourt: Solo Spotlight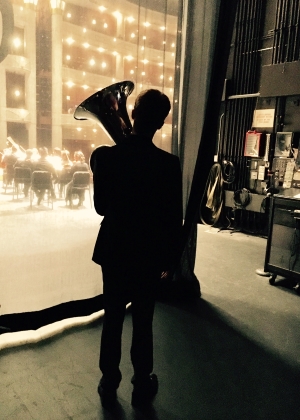 Jarrett McCourt is a second-year New World Symphony Tuba Fellow. On Monday March 6 at 7:00 PM, he presents "Solo Spotlight: A Road Less Traveled: New and Stolen Music for Tuba" in the SunTrust Pavilion at the New World Center.

Jarrett completes a New World Symphony hat trick for Fellow-curated concerts. As a rookie last season, on November 17, 2015 he presented "Inside the Music: The Romantic Tuba: Sharing Through Song." And earlier this season, he was the featured soloist for the November 14 Musicians' Forum where he gave the NWS premiere of Arild Plau's Tuba Concerto. He next performed it a month ago on February 4 with the Windsor Symphony Orchestra and again last week for the NWS Concerto Showcase concerts at the New World Center and at the Kravis Center in West Palm Beach.

We asked Jarrett to share his thoughts on this upcoming intriguing concert experience.
---
Because it hasn't been around for very long, the tuba (admittedly) doesn't have a ton of great music written for it. My plan for this program was twofold: to highlight two original compositions (one composed recently and one not so) for the tuba that I consider to be cornerstones of our repertoire, and to steal music from other instruments that I feel fits the tuba well.

The first piece on the program is a short, minimalist work written by Chicago-based composer Marc Mellits called Black. Mellits describes his music as "eclectic, all-encompassing, colorful, and always has a sense of forward motion," and this piece certainly fits those descriptors. Originally written for two bass clarinets, this piece will feature one of our fantastic Clarinet Fellows, Zach Manzi.

The second piece is Paul Hindemith's Sonata for Tuba and Piano, which, next to the Vaughan Williams Tuba Concerto, is probably the most significant work written for the tuba. This short sonata's overall effect is whimsical, another example of how even the most accomplished composers rarely take the tuba seriously. Finally, I'll play two songs from Mahler's Songs of a Wayfarer, originally written for voice and piano. John Wilson will be the pianist.

After the intermission, I'll perform Telemann's Fantasia in F-sharp minor (originally for solo flute), a work that was composed a century before the tuba was invented. This work really pushes me to play as delicately as possible, which on the tuba can sometimes be very challenging. I feel like some of the most beautiful music ever written was composed in this time period, and it's a joy to be able to perform this piece.

Finally, I'll play Michael Daugherty's new concerto Reflections on the Mississippi, a work that was written just a few years ago. The composer, who spent a lot of time around the Mississippi river with his father as a young boy, composed this concerto for Carol Jantsch (Principal Tubist of The Philadelphia Orchestra), and in memory of his father and their time spent together. 
---
WHILE THIS EVENT IS CURRENTLY LISTED AT CAPACITY, SEATS MAY BE AVAILABLE AT THE DOOR JUST BEFORE 7:00 PM Seating is subject to availability and is not guaranteed.
This event will also be live streamed on MUSAIC. Click here to watch live on March 6 at 7:00 PM. Use #MUSAIC on social media. 
CLICK HERE FOR MORE CONCERT INFORMATION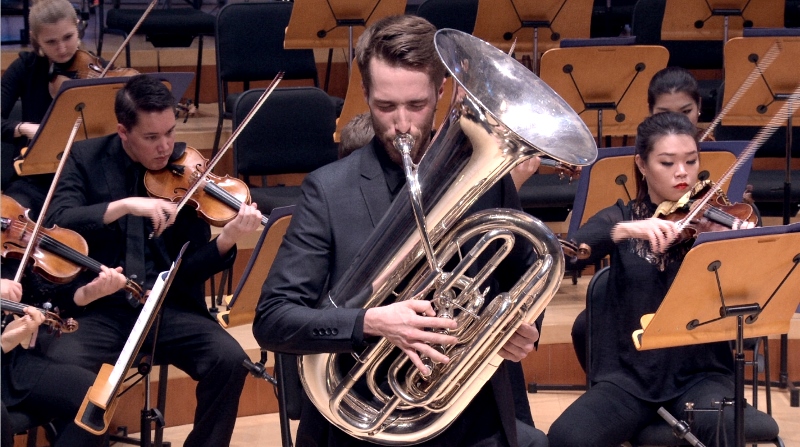 Photo at top by Ana Maria Estévez
Photo at bottom courtesy of the New World Symphony Archives
---