News
December 8, 2016
Ju Hyung Shin & John Wilson: Solo Spotlight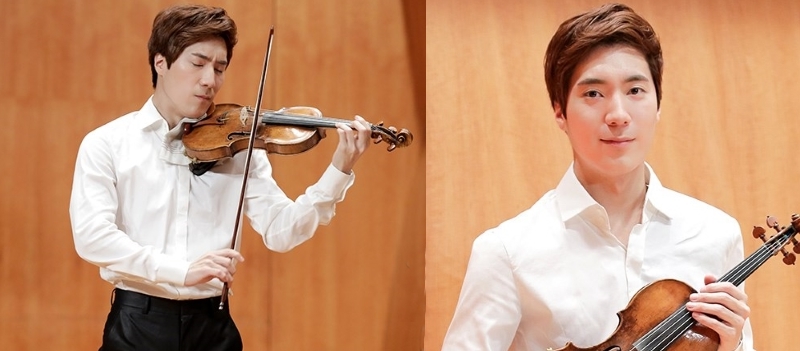 Ju Hyung Shin is a second-year Violin Fellow and John Wilson is a second-year Piano Fellow at the New World Symphony. On Monday, December 12, at 7:00 PM, they present "Fauré and Debussy" in the SunTrust Pavilion at New World Center. It will be a beautiful evening of romantic French music. We asked them to share their thoughts on this concert experience.
---
JHS:  John and I have performed several times before and we really enjoyed playing together. We are both very passionate and love playing with full energy. The Debussy and Fauré violin sonatas are very demanding  for violinist and pianist but we are very excited about our partnership.

JW:  I am very excited to share this program with Ju Hyung. We have worked in many different contexts before, but this is our first duo together! We are excited to collaborate on these masterful works. The violin/piano duo ensemble has been in function for centuries and it is fascinating to hear how these two great French composers treat it.

JHS:  I will be performing violin sonatas by Claude Debussy and Gabriel Fauré. I will also be playing their two well-known encore pieces. These works are all very popular and favorite works so I am very excited to present this recital program and it will be enjoyable for audiences to listen as well.
---
JW:  About his sonata, Debussy said in a letter to his friend Robert Godet dated June 7, 1917: "You should know, my too trusting friend, that I only wrote this Sonata to be rid of the thing, spurred on as I was by my dear publisher. You who are able to read between the staves, will see traces of [Poe's] The Imp of the Perverse who encourages one to choose the very subject which should be ignored. This Sonata will be interesting from a documentary viewpoint and as an example of what may be produced by a sick man in time of war."

JW:  On Fauré, Saint-Saëns had said: "In this sonata you can find everything to tempt a gourmet: new forms, excellent modulations, unusual tone colors, and the use of unexpected rhythms," he wrote. "And a magic floats above everything, encompassing the whole work, causing the crowd of usual listeners to accept the unimagined audacity as something quite normal. With this work Monsieur Fauré takes his place among the masters."
---
CLICK HERE FOR MORE CONCERT INFORMATION.
While this event is currently listed at capacity, some seats may be available at the door just before 7:00 PM. Seating is subject to availability and is not guaranteed.

---