News
March 19, 2016
Julia Coronelli & Kelly Zimba: Solo Spotlight
Julia Coronelli is a second-year Harp Fellow, and Kelly Zimba is a first-year Flute Fellow, at the New World Symphony. On Monday, March 21, at 7:00pm, they present "Solo Spotlight: Flute and Harp in Concert" in the SunTrust Pavilion at New World Center. We asked Julia and Kelly to share their thoughts on this concert experience.
---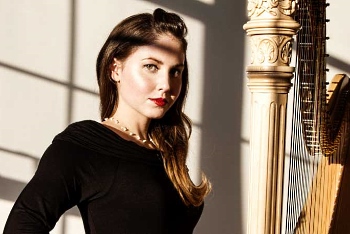 Julia: "Kelly and I are so incredibly excited about our Solo Spotlight this Monday. The combination of harp and flute timbres has always been a personal favorite of mine; there is something so ethereal yet strong to it.

"The program is starting with Debussy's Syrinx for solo flute. I think it is an amazing and perhaps unexpected way to open a program because Syrinx is so otherworldly.

"Next I am playing Marcel Grandjany's Rhapsodie for solo harp. I studied with Sarah Bullen (Principal Harpist of the Chicago Symphony Orchestra) eighth grade through my undergraduate degree, and she studied with Grandjany, so he is my grand-teacher. It is amazing to play a piece that he not only transcribed (as he famously did with Bach) but also wrote himself.

"The piece is actually a rhapsody on a theme of a Gregorian Easter chant. In one of my favorite sections, the chant is extremely apparent, and presented in an extremely beautiful and simple way. This is especially perfect since Easter happens to only be a few days away!

"Next, the Nino Rota Sonata for Flute and Harp is a piece that is rarely performed, and I still don't understand why. It has been a new personal favorite of mine ever since being introduced to it last year by Nadine Asin. Rota wrote music for Fellini films, and I always imagine I hear certain sections of this sonata as being reminiscent of old film music.

"Kelly is playing another beautiful solo piece by Casterede before we end the program with Debussy's Sonata for Flute, Harp, and Viola, with Madeline Sharp on the viola. This is a piece that I first performed in eighth grade and have many, many times since, but I always discover new aspects and colors in it every time. I am also very excited that we are beginning and ending the program with Debussy, who is one of my favorite composers."
---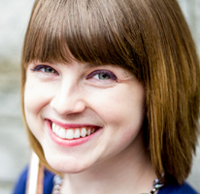 Kelly: "Within the Debussy Sonata for flute, viola, and harp are so many opportunities to be creative. I've been enjoying experimenting with a variety of tone colors and phrasing, and am always inspired by what my colleagues bring to the music.

"Before preparing for this recital, I wasn't familiar with the Rota; I find its simplicity and lyricism quite beautiful. Debussy's Syrinx is a staple in the flute repertoire and one of the first pieces I learned in school, so it is very special to me! I especially love the Casterede because it allows the performer great artistic freedom and improvisation. It turns out differently every time."
---
While this event is currently at capacity, some seats may be available at the door just before 7pm
Seating is subject to availability and is not guaranteed
---
Click here for more concert information
---