News
October 27, 2021
Kyle Marshall Choreography makes smashing NWS debut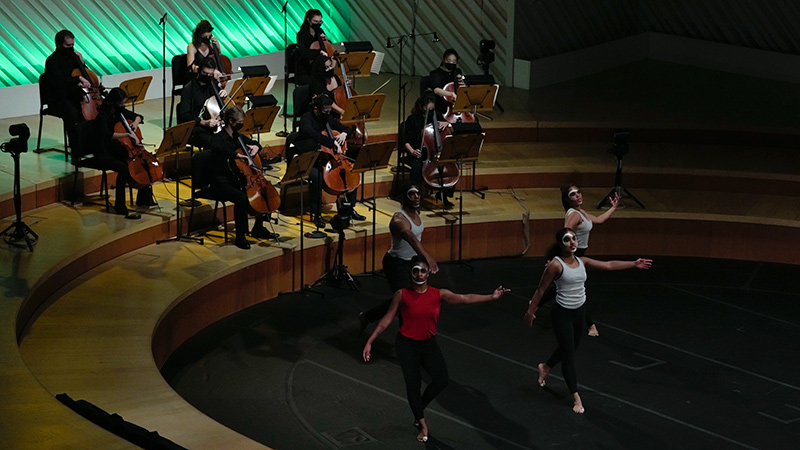 The New World Symphony kicked off its 2021-22 Chamber Music Series on Sunday, October 24, marking two institutional debuts: cellist Oliver Herbert and Kyle Marshall Choreography.
Both came together with NWS Cello Fellows to present Julius Eastman's The Holy Presence of Joan d'Arc, an enigmatic work called "grunge-metal chamber music" by The New York Times. Eastman's score provides a thrilling backdrop to Joan, a quartet celebrating power of tyranny choreographed by Kyle Marshall.
Performers Bree Breeden, Taína Lyons, David Lee Parker and Ariana Speight represented Joan and three saints, who symbolize the spirits of her ancestors who guide and fight by her side. The story of Joan d'Arc, a female warrior who is called by God to lead her army to victory against an occupying oppressor, is central to this dance. The French origins of this legend are reinterpreted to remember the history of the Maroons, Seminoles and other communities of revolutionary people who fought for their freedom against slavery and colonial rule.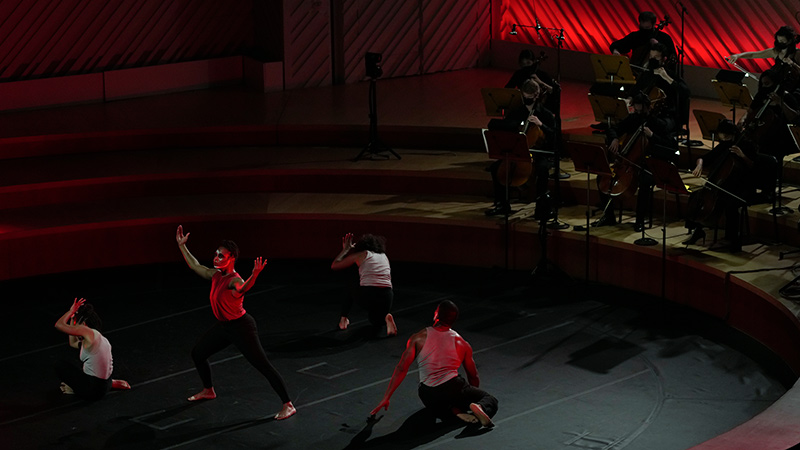 From South Florida Classical Voice:
The music opened with elemental force, with the cellos hammering away in unison notes at the low end of their range. Solo cello tones rose above the galloping mass, in searing passages at the extreme upper range that felt written in acid.
Vigorous gestures and movements appeared to express oppression and conflict, with quieter moments suggesting her spiritual intimacy with the three saints. The muscular force of the dance worked well with the music, which, with its minimalist repetitive patterns provided ample space for action on stage.
Originally choreographed as a duet for Oluwadamilare Ayorinde and Bria Bacon, the duet Joan premiered and was commissioned by the Elizabeth Stewart Gardner Museum in Boston in 2019. Collaborators on Joan include Madalyn Rupprecht, Company Manager; Edo Tastic, Makeup Artist and Visual Conusltant; and Ikshit Pande, Costume Designer.
About Kyle Marshall and KMC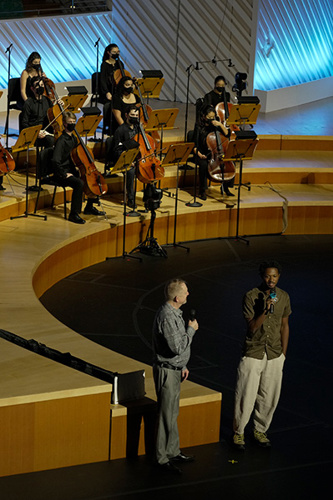 Kyle Marshall—Artistic Director, Choreographer and Performer—joined Michael Linville, NWS's Dean of Chamber Music and Fellow Development, to introduce the work. Kyle is a 2018 Bessie Award winner and a New Jersey State Council of the Arts Fellow. His commissions have included "Dance on the Lawn" Montclair's Dance Festival, NJPAC, and Harlem Stage. Kyle has taught master class and creative workshops at the American Dance Festival, Montclair University, County Prep High School and Muhlenberg College. Currently, he dances with the Trisha Brown Dance Company. He has also worked with doug elkins choreography etc., Tiffany Mills Company, and 10 Hairy Legs. Kyle graduated from Rutgers University with a BFA in Dance and is a resident of Jersey City.
Kyle founded his dance company, Kyle Marshall Choreography (KMC) in 2014. KMC sees the dancing body as a container of history, an igniter of social reform, and a site of celebration. KMC believes in the creation, sharing, and teaching of dance as a way to deepen our knowledge of who we are as individuals, how we develop relationships, and ultimately societies. KMC has performed at venues including Jacob's Pillow Inside/Out, Joe's Pub at the Public, Actors Fund Arts Center, NJPAC, NYC Summerstage, Wassaic Arts Project, and Conduit Dance (PDX).
For more information about Kyle Marshall and Kyle Marshall Choreography, click here.
Photos by Siggi Bachmann
---