News
December 21, 2022
Martin Baron joins NWS's Board of Trustees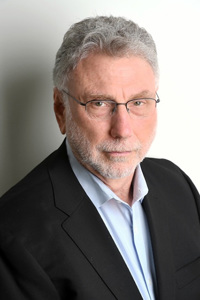 New World Symphony (NWS) is pleased to announce that acclaimed journalist and editor Martin Baron has been elected as the newest member of its Board of Trustees. Mr. Baron began his role on the board in Fall 2022.
"As a leader in several of this country's most important newspapers, Marty Baron embraced technology and as a result, those outlets became more vibrant and relevant," said William M. Osborne, NWS's Chairman of the Board of Trustees. "New World Symphony is exploring similar challenges and opportunities. We welcome Marty as he joins our pursuit of artistic and educational excellence in the digital future."
Mr. Baron is a renowned editor who has been a leader in the field of journalism for over 45 years. He received his Bachelor of Arts and Master of Business Administration from Lehigh University. Upon graduation, he began his career with The Miami Herald and continued his work with major news outlets including The Los Angeles Times, The New York Times and The Boston Globe. In 2021 Mr. Baron retired as executive editor of The Washington Post. Newsrooms under his leadership have won 18 Pulitzer Prizes, including 11 at The Washington Post, one at The Miami Herald, and six at The Boston Globe – one for its investigation of the Catholic Church with coverage portrayed years later in the Academy Award-winning movie, Spotlight. Shortly after retirement, he began working on his first book – Collision of Power: Trump, Bezos, and The Washington Post – which recounts his leadership of The Washington Post during the Trump administration. His extensive list of accolades includes "Editor of the Year" by the National Press Foundation, the Benton Medal for Distinguished Public Service from the University of Chicago and the Goldsmith Career Award for Excellence in Journalism from Harvard's Shorenstein Center.
"The New World Symphony is a national treasure," said Marty Baron. "I am delighted to join an organization that has opened up opportunities for legions of gifted young musicians and pioneered the use of innovative technologies to bring the joy of classical music to an ever-larger audience."
Mr. Baron joins NWS's team of dedicated trustees, Co-Founder and Artistic Director Laureate Michael Tilson Thomas, Artistic Director Stéphane Denève and NWS staff who collectively strive to create a strong and secure future for orchestral music. Mr. Baron's insights will help NWS redefine, reaffirm, express and share the great traditions of this art form with as many people as possible.
Posted in: Trustees
---