News
April 9, 2018
Maurice Ravel: Three Cheers for the Second Fiddle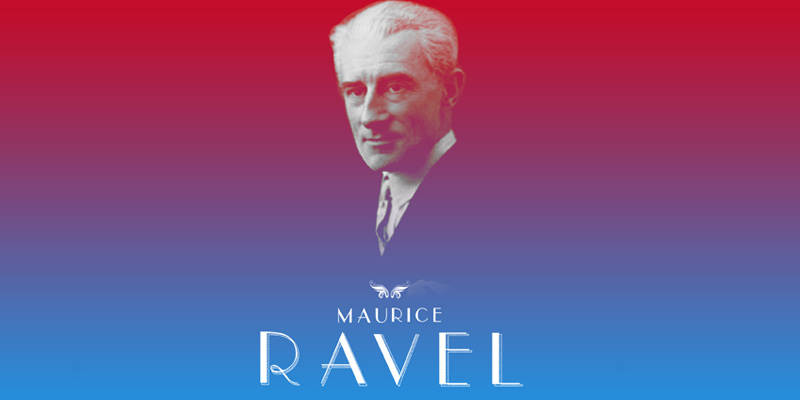 On Saturday, April 14, NWS will journey through the resilient life and resplendent music of Maurice Ravel in its most theatrical Journey Concert yet! French music authority and Music Director-Designate of the St. Louis Symphony, Stéphane Denève leads this in-depth exploration of one of the most extraordinary composers of the 20th century in a three-part event that highlights Ravel's style and influences, from childlike charm to American jazz to glittering exoticism. Writer and director Didi Balle brings the life of Ravel center stage with actor Scott Lowell (from Showtime's hit series Queer as Folk) portraying the famous composer himself. 
Dismissed from the Paris Conservatory (twice). Passed over for France's highest prize (five times). Overshadowed by Debussy, by Stravinsky, by younger French upstarts. An outcast, a hooligan, a dandy, a loner. Maurice Ravel lived and worked through decades of total upheaval in musical tastes and techniques, and all the while he cut against the grain, from his rule-breaking arrival to his obsessively meticulous farewell. Through a comprehensive journey through his life and music, the New World Symphony and French conductor Stéphane Denève proudly celebrate Ravel, a timely hero for all the world's underdogs and strivers.
One feature that stands out in this close look at Ravel is the child-like innocence and purity he maintained throughout his life, coupled with a sweet nostalgia for the past. You'll meet a man endlessly devoted to his mother—a poor and illiterate native of Basque country (the fiercely independent territory straddling coastal Spain and France) who raised her children in Paris with a Swiss engineer. Ravel's love for her comes pouring through his fanciful opera about a naughty boy and his mother, while his enduring sense of wonder at the world filters into music based on fairy tales and dance styles reflecting the bygone splendor of 18th-century France and Spain.
Ravel delighted in fancy clothes, but he was no snob. This tour of his life's work shows how much he gleaned from popular trends, especially the jazz and blues imported from America, even when his peers and critics condemned him for it. His bluesy Violin Sonata and jazzy Piano Concerto in G have aged as well as any compositions from those early years of cross-pollination, a testament to Ravel's earnest and respectful embrace of new art forms.
Ravel developed open ears long before jazz even existed, dating back to his teenage fascination with music from exotic locales. His compositions—most especially his orchestral scores—would never have achieved such sensational arrays of color without the influence of Russian tone-painting, Indonesian percussion ensembles, African folk music and so much more. At the root of it all was Spain, a fiery and passionate place so foreign to the mainstream French sensibility and yet so deeply ingrained for Ravel, who learned Spanish songs from his mother and often returned to his ancestral homeland in the Basque region.
So let's give three cheers for these offbeat sides of Ravel that made him such a distinctive composer—the dreamer of the past, the champion of "lowbrow" jazz and the adventurer who used his music to probe distant lands. His biography makes for an inspiring story of resilience and self-assurance, but truly the only way to know Ravel is through his compositions. They are all so beautiful and personal and assiduously clear, reflecting the temperament of a man who was never content to be anyone's second fiddle.
Journey Concerts are flowing explorations of a composer or type of music, which also showcase the versatility of the New World Center's performance hall. Using both its main stage and multiple smaller stages, they are continuous performances that transition from one stage to the next, enveloping the audience in the music. Journey Concerts are approximately three hours in length.
---