News
September 24, 2021
Meet the new Fellows for the 2021-22 season
Alexandria Hoffman ● Ann Cho ● Bradley Parrimore ● Camila Berg ● Carolyn Farnand ● Chase Waterbury
Dominique Bégin ● Eleni Katz ● Emilio Carlo ● Gabrielle Monachino ● Hosanna Carella ● India Hooi
Isabel Kwon ● James Zabawa-Martinez ● Joe Desotelle ● Josephine Kim ● Julia Karstens ● Kenneth Chauby
Lindsey Orcutt ● Mario Rivera ● Mark Debski ● Natalie Lee ● Spencer Bay ● Victor Huls ● Zöe Merrill
This season NWS welcomes 25 first-year Fellows to its ranks! Get to know these new faces to the NWS Family before seeing them on stage.
A few stats on our incoming class:
They come to NWS from the U.S., Australia, Canada, Cuba, Honduras, Puerto Rico and South Korea.


The Fellow closest to home is Cello Fellow Victor Huls, who is a native of Jacksonville, Florida, a mere 348 miles from the New World Center.


The Fellow farthest from home is Audio/Video Engineer India Hooi from Adelaide, Australia, a whopping 10,053 miles from the New World Center.


The first-year Fellows range in age from 23-33.


One first-year Fellow joined in early 2021: Mark Debski, oboe


They've studied all over the world, but the most-attended program is Northwestern University near Chicago.
While many Fellows are arriving to Miami Beach, a few are packing to head out for new adventures. Several current Fellows have already won positions this season and will be leaving NWS. We congratulate the newest members of the NWS alumni family:

Justin Cummings, Principal Bassoon, Knoxville Symphony
Brendon Elliott, Violin, Virginia Symphony
Antonio Escobedo, Bass, Bergen Philharmonic (leaving in December)
Johanna Gruskin, Principal Piccolo, New Zealand Symphony Orchestra (leaving in December)
Ethan Hoppe, Violin, U.S. Air Force Strings
Katherine Kobylarz, Violin, Baltimore Symphony (one-year)
Sam Pedersen, Viola, Houston Symphony (one-year)
Arno Tri Pramudia, Second Trombone, Gothenburg Symphony (leaving in November)
Click here to get to know all the new and returning Fellows!
Reunited at the New World Center
In early September, new and returning Fellows gathered at the New World Center for a momentous occasion: the first time the entire New World Symphony fellowship was on stage together since March 2020! Music to our ears (and eyes)! At the helm was NWS conducting alumnus Steven Jarvi, who led the full ensemble through readings of Wolfgang Amadeus Mozart's Symphony No. 25, Dmitri Shostakovich's Festive Overture and Richard Strauss' Suite from Der Rosenkavalier.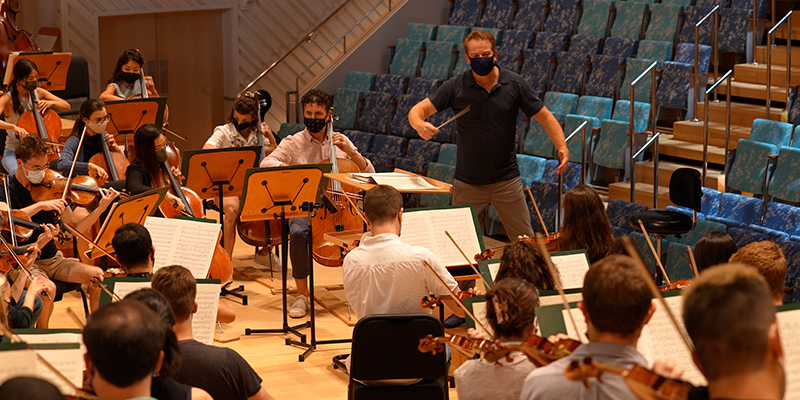 Steven Jarvi conducts the "new" New World Symphony at the New World Center
Fellows met with NWS leadership, including Artistic Director Michael Tilson Thomas and NWS President and CEO Howard Herring, to kick off the new season.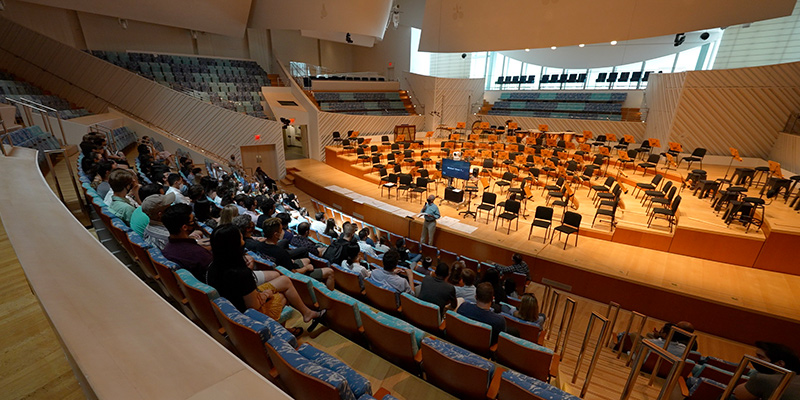 Howard Herring addresses new and returning Fellows
Twelve other NWS alumni also returned as visiting faculty for a Coaching Residency. They led an intense schedule of individual lessons, section classes and sitting in rehearsals. They mentored Fellows on creating a cohesive sound, ensemble playing, leadership and orchestra etiquette.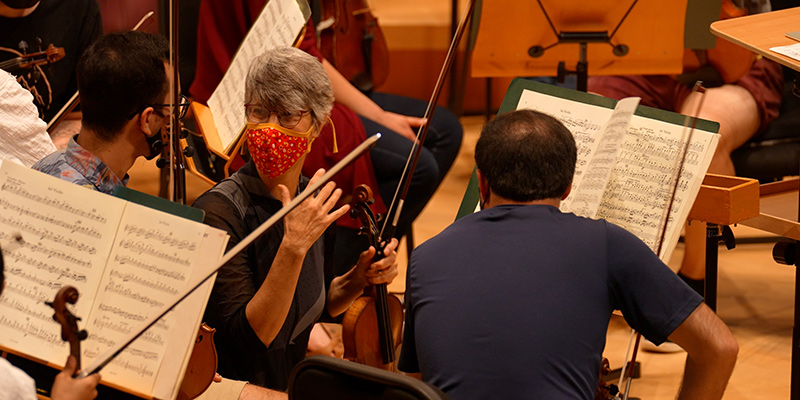 Isabel Trautwein coaches Violin Fellows in rehearsal
The full roster of returning alumni included Steven Jarvi (conductor), Dearborn Symphony; Isabel Trautwein (violin), Cleveland Orchestra; Madeline Sharp (viola), Atlanta Symphony; Brant Taylor (cello), Chicago Symphony; Brendan Kane (bass), Metropolitan Opera Orchestra; Emma Gerstein (flute), Chicago Symphony; Jennifer Christen (oboe), Indianapolis Symphony; Raymond Santos (clarinet), Kansas City Symphony; Lori Wike (bassoon), Utah Symphony; Alexander Love (horn), freelance musician; Mark Inouye (trumpet), San Francisco Symphony; Dennis Nulty (tuba) Detroit Symphony; and Jake Nissly (percussion), San Francisco Symphony.   
Click here to plan your next visit to see the NWS Fellows. 
Photos by Rafael Baldwin.
---