News
December 14, 2016
More NWS Alumni News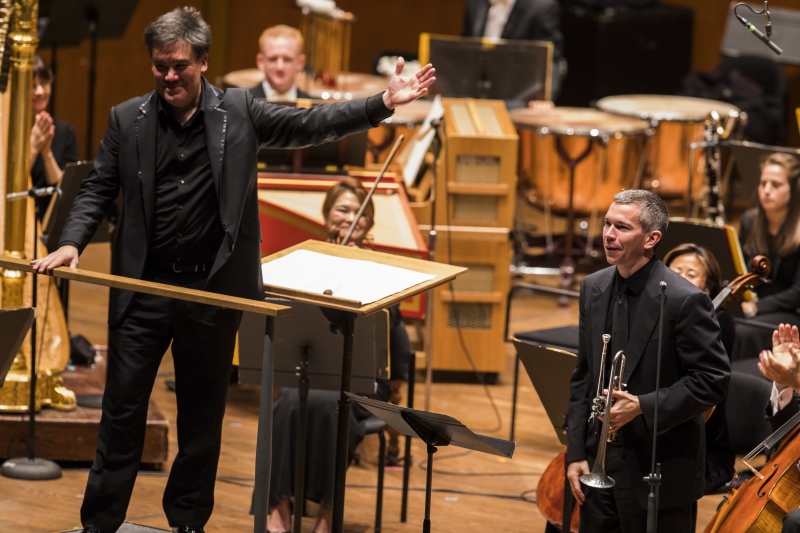 During a year that saw many New World Symphony Fellows of 2016 transitioning to professional orchestra jobs, it's also been a successful time for older alumni whose achievements in climbing the orchestral ladder and more still inspire current Fellows, staff and supporters of NWS.

This year, NWS scored a hat trick at the Baltimore Symphony Orchestra. Audrey Wright (2014) won a position in the Second Violin Section last spring. Sunjoo Park (2015) also won a Second Violin spot later, and they both took up their chairs at the beginning of this season. And Jeanne Getz (2009) won a permanent spot in the BSO Horn Section earlier in the year. They complete a contingent of eight NWS alumni at Baltimore.

As previously reported, violinist Derek Powell (2014) completed his basic training and is now a staff sergeant in the U.S. Army Band known as Pershing's Own. He joins three other NWS alumni who are in the Army now.

Matt Eckenhoff (2013) is not only a horn player with the Louisiana Philharmonic Orchestra, but its new president. Formed in 1991, the LPO is the oldest full-time musician-governed and collaboratively-operated orchestra in the United States.

Violinist Tomas Cotik (2007) is a busy alumnus. He released several CD recordings over the past few years, was a member of a piano and violin duo performing in South Florida, plus a string quartet. During the summer, he accepted a position of Assistant Professor of Violin on the faculty at Portland State University in Oregon.

Percussion continues to be an active topic in the NWS blogosphere.

Towards the end of the summer, percussionist Will James (2008) also accepted a teaching position. He has joined the faculty of the University of Missouri as Guest Lecturer of Percussion. This is in addition to his main gig as Principal Percussionist of the St. Louis Symphony. SLS has 11 NWS alumni on its roster.

Michael Israelievitch (2009) completed a one-year appoint­ment as Act­ing Prin­ci­pal Tim­pani at the San Fran­cisco Sym­phony last season, while on leave of absence from the Saint Paul Cham­ber Orches­tra, where he was Principal since 2010. At the beginning of September, he announced he'd accepted the tenured Principal Timpani position with the SWR Symphony Orchestra - Stuttgart Radio Symphony Orchestra - in Germany.

San Francisco Opera Orchestra percussionist and author Patti Niemi (1992) had another radio interview in October with WHYY in Philadelphia about her book, the memoir Sticking it Out. Click here to listen to WHYY. Click here to listen to her NPR interview.

Recently, Chris Riggs (2015) won the audition for the Assistant Timpani position with the Milwaukee Symphony. And Charles Settle (2004) has been appointed Principal Percussionist of the Toronto Symphony orchestra.

Two oboe positions have been filled by NWS alumni. In September Henry Ward (2014) was appointed Principal Oboe of the Buffalo Philharmonic Orchestra. He had served as acting principal the previous season. He and four other NWS alumni make up the Buffalo contingent. And Alison Chung (2011) (currently at Houston Grand Opera) won the audition for Associate Principal/2nd Oboe at the Kansas City Symphony. She would be joining more than two dozen NWS alumni at KCS.

Christopher Martin (1997) joined the New York Philharmonic as Principal Trumpet this season, one of four NWS alumni there. Before that he was Principal with the Chicago Symphony Orchestra. In October Chris was the featured NY Phil orchestra soloist in a series of concerts with guest pianist Lang Lang. He performed Ligeti's Mysteries of the Macabre, for Trumpet and Orchestra. Click here to read the excellent review of Chris' performance.

One NWS alumnus leaves a directorship while another is signed up for the long haul.

Bill Eddins (Piano, 1989) has been Music Director of the Edmonton Symphony Orchestra since 2005. In September he announced that the 2016-17 season will be his last there. Click here to read about his decision.

And the Louisville Orchestra just announced that Music Director Teddy Abrams (2011) has agreed to extend his contract for an additional three years through the 2019-20 season. The popular Abrams, at 29, is the youngest leader of a major American orchestra. Click here to read the announcement. Abrams had an impressive debut this week with the Chicago Civic Orchestra and one of the works he led was Drift and Providence by Samuel Adams, which was commissioned for NWS and premiered here in 2012.

Finally, regular news readers might recall a post from last January about NWS President/CEO Howard Herring's choices for 2016 POP Picks for 21CM - for the most inspiring People, Organizations or Projects in music. Now the final nominees are chosen and voting is underway on their website for the winner. Among the finalists are Herring nominees Teddy Abrams and the NWS alumni-heavy Kansas City Symphony.
---
Photos of Chris Martin by Chris Lee, courtesy of the New York Philharmonic
Photo above with NY Phil Music Director Alan Gilbert

Posted in: Alumni
---