News
July 19, 2019
MTT announced as 2019 Kennedy Center Honoree
On July 18 NWS's Co-Founder and Artistic Director Michael Tilson Thomas (MTT) was announced as one of five 2019 Kennedy Center Honorees. "The Kennedy Center Honors celebrates icons who, through their artistry, have left an indelible stamp on our collective cultural consciousness," stated Kennedy Center Chairman David M. Rubenstein. Joining MTT in the 42nd class of honorees is actress Sally Field, singer Linda Ronstadt, R&B collective Earth, Wind & Fire and Sesame Street—the award's first TV show.
"In this class of honorees, we are witnessing a uniquely American story: one that is representative of so many cultural touchstones and musical moments that make our nation great," said Kennedy Center President Deborah F. Rutter. "When I look at this class, I see the hopes, aspirations, and achievements not just of these honorees, but of the many generations they have influenced and continue to influence. We're not just looking back; these honorees are urging us to look forward as well."
MTT joins the ranks of past honorees such as John Williams, Itzhak Perlman, Luciano Pavarotti, Elton John, Mikhail Baryshnikov, Gloria Estefan and Yo-Yo Ma. Click here for a full list of past honorees.
"The life of an artist, or of an arts institution, has essentially two moments," says MTT. "The first is inventing yourself which takes vision and gumption. The second is going the distance, sustaining the vision and sharing it. I was fortunate to grow up around people who did both. My family and my devoted teachers lived every day reaffirming the highest standards and ideals of the arts and of our nation. They understood that the arts really matter when they have a creative role in a living tradition. I am honored that the Kennedy Center, which is a living center of both arts and ideals, has chosen to recognize my work. I hope that I can be thought of as a representative for all American classical musicians at this remarkable event."
Share your congratulatory messages for MTT using #CongratsMTT and #KCHonors!
HOW TO WATCH
The 2019 Kennedy Center Honors will take place on Sunday, December 8 in a star-studded celebration on the Kennedy Center Opera House stage featuring leading performers from the arts capitals of the world. The complete list of guest performers is kept secret until the show is in progress, keeping both the Honorees and the nation on the edge of their seats. The two-hour telecast of the ceremony is scheduled for Sunday, December 15 at 8:00 PM ET on CBS.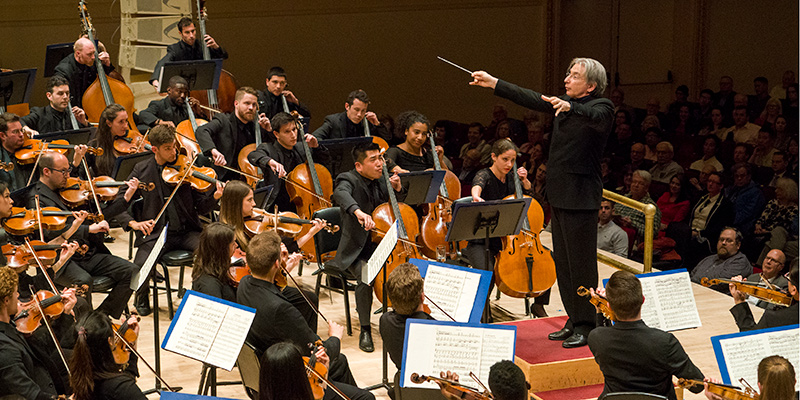 MTT conducting NWS at Carnegie Hall in May 2019, photo by © 2019 Richard Termine
Posted in: MTT
---