News
May 2, 2021
MTT resumes podium for all-American concert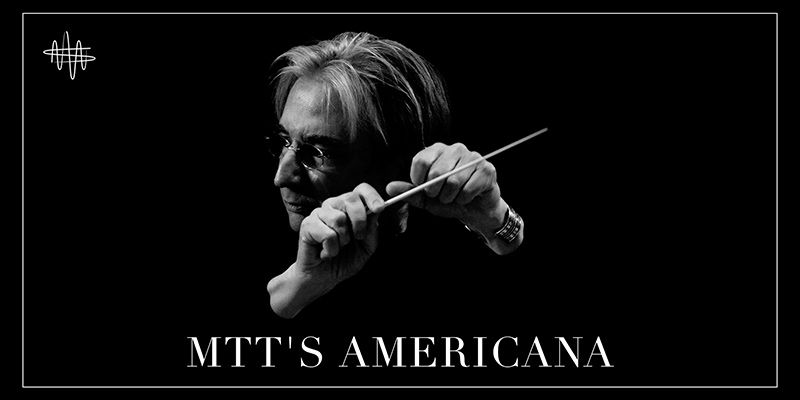 This Saturday, May 8, 2021 will mark a significant moment in NWS's season. After 14 months, Michael Tilson Thomas will return to the New World Center podium to conduct MTT's Americana, a concert of works by composers who established and reinforced the American Sound—led by its most stalwart champion.
MTT and American music are irrevocably linked in the minds, hearts and ears of music lovers. Throughout his career, he has celebrated what he calls American Mavericks—nonconformist composers like Charles Ives, Charles Ruggles, John Cage and more—ultimately earning MTT the nickname 'maverick' himself.  
"The challenge of performing the maverick repertoire is that you have to throw yourself into it sometimes doing things that can seem totally off the wall," said MTT. "You have to have quite a courageous spirit to do that."
MTT wears his courageous spirit on his sleeve. In his first year as Music Director of the San Francisco Symphony, he required every program to include a work by an American composer. He also launched the SFS's American Maverick festival, a concept he revisited several times. Many credit MTT and San Francisco Symphony with not only celebrating the American sound, but shaping it as well. Alex Ross at The New Yorker said, "Tilson Thomas and the San Franciscans were at their best in honoring the monuments of the maverick tradition. Other orchestras hardly touch this music, but in San Francisco it has become standard fare, and the authority of the playing was staggering."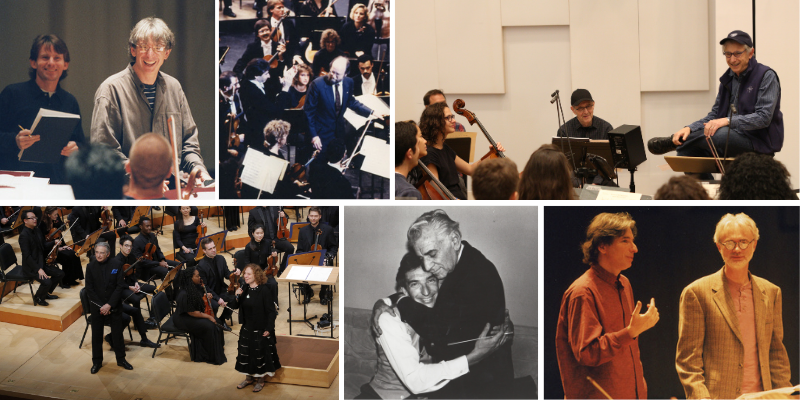 MTT and NWS Fellows with Steven Mackey, Charles Wuorinen, Steve Reich, Julia Wolfe, Leonard Bernstein and John Adams.
MTT has also infused the maverick spirit in NWS's roots, with frequent collaborations with living composers such as John Adams, Steven Mackey, Julia Wolfe, Timo Andres and Steve Reich—whose legacy MTT praised in a 2016 essay for Vogue. And in celebrations of late composers who are pillars of American music: Leonard Bernstein, Charles Ives, Aaron Copland, Ingolf Dahl, Lou Harrison, Charles Wuorinen and John Cage.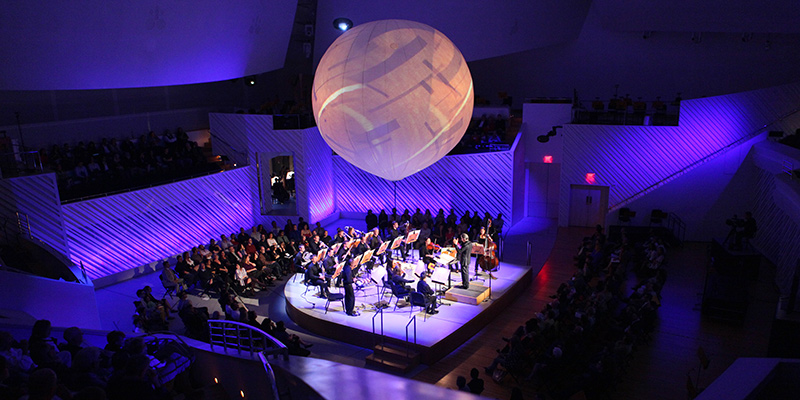 NWS's 2013 centennial celebration of John Cage, Making the Right Choices


MTT and Aaron Copland; photos courtesy of Michael Tilson Thomas
For his return to the podium, MTT chose works and composers that hold personal significance. Aaron Copland, who MTT says "changed American music and the way Americans would feel about themselves," is known for his grand chorales and boisterous ballets, but his Quiet City for English horn, trumpet and strings is full of haunting beauty. Joining MTT and the Fellows in performance is NWS alumnus Billy Hunter, who now performs as Principal Trumpet of the Metropolitan Opera Orchestra.

Billy Hunter performs at NWS's 2016 Gala
Here is an excerpt from Copland's Quiet City featuring two other NWS alumni—Ryan Roberts and Chris Martin—alongside their colleagues in the New York Philharmonic.



MTT calls Charles Ives "America's contrary musical pioneer and prophet, whose music that veers between tender sentiment and savage chaos. When it came to music, Ives was a total original—utterly uncompromising and way ahead of his time. Most of the raw material for his forward-thinking music came from his past, from his small-town New England upbringing. His music was a distillation of cherished memories." This is certainly the case with his Three Places in New England, the finale of MTT's Americana.
The program also includes William Grant Still's Patterns—which featured a young MTT on English horn for its world premiere, a work for brass by Charles Ruggles—whose music was catapulted into the spotlight after MTT released an album of Ruggles' complete works with the Buffalo Philharmonic, and virtuoso piano works by Conlon Nancarrow.
To experience this music through MTT is a gift to audience and Fellows alike – well worth the 14-month wait.
Posted in: Alumni, Concerts, Events, Fellows, MTT
---