News
August 30, 2020
Music schools secure Zoom audio upgrade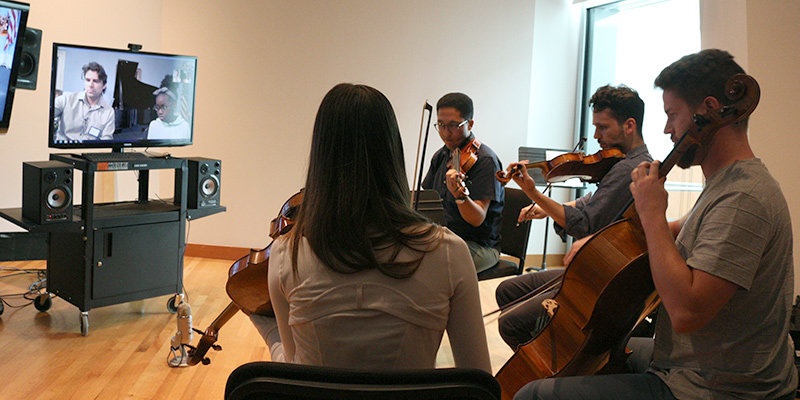 Example of distance learning at the New World Center in 2019
In anticipation of the distance learning needs posed by the COVID-19 pandemic, New World Symphony joined music schools around the world to request upgrades to Zoom's cloud-based conferencing platform that would allow teachers with students of all ages to better facilitate live instruction online.
Led by staff and faculty at Yale University with colleagues from over 30 institutions in the U.S., Canada, Japan, Australia and Europe, the group wrote to Zoom to request a 'music mode' that would include:
Increased audio quality
Prioritization of audio bandwidth, rather than video
Ability to disable echo cancellation to accommodate music's broad dynamic ranges
An intuitive user interface
"Zoom's current audio functionalities are well-suited for human speech, but are insufficient to capture the complex harmonic components of singing and instrumental music," said John Barden, Associate Vice President and Chief Information Officer at Yale University. "Zoom can help ensure that music is taught, shared and enjoyed by teachers and students across the country."
The schools of music were successful in engaging with Zoom and a new "high fidelity" mode will be rolled out for all Zoom licensees, on all platforms as part of a September 2020 release.
In its August 20 announcement of Top Features for Virtual Classrooms, Zoom said the new professional music mode will allow teachers to enjoy crystal-clear, professional-grade sound for virtual lessons and performances.    
Ted Hanss, Associate Chief Information Officer at Yale University, reported that "faculty at the schools who had access to the beta release did extensive testing with a wide range of instruments. Quotes I heard from faculty included 'beyond our imagination,' 'can now hear articulation,' and 'blown away by the low end' (from a bass test)." Key to this upgrade was Zoom's Product Lead for Education, Tain Barzso.
Hanss praised the school of music colleagues for "showing the benefit of unified vendor engagement by higher education and achieving a successful outcome in less than two months for a feature key to remote music instruction."
Posted in: Technology
---