News
December 1, 2020
New World Center: Flexible Spaces & Tech Capabilities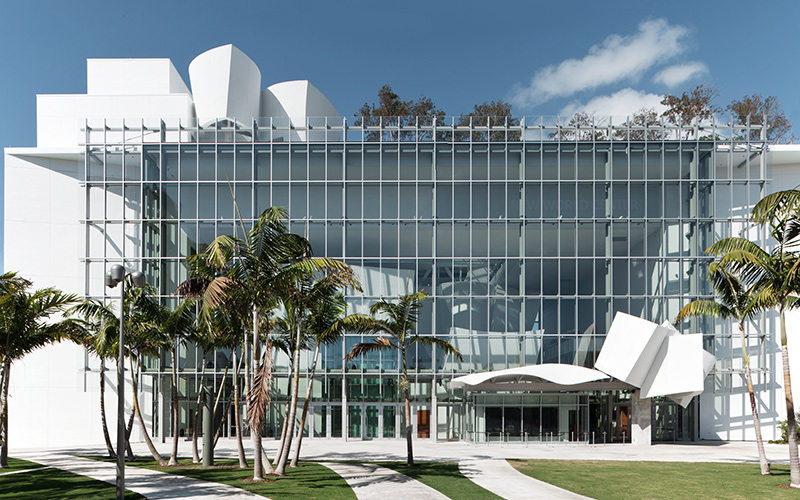 The New World Center is well-known as an exceptional Miami Beach venue, offering a diverse selection of stunning spaces both indoors and out. For locals and visitors alike, the Frank Gehry-designed building is among the most recognizable landmarks in South Florida, with its contemporary interior and soaring glass façade.
Did you know that the New World Center is also one of the event industry's shining examples of both versatility and tech-savvy design?
Already aesthetically beautiful, the New World Center is impressively functional and adaptable for a wide variety of purposes, earning a place of distinction as a premier event and production venue in South Florida. The combination of visually impressive surroundings and modern technology make its event spaces an excellent fit for many different functions, including virtual, in-person and hybrid events.
If you're searching for a Miami event venue that raises the bar for flexibility, technological capabilities and stylish design, look no further than the New World Center.


How a Modern Space Can Expand the Potential of Your Next Event
Of the many benefits of hosting an event at the New World Center, flexibility and technological capabilities are perhaps two of the most noteworthy. These features are critical, enabling event hosts to tailor their event space to suit their unique needs and the demands of the modern world.
The New World Center is equipped with extensive technological capabilities and services including:
HD live-streaming and webcasting capabilities; compatible with Zoom and other content delivery networks such as Vimeo and Facebook Live; ability to stream fully produced, TV-style productions over the web
Cutting-edge 4K/UHD recording system, including 4K/UHD robotic cameras and UHD switcher, character generators and sophisticated monitoring system
Forward-facing projection in multiple spaces
280 degrees of additional immersive projection in the performance hall driven by the Coolux Pandora's Box real-time compositing system
Sophisticated audio recording equipment, including two multi-track recording studios with the ability to record and transmit audio from the Performance Hall and SunTrust Pavilion
Automated stage lighting systems featuring conventional, moving and LED fixtures controlled by a GrandMA 2 console
Extraordinarily flexible stage featuring ten mechanical stage lifts and ancillary satellite performance platforms
High-end audio systems including DiGiCo consoles, fixed and portable speakers, wireless handheld and lapel microphones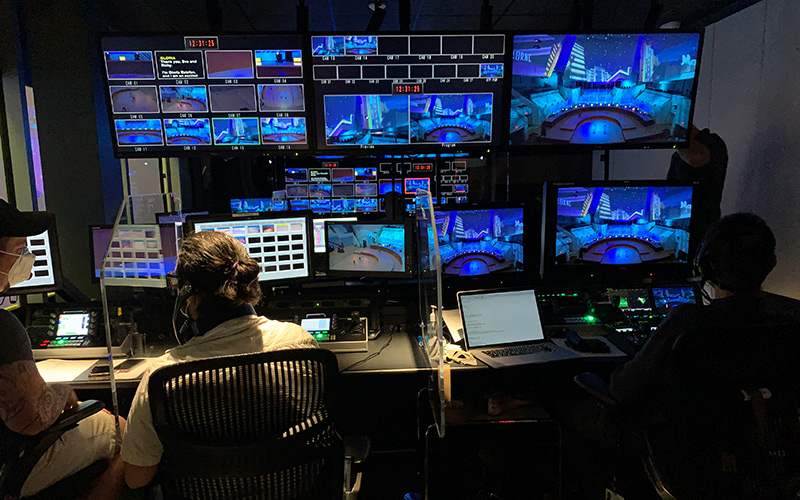 Here are a few examples of how our advanced tech capabilities can serve as an exceptional asset to your next event.
Welcome guests to attend remotely or in-person with virtual and hybrid events
Whether it's health and safety protocols, location, or logistics limiting your in-person guest list, virtual and hybrid events can be a wonderful way to reach your event's full potential by allowing guests the flexibility to choose their mode of attendance. The New World Center offers full audiovisual services, giving you the ability to live stream the event to guests around the world. For planners seeking to organize a professional event, virtual events streamed from venue with high level production capabilities are an especially attractive option.
Create an immersive event experience using technology
Whether planning a product announcement, anniversary celebration, convention, or even a special birthday party, the goal of every host is to give guests a memorable experience. Features such as immersive projection, theatrical lighting capabilities, audio enhancement, and webcasting allow for engaging, dynamic events.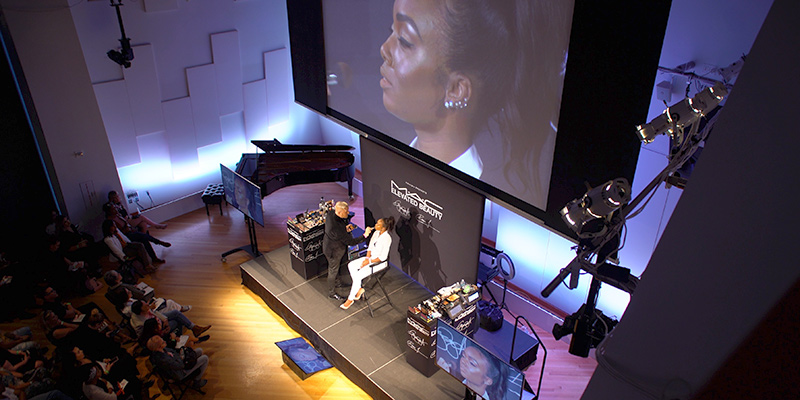 Host a performance that makes an indelible impact
The New World Center is home to the New World Symphony, so it comes as no surprise to learn that the venue is designed for performance, including magnificent acoustics and first-class audio and visual systems. Whether presenting a classical, indie or jazz performance, treating your colleagues or guests to a live band performance, or utilizing the venue's technology to train and inspire company leaders, there are no limits to what you can achieve.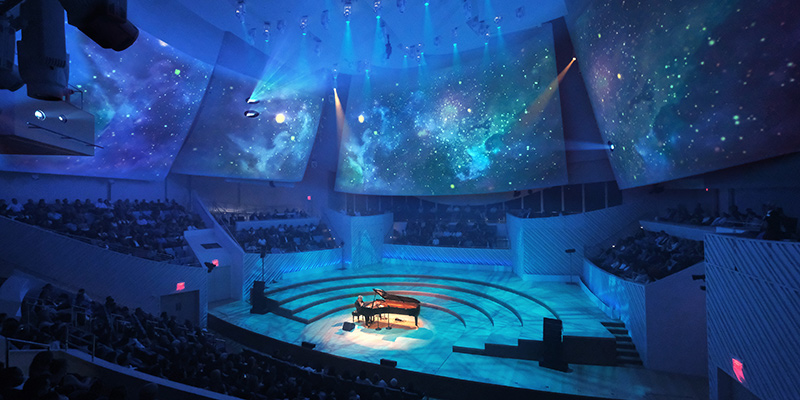 Envision Your Event in One of Our Flexible Spaces
The New World Center is comprised of a multitude of spaces. Whether you select just one or opt for guests to progress through several over the course of the event, the venue offers options for both large and intimate events, giving hosts the ability to find the perfect fit with ease.
Our events team is happy to assist you in the selection of the right spaces in the venue, choosing from an extensive selection including the following:
Performance Hall
Constructed to offer the very best in acoustics and multimedia capabilities, the Performance Hall is a breathtaking space with a wide range of staging and seating variations.
Atrium
This modern, architecturally captivating space features a glass, backlit bar and six stories of natural light in addition to theatrical lighting and projection capabilities.
SunTrust Pavilion
Acoustically isolated and 4K live-stream capable, the SunTrust Pavilion is among our most technologically advanced spaces.

Rooftop Garden
Take your event outdoors and soak up the expansive views of Miami and South Beach in our chic, open-air Rooftop Garden.
Donor Lounge
Shape an intimate event according to your guests and purpose in the Donor Lounge, available for up to 100 guests.


Bring Your Event Vision to Life at the New World Center 
When you're hosting an event at a venue as flexible, unique and technologically advanced as the New World Center, the possibilities are virtually endless. With a diverse range of spaces and cutting-edge amenities, the New World Center can adapt to suit any event.
For more information about holding your upcoming event at the New World Center, please contact us today.
Posted in: New World Center
---