News
April 19, 2016
New World Symphony Celebrates Earth Day
On April 2nd, the New World Symphony and VolunteerCleanup.org organized a cleanup of Venetian Park in early celebration of Earth Day. Sixty members of the New World Symphony family including staff, Fellows, patrons, and Friends of NWS members gathered along Biscayne Bay to give back to their community.
"Marine debris is a huge and growing problem in our society and across the globe. Some new research says that by the year 2015 there will be more plastic in the ocean than fish," said Dara Schoenwald, Executive Director of VolunteerCleanup.org and long-time Friends of NWS member.
"Those parks on the bay have a terrible, terrible marine debris problem because it all gets trapped in the mangroves and the rocks," Schoenwald said, "VolunteerCleanup.org is a grassroots organization and we primarily engage volunteers to cleanup their neighborhoods, shorelines and waterways as a way to raise awareness for marine debris."
Volunteers picked up trash wedged in the rocky shoreline, hidden underneath sand and dirt, and pulled down plastic bags wrapped around the mangrove's trees.
"I found a ton of Styrofoam which was broken up into lots of little pieces and was really difficult to pick up," said Maya Ibars, a Friends of NWS Executive Committee Member, "Lots and lots of little baggies, plastic bags, ropes, shoes, socks. I was surprised at the amount."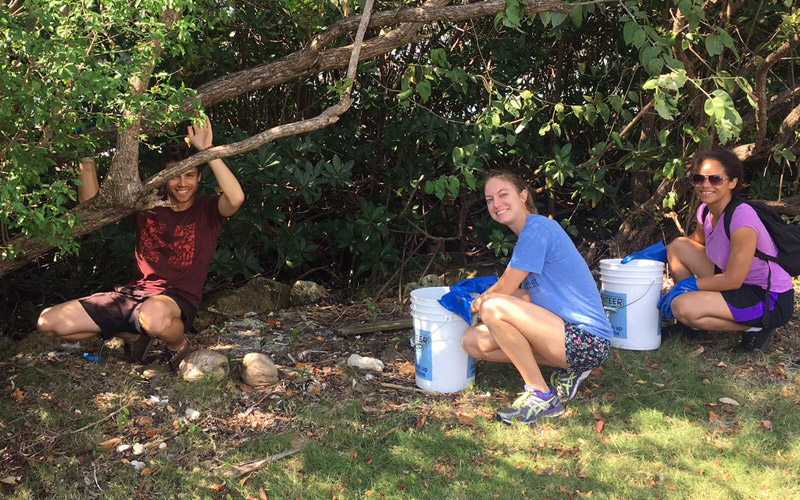 "I think it's fantastic. It's New World really getting back in touch with what it means to be such a part of the city. This year has really been about collaboration, about reaching out to groups that are doing tremendous work in the community and figuring out how we can be a part of that," said NWS trustee Florencia Jimenez-Marcos.
VolunteerCleanup.org weighed the bags of trash and in just one hour, the volunteers collected 890 pounds of marine debris.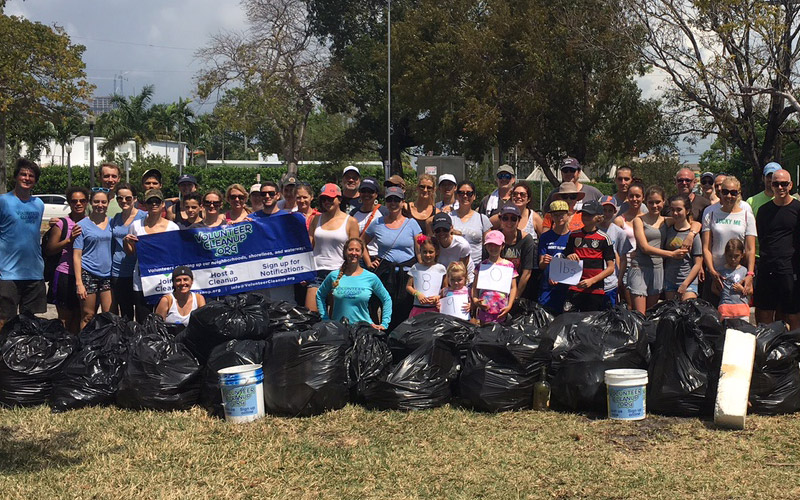 You can see how much trash all participants collected in a video to be played during intermission at Saturday's WALLCAST™ Concert, presented by Citi The Mahler Legacy: The Song of the Earth.
You can also apply some of these tips to your life on Earth Day and beyond to have a positive impact on the environment we all share:
Pick up one piece of litter every day
We all know not to litter, right? Well, trash on the street ends up in the storm drains and goes into our waterways. Don't just walk by a piece of litter, be a good citizen and pick it up. Commit to one piece per day.
Bring your own shopping bags:
One shopper uses 500 single use plastic bags every year, and plastic bags are the 2nd most captured coastal debris. Bring your own reusable bags with you on every trip to the store. Some stores will even give you a nickel or dime back for bringing your own.
Take Back the Tap:
Plastic water bottles aren't just a waste, they may also be harmful to your health. Use a reusable water bottle or a glass jar and fill it at the tap. (Miami has great tap water which is tested daily for safety.)
Don't Flick that Butt!
Cigarette Butts are the most commonly littered item in the world, but many smokers don't realize that Cigarette Butts are made of plastic and are not bio-degradable. Littered cigarette butts enter into the storm drains and go straight out to the ocean releasing toxic chemicals along the way. Use an ashtray, and don't litter.
Straws are for Suckers:
Do you really need that straw? Bartenders and servers will often give you one by default. When you order, remember to tell them, "No straw, please." If you really need one, carry your own stainless steel or glass straw.
Bring your own Cup:
Whether you are getting your daily cup of coffee, getting a quick meal, or going to an event or party, make sure to leave the house with your own reusable thermos or cup. Don't be shy, just present the staff with your reusable gear and ask them to fill'er up (and get your discount!).
Party Plastic-Free:
Treat guests to reusable partyware instead of disposable plates, cups, and cutlery or try serving finger foods that don't need utensils. If you throw a BYOB party, have friends BYOC. If you are going to a party or event, bring your own reusable cup.
Drift Away from Plastic Packaging:
When shopping, buy fewer items packaged in plastic. If an item you want comes in a glass jar or plastic container, choose glass. Instead of buying the plastic wrapped meat or veggies, get the protein from the butcher wrapped in paper and pack your veggies loose and plastic free in your own reusable bag.
Clean Up Your Soap Situation:
Consider using bar soaps and powders that come with less plastic packaging. If you use liquid, buy in bulk and refill soap containers. Search the ingredients of your toothpaste and facial scrubs and stop using anything with microbeads.
Promote Corporate Responsibility:
Ask businesses to take responsibility for the products and packaging they are putting out into the world. Tell them you prefer more sustainable options instead of Styrofoam. If you own a business, look for ways to reduce your single use plastic consumption. The business will also save money.
To organize your own cleanup or join another, visit www.VolunteerCleanup.org. To learn what you can do to help the environment, visit www.EarthDay.org. 
Posted in: Events, fellows, staff
---