News
April 12, 2016
NWS Alumna Authors Book on the Life of a Classical Musician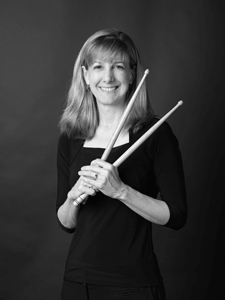 When 22-year-old Patti Niemi came to Miami Beach in January 1988, she was a rare female percussionist in the orchestra world. Amazingly she joined a second, Linda Cade, to make up part of the half-dozen-member, inaugural New World Symphony percussion section. And indeed, they remain two of only three female percussionists to become NWS Fellows throughout its history.

Patti told the NeWS, "In January of 1988, I had the privilege of moving into the Plymouth Hotel with the first crop of musicians. Our hair was bigger and our clothes brighter, but we engaged in the same process of practicing to improve. I've had the pleasure of recounting my New World years - 1988 to 1992 - in my new book entitled Sticking It Out."

Sticking It Out was released today (in hardback, also available as e-book), published by ECW Press, subtitled From Juilliard to the Orchestra Pit: a Percussionist's Memoir.
---
"Few parents would fall to their knees and pray that their daughter becomes a drummer. They might hope for a violinist or flute player, but it's the rare parent who secretly longs for a girl who beats on drums. If a ten-year-old drops this bomb as a career path, it's a safe bet that it is her dream."

When Patti Niemi was 10 years old, all the children in her school music class lined up to choose their instruments. Boy after boy chose drums, and girl after girl chose flute - that is, until it was Patti's turn. From that point onward, Niemi devoted her life to mastering the percussive arts. Cymbals, snare drum, marimba, timpani, chimes: she practiced them all, and in 1983, she entered Juilliard, the most prestigious music conservatory in the world.
Set against the backdrop of a rapidly changing New York City in the 1980s, Sticking It Out recounts Niemi's years mastering her craft and struggling to make it in a cutthroat race to a coveted job in an orchestra. Along the way, she has to compete with friends, and face her own crippling anxiety and reliance on prescription medication, while confronting the delicate, and sometimes perilous, balance of power between teachers and their students.
Niemi's memoir brings us inside a world that most of us never get to see: grueling practice schedules, intimate musical relationships, and long moments at the back of an orchestra spent sweating and counting before a big cymbal crash.

Sticking It Out is a humbling account of the work that leads to a dazzling moment of perfection, and of the dogged persistence it takes to follow a dream.

Upon leaving New World, Patti won a position as percussionist with the San Francisco Opera Orchestra where she has remained for more than two decades.
---
Click here for the publisher's webpage
Click here for a preview
Click here for a pre-publication review
Click here for Barnes & Noble
Click here for Amazon (including reviews by NWS percussion alumni Linda (Cade) Carrillo & Riely Francis)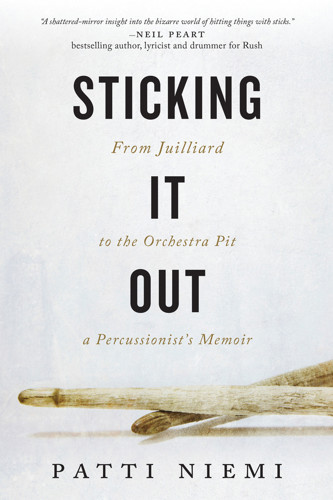 Posted in: Alumni
---