News
March 24, 2021
NWS announces Collaborations Fund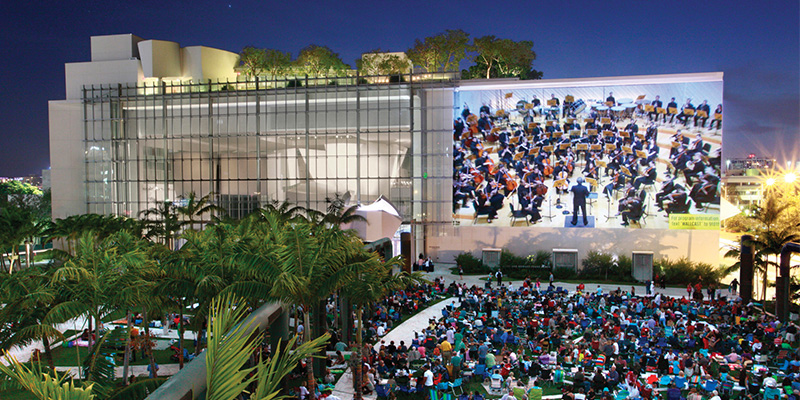 The New World Symphony announces the establishment of the NWS Collaborations Fund to support New World Symphony partnerships with like-minded organizations from Miami's arts community and other non-profit groups whose mission and values complement those of NWS. This Fund was seeded with a $500,000 lead gift over five years from NWS Trustee William Kleh and his wife Patricia Kleh. To support the NWS Collaborations Fund, click here and list CCF in the additional comments box. 
With educational and artistic programs that are suited for partnerships with local arts and social service organizations, NWS has a long history of initiating and developing programs that benefit the community. The Frank Gehry-designed New World Center, opened in 2011, has been described as having an architecture of invitation, and features a digital infrastructure that can inform and enhance community-based work. Concert experiences are designed to engage traditional and new audiences; community engagement is an essential aspect of NWS Fellows' training; and NWS BLUE (Build, Learn, Understand, Experiment) projects invite Fellows to conceive and execute entrepreneurial initiatives that engage the community. Recent partnerships have included a celebration of the artistic partnership between Igor Stravinsky and George Balanchine with the Miami City Ballet, and an upcoming collaboration with Human Rights Watch and pianist Awadagin Pratt exploring his own, and the universal, experiences of racism.
Of the establishment of the Fund, Mr. Kleh said "The City of Miami's identity, in many ways, revolves around a commitment to the arts. The Collaborations Fund seeks to build upon this commitment by encouraging NWS to continue to work with other arts organizations to present creative programs and events which include classical music as a key component. Importantly, I was also inspired through my involvement with NWS's Equity, Diversity, Inclusion and Belonging (EDIB) Committee to support programs and events that will engage new audiences within our community. To this end the Fund will seek collaborations with other organizations (both within the arts community and other non-profits which may not be focused on the arts) who share NWS's commitment to the mission and values of the EDIB Committee. It is my hope and desire that the Collaboration Fund will inspire other donors, both individual and institutional, to invest in this concept, ultimately providing a robust stream of support that will enable collaborative projects and partnership ideas to come to fruition without unnecessary delay."
Projects will be selected to receive investment from this Fund at the discretion of NWS's Co-Founder and Artistic Director Michael Tilson Thomas, alongside a committee of NWS senior staff.
Of this new Fund, MTT said "We're excited by Bill and Patty Kleh's generous gift to establish this new fund which will allow us to not only develop new projects with artists in the areas of dance, theatre, film and the spoken word, but also with other community-based organizations. I have always thought of the New World Center as a Musical Meetinghouse. This fund will help us expand on that concept. We are so grateful for the Kleh's generosity and their continued belief in our mission."
The Collaborations Fund is one of a series of major funding initiatives established by members of the NWS Board of Trustees, with the goal of driving innovation at the New World Symphony, and, as a result, within the greater classical music landscape. In 2018 Robert and Diane Moss created the Fund for New Ventures to underwrite innovative projects and programs. Dr. Judith Rodin established the Resilience Fund in 2020 to help NWS respond quickly and creatively to the pandemic and other external challenges.
To support the NWS Collaborations Fund, click here and list CF in the additional comments box. 
Posted in: Community Collaboration, MTT, Trustees
---