News
November 8, 2018
NWS announces Fund for New Ventures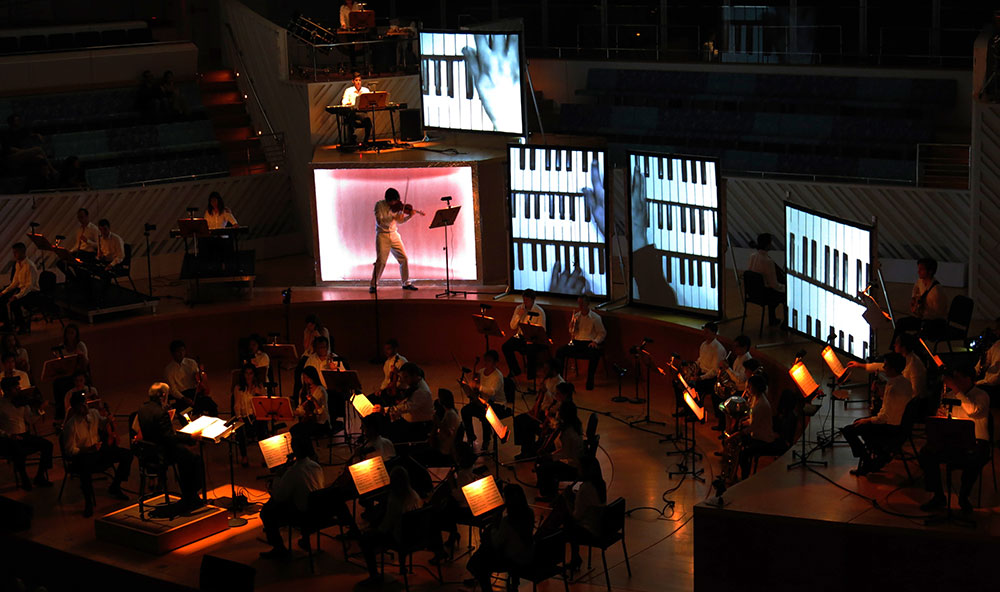 Michael TIlson Thomas and NWS at the New World Center. Photo by Rui-Dias Aidos 
THE NEW WORLD SYMPHONY ANNOUNCES $500,000 GIFT FROM ROBERT AND DIANE MOSS
TO ESTABLISH "FUND FOR NEW VENTURES."
The Fund for New Ventures will provide the New World Symphony (NWS) with artistic risk capital to fund innovative new programs, projects, productions and experiments at their earliest stage of development. Long-time supporters of NWS, Robert and Diane Moss established the Fund with a generous gift of $500,000 from their donor-advised fund at The Miami Foundation, the Helena Rubinstein Philanthropic Fund.   
At cultural institutions, ideas and projects usually need to be accommodated within the constraints of an annual operating budget. A dedicated source of artistic risk capital is a rare phenomenon in the field. Says NWS President and CEO Howard Herring, "Bob and Dede Moss understand the complex process that takes an artistic project from dream to reality. With the Fund for New Ventures, they are investing in that process at NWS. We are grateful for their trust." The fund will support and enhance NWS's ability to be nimble and responsive in an ever-changing world, and to take quicker action on bringing exciting new ideas to the test and execution phase. The fund will also leverage the facilities of the New World Center and the expertise of NWS staff in pursuit of unique, authentic artistic and educational content.   
"The idea of developing such a fund came to us when I thought about the freedom and flexibility that could be afforded to NWS via a dedicated resource for seed funding," says Mr. Moss. "We have the best facilities, technical support, and one of the world's most creative minds in the art form. Just imagine what more will be possible with a growing pool of artistic risk capital."  
The establishment of the Fund will inspire others, both individual and institutional, to join Mr. and Mrs. Moss in investing in this concept, ultimately providing a robust stream of artistic risk capital that will enable projects and ideas of significant scale to come to fruition.   
NWS Co-Founder and Artistic Director Michael Tilson Thomas says, "I often dream of projects that fit our mission but require risk. At NWS, agility has high value. The Fund for New Ventures will allow us to pursue strong ideas quickly and efficiently. This gift from Bob and Diane is a significant breakthrough in the process of bringing our ideas from concept to reality."  
For more information about the New World Symphony's Fund for New Ventures or the concept of artistic risk capital, contact Maureen O'Brien, NWS's Senior Vice President for Development, at 305.428.6730 or maureen.obrien@nws.edu.
Posted in: MTT, News, Technology
---