News
February 24, 2020
NWS announces partnership with IDAGIO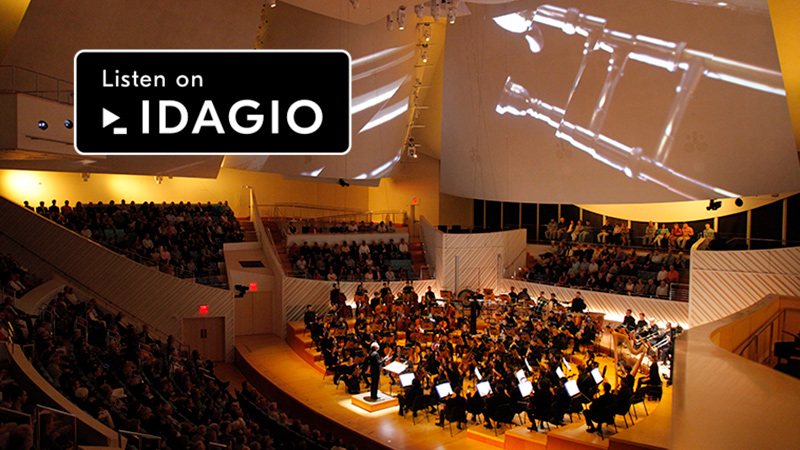 The New World Symphony is proud to announce that IDAGIO, the first global streaming service for classical music, is now The Official Audio Streaming Partner of the New World Symphony. As part of this partnership, IDAGIO will regularly feature new NWS concert recordings, including performances led by NWS Co-Founder and Artistic Director Michael Tilson Thomas (MTT), as well as additional content including playlists curated by NWS, and artist profiles featuring music by individual Fellows. The first recordings to be released as part of this partnership—MTT conducting Stravinsky's Variations: Aldous Huxley in Memoriam, Symphony in Three Movements, Pétrouchka (1947 revision), and Scherzo à la russe (symphonic version)—will appear as IDAGIO exclusives.

"The New World Symphony envisions a strong and secure future for classical music and is thrilled to share our young musicians' artistry with as many people as possible through this new partnership with IDAGIO," said MTT. "This collaboration will allow NWS to reach new global audiences and continue our exploration of classical music in the digital realm."
"The way we receive art and engage around content continues to change dramatically in all domains," said IDAGIO Co-Founder & CEO Till Janczukowicz. "The New World Symphony provides creative leadership in approaching classical music in new ways. We are extremely excited about our new partnership with this stellar institution: a creative laboratory driven by art and technology that will change and enrich the way people access classical music across the globe."
NWS's relationship with IDAGIO is an extension of its decades-long commitment to exploring new technologies as tools for reaching new listeners, re-thinking the classical music experience, and preparing its resident Fellows for musical life in the 21st century. Additional initiatives include NWS WALLCAST® Concerts, free-to-the-public simulcasts of live concerts in 4K UHD; video webcasts of NWS concerts via Medici.tv, The Official Video Streaming Partner of the New World Symphony; MUSAIC, an online video learning platform created by NWS in partnership with leading universities and conservatories around the world; and global audition training, which uses low-latency long-distance learning technology to connect Fellows with musical mentors around the world.
Investing in artists as they prepare for professional careers is also an important part of the IDAGIO mission. IDAGIO partners with youth orchestras both inside and outside of the U.S., from the Boston Youth Orchestra and the Hawaii Youth Orchestra to the Sydney Youth Orchestra, and is now on a mission to connect with more young listeners through its partnership with NWS and its post-graduate, pre-professional Fellows.
Posted in: MTT, Technology
---