News
December 1, 2022
NWS announces second I Dream a World festival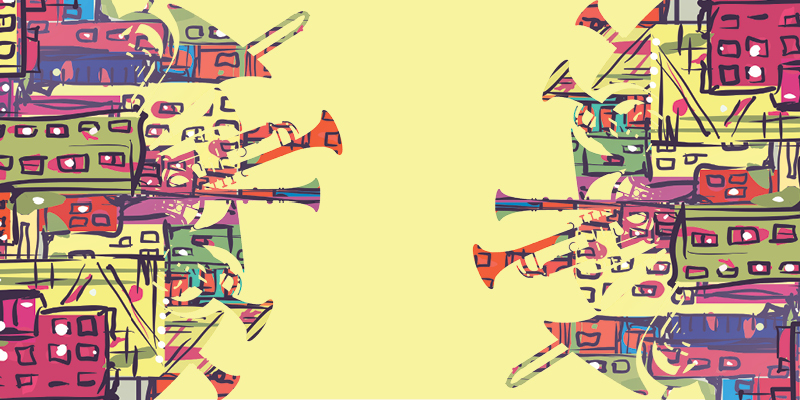 New World Symphony announces I Dream a World: The Harlem Renaissance in Europe. Taking place from February 3-15, 2023, this multi-disciplinary Festival builds on 2022's inaugural I Dream a World Festival and underlines New World Symphony's ongoing commitment to inclusive programming and representation of Black musicians and creatives. 
This season's Festival is a two-week exploration of the trans-Atlantic movement and influence of the Harlem Renaissance in Europe. Amid America's cultural explosion, racial inequality limited artistic freedom and expression for Black creatives – sparking a widespread movement to Europe in search of better opportunities.  
I Dream a World: The Harlem Renaissance in Europe will focus on the artists who found success in Europe between 1917 and 1935, exploring the impact of World War I, the rise of Nazism, and World War II on the spread of Harlem Renaissance ideology and Black music in Europe.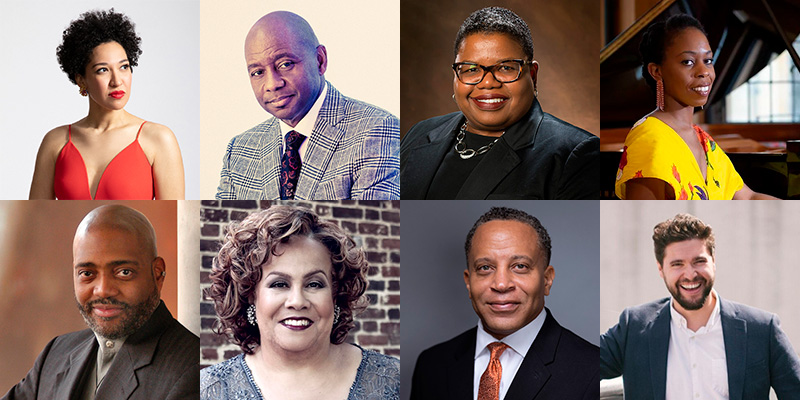 2022 Festival Artists: Julia Bullock, Branford Marsalis, Dr. Tammy Kernodle, Dr. Samantha Ege, William Eddins, Dr. Louise Toppin, Russell Motley and Christian Reif
Festival collaborators include Dr. Tammy Kernodle (University Distinguished Professor of Musicology at Miami University of Ohio), Dr. Samantha Ege (Lord Crewe Junior Research Fellow in Music at Lincoln College, University of Oxford), conductor William Eddins and Branford Marsalis (composer, bandleader, and GRAMMY Award-winning saxophonist). In addition to a robust series of concerts, the Festival will feature an exhibition curated by Christopher Norwood, a lecture presented by FIU/Wolfsonian, and a film presented by the City of Miami Beach and the American Black Film Festival.  
"This year, the I Dream a World Festival extends its cultural lens and musical ear to consider the sounds and personalities that preceded the Harlem Renaissance in America and how they influenced cultural trends in Post-World War I Europe," shared Festival curator Dr. Tammy L. Kernodle. "It is more than just an exploration of the ideological and cultural reach of the movement. I Dream a World seeks to challenge the dualities of concert and popular music, provincial and cosmopolitan culture to illuminate how black music, the cultural spaces that incubated it, and the communities of artisans and intellectuals that engaged with it through performance, color, movement, and word shaped the modern world."
This Festival is funded in part by the NWS Collaborations Fund and the NWS Fund for New Ventures.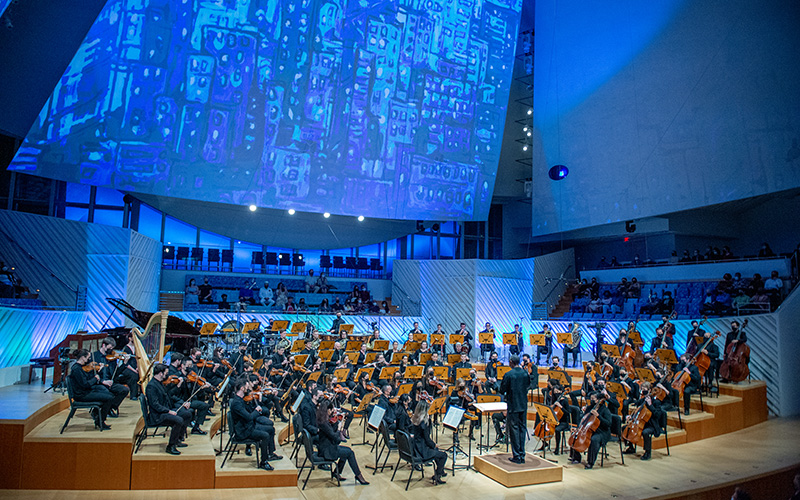 February 2022 I Dream a World performance, photo by Gregory Reed
FESTIVAL EVENTS
Friday, February 3, 2023 at 7:30 PM and 9:30 PM
New World Center (Truist Pavilion)   
The New World Center's Truist Pavilion will transport audiences to a Parisian nightclub inspired by the legendary Chez Bricktop. Proprietress Ada "Bricktop" Smith, an American dancer, jazz singer and Vaudevillian, set the tone for Paris's "café society" and was known for entertaining royalty, movie stars, and writers.  
American sopranos Julia Bullock and Louise Toppin, pianist Christian Reif, and NWS Fellows pay homage to Black jazz and blues culture with works by Billie Holiday, Alberta Hunter, Cole Porter, Harold Arlen, Duke Ellington, and Bricktop herself.  
Saturday, February 4, 2023 at 7:30 PM
Sunday, February 5, 2023 at 2:00 PM
New World Center (John S. and James L. Knight Foundation Stage, Michael Tilson Thomas Performance Hall) 
Conductor William Eddins takes the New World Symphony podium to lead a two-night celebration of works influenced by the art and artists of the Jazz Age. These concerts will be hosted by Festival curator, Dr. Tammy Kernodle.  The NWS will be joined by soprano Louise Toppin in works by Coleridge Taylor, James P. Johnson, Scott Joplin and Maurice Ravel.  
These concerts will be preceded by a discussion on the African Diaspora hosted by Shawn Anthony Christian, Associate Professor and Chair, Dept of English, Florida International University and Nathaniel Cadle, Associate Professor of English at Florida International University, joined by NWS Fellows.  
Tuesday, February 7, 2023 at 7:30 PM
New World Center (John S. and James L. Knight Foundation Stage, Michael Tilson Thomas Performance Hall) 
GRAMMY Award-winning saxophonist and bandleader Branford Marsalis and Florida Memorial University broadcast journalism professor Russell Motley present an exploration of American ragtime bandleader, arranger, and composer, James Reese Europe, who is easily characterized as one of the most dynamic musical figures to emerge out of America's music scene during the first two decades of the 20th century, He and the many musicians with whom he collaborated contributed to not only the global popularity of blues, early jazz, and orchestral ragtime, but also elevated readings of Black music culture.   
Wednesday, February 8, 2023 at 7:30 PM
New World Center (Truist Pavilion)   
Hosted by British musicologist and pianist, Dr. Samantha Ege, this concert features keyboard centric music by Black composers.  Dr. Ege will be joined by William Eddins and the NWS Piano Fellows to showcase this work from artists including Florence Price.  Recordings from this concert will be included in the NWS's 36Keys.org, a digital resource library to ensure this work is available to students, teachers, programmers, and music lovers.  
Friday, February 10, 2023 at 7:30 PM
Lyric Theater, Overtown 
Festival Curator Dr. Tammy Kernodle and NWS Dean of Instrumental Performance Michael Linville curate a special evening of chamber music from Black composers working in or inspired by the Harlem Renaissance.  In collaboration with the Black Archives History & Research Foundation of South Florida, Inc this concert will be presented at the Lyric Theater in Historic Overtown, a historically Black neighborhood. Overtown's cultural growth in the 1930s mirrored the renaissance happening in Harlem during the same years and earned the area the nickname "Little Broadway."  Overtown served as a place of refuge for Black performers including Billie Holiday, Count Basie, Ella Fitzgerald and many others who were not welcome to lodge overnight in the prominent Miami and Miami Beach hotels where they were invited to perform. 
Sunday, February 12, 2023 at 11:30 AM
New World Center (John S. and James L. Knight Foundation Stage, Michael Tilson Thomas Performance Hall) 
This celebratory program, designed to engage audience members aged four to nine, brings the music from this era to life in exciting and educational ways, with pre-concert activities and an interactive performance. Led by New World Symphony Conducting Fellow Chad Goodman, this concert features jazz, blues, and ragtime and will bring out the bandleader in everyone.   
Wednesday, February 15, 2023 at 8:00 PM
Free in SoundScape Park 
Presented in partnership with the City of Miami Beach and the American Black Film Festival, this free WALLCAST® film tells the story of the 15th Regiment of the New York National Guard, made up entirely of African American soldiers, who served in the French Army in WWI. The documentary features archival footage of President Barack Obama honoring the Hellfighters and commentary from American and French scholars.  
Festival Exhibition: Le Paris Noir: Henry Ossawa Tanner & Lois Mailou Jones 
February 3-12, 2023, open to festival ticketholders
New World Center Atrium Lobby   
Christopher Norwood, curator and founder of Hampton Art Lovers at the Historic Ward Rooming House curates an installation from The Norwood Collection with art and related works of African American painters Henry Ossawa Tanner (1859-1937) & Lois Mailou Jones (1905-1998). The first internationally recognized male and female African American artists, both found human and artistic freedom in France. The exhibition can be viewed throughout the duration of the festival. 
Posted in: Concerts, Events, I Dream a World
---