News
March 21, 2016
NWS Celebrated Alumni with GALA 1000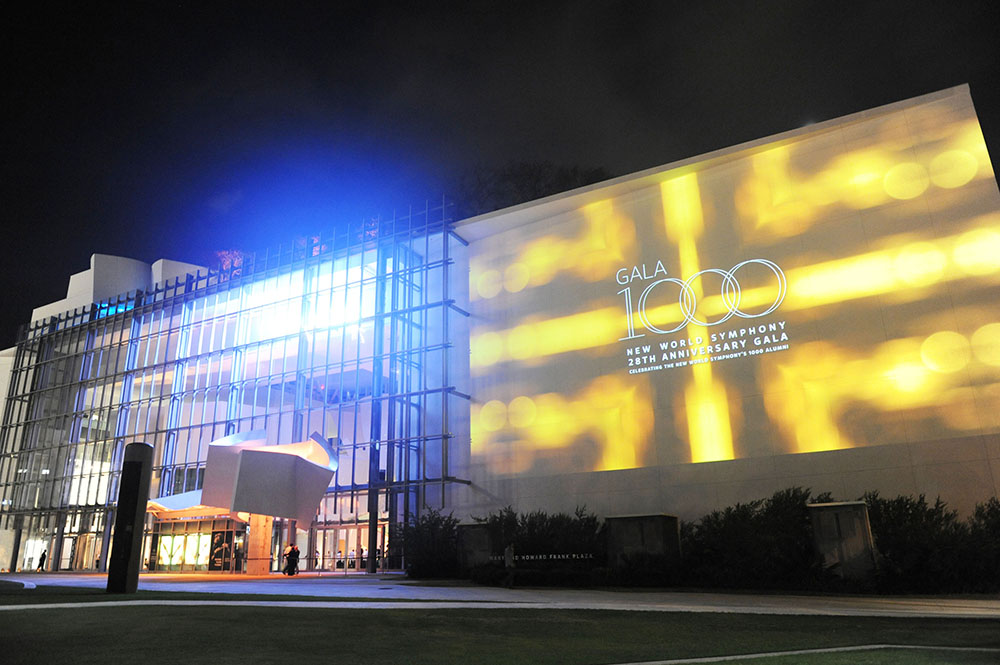 The New World Symphony, America's Orchestral Academy (NWS), presented its Gala: 1000 on Saturday, March 12, to celebrate the organization's milestone achievement of reaching 1,000 alumni in its 28th year. The event honored the vision of co-founders Michael Tilson Thomas and Ted and Lin Arison by welcoming back five innovative alumni who are advancing the world of classical music, each in their own way. More than 550 supporters were joined by Malcolm McDowell, star of Amazon's hit series Mozart In The Jungle, who served as Master of Ceremonies for the event. 
Sponsored by Total Wine & More, Bacardi, Fathom and Cultured Magazine, the evening was a huge success. Proceeds directly benefit New World Symphony's mission of preparing gifted young musicians for careers in professional orchestras, while providing meaningful cultural programs to the South Florida community. 
As guests arrived at the New World Center, they were greeted by a Bacardi cocktail reception. The experience was followed by a special onstage performance by New World Symphony's 87 Fellows and five returning alumni:  Andrew Wickesberg, Pittsburgh Symphony Orchestra (Viola); Joseph Peters, Minnesota Orchestra (Principal Oboe); Rebekah Heller, International Contemporary Ensemble (Bassoon); Billy Hunter, Metropolitan Opera (Principal Trumpet); and Christopher McLaurin, Kansas City Symphony (Principal Percussion). A highlight of the evening occurred when Michael Tilson Thomas, a ten-time Grammy Award winner, surprised guests by joining Malcolm McDowell on stage. In Mozart In The Jungle, McDowell plays the role of an older, more traditional conductor competing with rising young talent. The moment made for an exciting interaction between a real-life conductor, and a star that plays one on television, as MTT gave McDowell a conducting lesson, and McDowell led America's Orchestral Academy in a performance of Khachaturian's popular Sabre Dance. 
After the performance, guests were seated for a dinner accompanied by special musical interludes. Supporters then continued the evening at an exclusive late night after party at the New World Center, which featured Michael Andrew Big Band and a guest performance by New World Symphony's Trombone Fellow, Nicholas Platoff. 
The annual gala represents the New World Symphony's largest fundraiser annually.  The New World Center has been the site of NWS' gala since its opening in 2011, providing a flexible site capable of providing exhilarating experiences while also ensuring that more of the money raised from the gala goes toward supporting the mission of the institution.  
Listen to short stories of the returning alumni below; these alumni are representative of the more-than 1,000 alumni around the world that continue to improve the organizations and communities in which they work and live. 
---