News
June 3, 2021
NWS co-hosts 2021 Building Bridges Symposium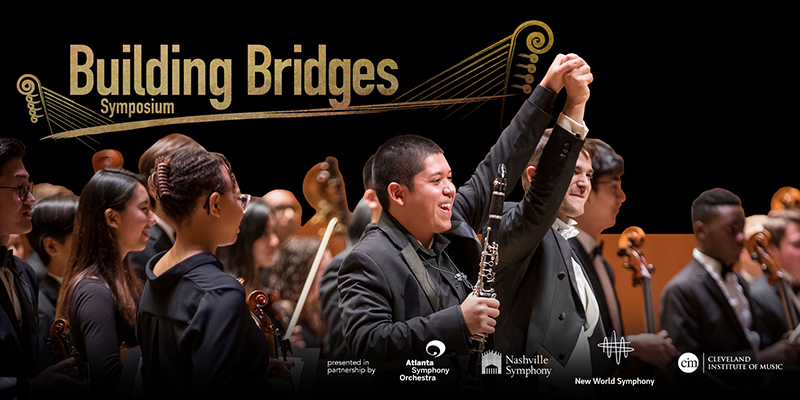 In May, NWS co-hosted the 2021 Building Bridges Symposium with partners at the Atlanta Symphony, Nashville Symphony and Cleveland Institute of Music. This year's Symposium presented eight panel discussions on how to create diverse, equitable and inclusive education opportunities for young musicians pursuing a career in classical music. The two-day event welcomed 230 participants from 65 institutions across the U.S., Canada and France. 
Several NWS Fellows, alumni and staff joined this year's Symposium to discuss pathway programs, auditions, funding and increasing Black musician representation in American orchestras.
In her opening remarks, Atlanta Symphony Orchestra Executive Director Jennifer Barlament said, "It's been quite a year for all of us not just because of the pandemic but, of course, because of a global racial reckoning of historic proportions. We really need to have these conversations, and we need to listen carefully to the voices that will help shape a more equitable and inclusive future for orchestras. I'd like to make it clear as the leader of the Atlanta Symphony Orchestra that hosting this Symposium is not about us saying we have all of this figured out. We have come a long way, but we also have a long way to go to come to terms with our past, and to transform our institution into one that is truly diverse, equitable and inclusive for everyone. We wanted to create this Symposium as a platform to share information and conversations—because there are major shifts we simply can't achieve as individual people or individual institutions. Collective action is needed."
The Building Bridges Symposium focuses on pathway programs designed for pre-college musicians who are from backgrounds underrepresented in classical music, and often include musical, financial, and academic college preparation support. NWS launched its own pathway program, the College Track Mentorship Program, in 2019 with support by NWS Trustee Dorothy Terrell. Through the program, NWS offers private lessons to select talented students of diverse backgrounds whose dream is to attend university and conservatory in pursuit of a career in classical music. Students chosen for this program are each matched with a Fellow who provides between 20 and 25 lessons per season and assists the students in choosing and acquiring new instruments and accessories as needed. 
"At NWS we pride ourselves on being model builders for the field of classical music," said Cassidy Fitzpatrick Carlson, NWS's Senior Vice President for Musician Advancement. "Our commitment to experimentation is an investment in the sustainability and evolution of our art form. As an educational institution, we have a duty to share our learnings, and to be open to learning from others. As current and future leaders, NWS alumni and Fellows are essential to creating a more inclusive and equitable future for classical music. They are committed to ongoing learning and reflection about equity, diversity, inclusion and belonging (EDIB) issues. They are active members of NWS's volunteer EDIB committee and bring an important perspective to our internal conversations and action plans, as well as to national conversations such as the Building Bridges Symposium."  
The first Building Bridges Symposium took place in 2019 and celebrated the 25th anniversary of the Atlanta Symphony's Orchestra Talent Development Program. NWS partners with the Talent Development program, as well as Nashville Symphony's Accelerando initiative, through its NWS Connect community engagement activities.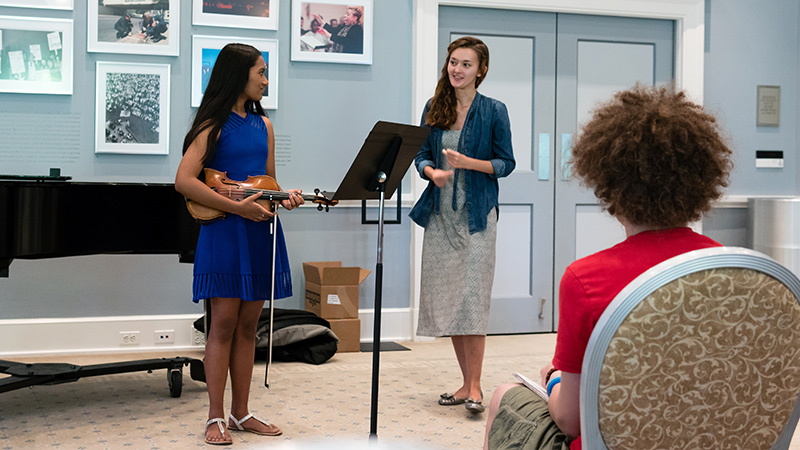 NWS Violin Fellow Margeaux Maloney works with students in Nashville Symphony's Accelerando program.

Select 2021 Building Bridges Sessions


Why Does the Field Need Pathway Programs?
Featuring Keynote Address by Joseph Conyers and discussion with NWS alumna Joy Payton-Stevens
How to Fund Your Pathway Program
Featuring NWS President and CEO Howard Herring and Senior Vice President for Musician Advancement Cassidy Fitzpatrick Carlson
Increasing Black Musician Representation in American Orchestras
Featuring NWS Violin Fellow Chelsea Sharpe
How to Prepare for an Audition
Featuring NWS Bass Fellow Levi Jones and
Dean of Visiting Faculty and Orchestra Manager

JT Kane


Click here to view all Building Bridges Symposium sessions.

Posted in: Alumni, EDIB, Fellows, Staff
---