News
September 23, 2016
NWS Guest Artist Receives National Medal of Arts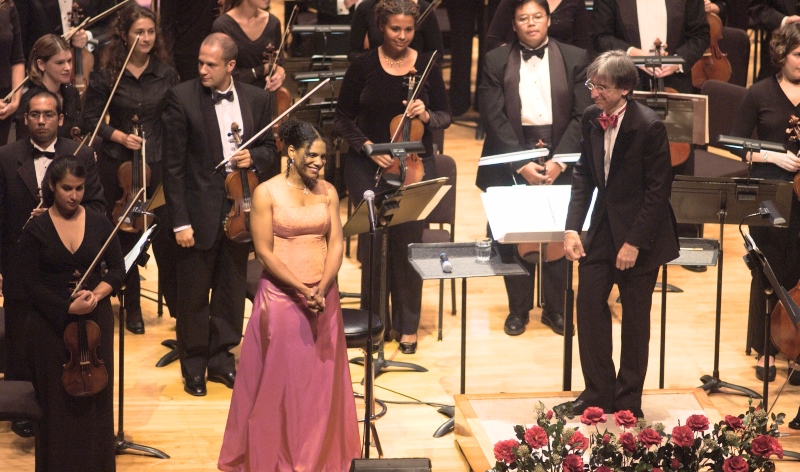 A Broadway legend and past New World Symphony guest performer, the actress and singer Audra McDonald, was awarded the National Medal of Arts on Thursday, September 22. "With a record six Tony Awards, two Grammy Awards, an Emmy Award and a long list of other accolades to her name, she is among today's most highly regarded performers."

Established by the U.S. Congress in 1984, the National Medal of Arts has been given to writers, dancers, choreographers, actors, painters, musicians and dedicated supporters of the arts for their contributions to the field of arts in America. President Barack Obama presented the National Medal of Arts to the 2015 recipients in the East Room of the White House. The ceremony was streamed live.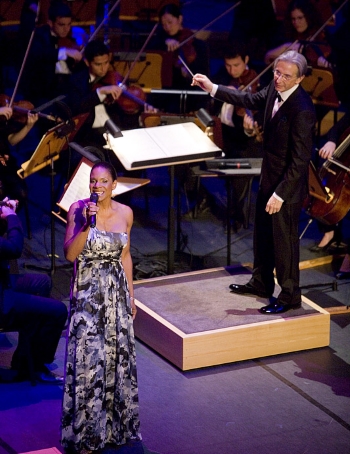 Ms. McDonald first per­formed with New World Sym­phony in the Season Finale Concert of the 1998-99 season, at the Lincoln Theatre on May 2, 1999, with Michael Tilson Thomas conducting. She performed songs by MTT, George and Ira Gershwin and others.
A few years later, Ms. McDonald returned to NWS for a flip-side occasion, the Opening Night Concert of the 2002-03 season on October 19, 2002, also led by MTT. She performed songs from Broadway musicals and a number of works by Duke Ellington.

Ms. McDonald again returned to NWS to help open the newly completed New World Center. She gave a stellar performance at the Grand Opening Gala on January 29, 2011.

Congratulations!

Click here to see the entire list of medal win­ners, which included composers Philip Glass, Berry Gordy and Mel Brooks. Click here to watch the ceremony



NWS Artistic Director Michael Tilson Thomas was also awarded the National Medal of Arts in 2010.
Read about it and watch it
Images cour­tesy of the New World Sym­phony Archives, top 2002 photo by Greg Hark Photographics; 2011 photos by Richard Patterson
Posted in: Guest Artists
---