News
May 24, 2017
NWS Helps Connect Miami on May 31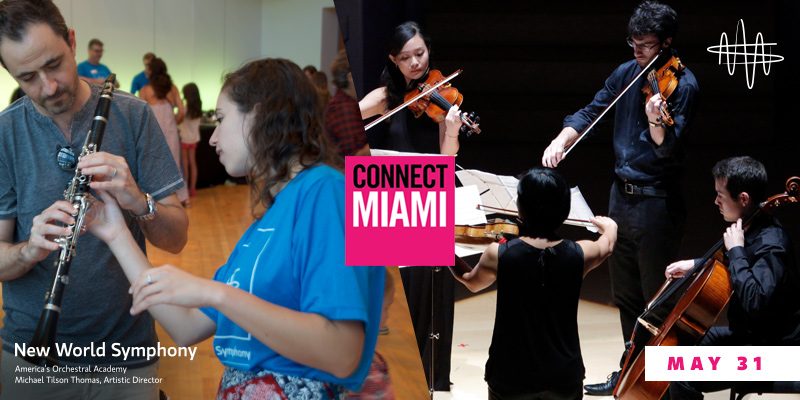 Connect Miami—a community-led, 10-day challenge for everyone in Miami-Dade to step out of their comfort zones—is happening now through May 31. NWS is joining the movement by hosting a free, hands-on musical creation workshop on Wednesday, May 31 at 5:00 PM at the CIC Miami Café Space.
Because few people in our community have had opportunities to experience or connect with classical music up close, our event is designed to create just that environment, working alongside talented classical musicians. Violin Fellows Zubaida Azezi, Ludek Wojtkowski and Nathaniel Wolkstein, Bass Fellow Mary Reed and Timpani Fellow Erich Rieppel will lead a hands-on interactive music-creation and improvisation workshop, connecting with individuals that have zero musical experience, yet who are interested in creating and connecting through music and wish to bring the evening's creative experiences back to their communities.
"Music is one of the most powerful platforms for connecting people across lines of difference. Humans experience music on so many levels, individually and collectively, and it can take us beyond the things that normally separate us. With music, you don't need to speak the same language, be the same age, have the same beliefs or share similar political views in order to be moved and create together. We are excited to build on that to welcome our community into a personal experience with the musicians of NWS," says Marte Siebenhar, NWS's Assistant Vice President of Audience Development.
The Fellows will work in small groups, facilitating the creation of original musical works based on the themes, inspirations and musical or spoken word ideas contributed the participants. The musical creations will be shared at the end, celebrating the creativity of all involved.  Following the event, everyone is encouraged to keep the creative energy and conversation going at The Wynwood Yard.
This free event is open to anyone with an RSVP. Reserve your spot at nws.edu/connectmiami by 5:00 PM on Tuesday, May 30.
Take the challenge! Click here to learn more about Connect Miami's other events or follow the movement on Facebook.
This event is co-hosted by CIC Miami, Miami-Dade Police Department and Make the Homeless Smile.
---