News
March 25, 2019
NWS hosts Sphinx LEAD retreat at New World Center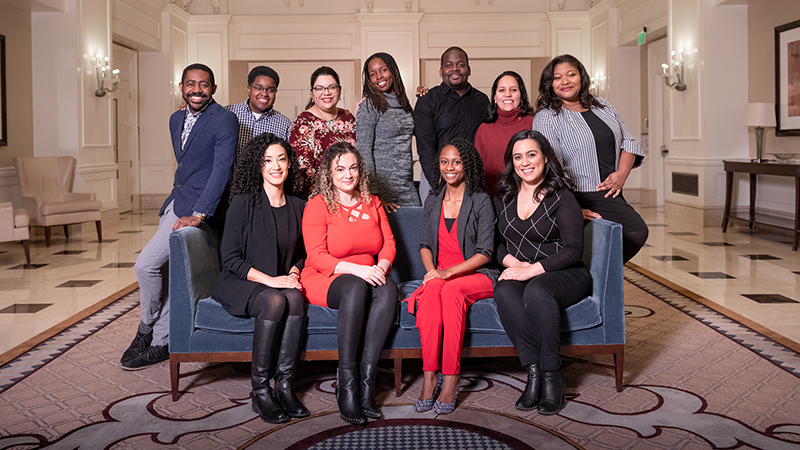 2019 Sphinx LEADers with Stanford Thompson, Dean of LEAD (Photo by Kevin Kennedy)
The Sphinx Organization, the national nonprofit organization dedicated to transforming lives through the power of diversity in the arts, is launching Sphinx LEAD: a two-year program designed to inspire minority arts leaders to challenge themselves, to envision how their ideas can effect positive change in the field, to engage others beyond their existing networks and to collaborate with other like-minded leaders across artistic disciplines and organizations. Stanford Thompson—Founder and Executive Director of Play On, Philly! and recipient of Sphinx's Medal of Excellence, will oversee Sphinx LEAD as Dean.
Sphinx LEAD (Leaders in Excellence, Arts and Diversity) will annually select ten Black and Latinx arts leaders from around the country who are looking to advance their personal and professional growth in order to produce impact in their communities and in the arts field as a whole. Each participant (LEADer) will design a growth plan, receive ongoing personalized coaching and mentorship, and attend Leadership Retreats hosted by major cultural organizations.
MARCH 28-30: SPHINX LEAD RETREAT AT NWS
The inaugural class of Sphinx LEAD participants will visit the New World Symphony on March 28-30 as part of the program's Fundraising Follows Vision Leadership Retreat. This gathering marks the second of four retreats planned for 2019.
While in Miami, the Sphinx LEADers will meet with NWS staff and Fellows to discuss how NWS bridges the gap between the aspirations of promising musicians and the challenges they face seeking professional careers in classical music, and how to build a network of support based on relationships. NWS staff will also guide the LEADers through practice interviews and strategies for developing communication skills.
The Sphinx LEADers will also meet with leaders and educators from other South Florida cultural pillars, such as the John S. and James L. Knight Foundation, Adrienne Arsht Center, Nu Deco Ensemble, South Florida Cares, New World School of the Arts and more.  
The goal of the retreat is for LEADers to gain frameworks of innovative vision, fundraising and leadership; feedback about effective interviewing skills and knowledge of developing key relationships that can boost fundraising and further develop one's network.
The Sphinx LEAD program is made possible through the generous support of the Knight Foundation.
---