News
April 20, 2023
NWS Mobile WALLCAST® heads to MOCA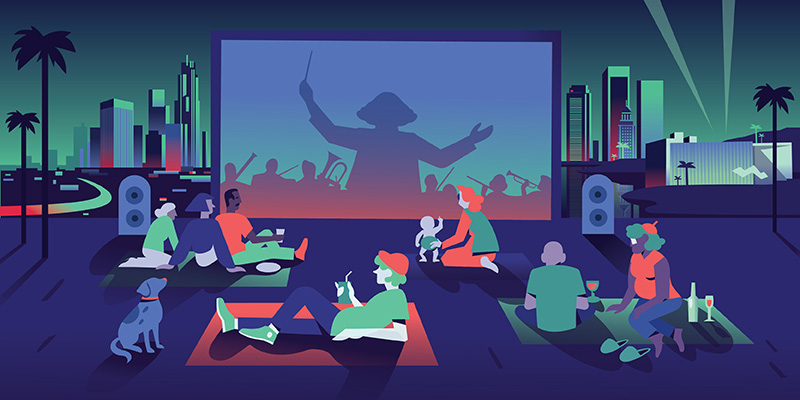 New World Symphony (NWS) will bring its signature NWS Mobile WALLCAST® Concert series to the Museum of Contemporary Art, North Miami (MOCA) for a special edition of Jazz at MOCA, on Friday, April 28, 2023. The thrill of an NWS WALLCAST® orchestral experience, broadcast on the largest mobile wall in South Florida, will be paired with Visual Jazz Artwork by members of MOCA's Teen Art Force, a one-of-a-kind, free, multidisciplinary art program that provides students with a foundation in the visual arts.
This NWS Mobile WALLCAST® Concert is the culmination of this season's partnership between New World Symphony and MOCA. Beginning in November 2022, NWS Fellows and MOCA Teen Art Force students met at the Museum to discuss the intersections of art and music. MOCA Teen Art Force students shared their artwork and artistic style and approaches and NWS Fellows shared jazz-influenced music they enjoyed. Together, they paired the students' art with musical works to create the April 28 program for Jazz at MOCA.
The 75-80 minute program will feature live performances of popular works like "Fly Me to the Moon," "The Girl from Ipanema" and themes from The Pink Panther and Linus and Lucy and pre-recorded orchestral selections from NWS's annual Harlem Renaissance festival, I Dream a World. Music will be paired with eight works of original art by MOCA Teen Force students.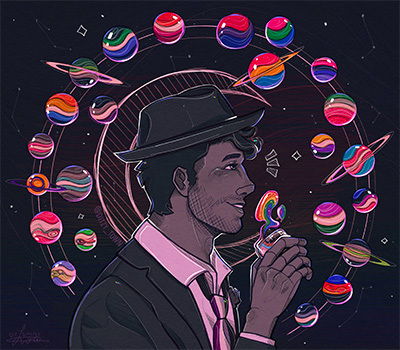 "Man with Hat in a Solar System" by Loana Rinaldi
MOCA Teen Art Force students whose artwork will be displayed during the NWS Mobile WALLCAST® Concert include:
Omari Antoine 
Isabelle Augustin 
Ava Donaldson 
Abi Gomez 
Sarah Gomez 
William Hubbell 
Noi Jeanty 
Jaylin Maurisma 
Myriam Moreau 
Naeem Odena 
Loana Rinaldi 
Yasmin Shimeles 
Miranda Toledo 
Nicole Varillas 
NWS launched its Mobile WALLCAST® Concert Series as an essential part of its commitment to make symphonic music accessible to audiences beyond the New World Center. The Mobile WALLCAST®, first unveiled at SoundScape Park in May 2022, brings NWS's groundbreaking WALLCAST® concerts on the road and into communities around Miami. 
Currently the largest mobile wall in South Florida, the 23x16 screen consists of state-of-the-art LED panels and sound system, offering a local and captivating way to experience WALLCAST® concert content.
Jazz at MOCA, South Florida's longest-running free outdoor jazz concert series and one of the museum's most beloved public programs, is held (rain or shine) the last Friday of every month at 8:00 PM. MOCA galleries are open by donation from 7:00-10:00 PM. Please note, seating begins at 7:00 PM and is first-come, first-served, but guests are welcome to bring their own chairs.
The NWS Mobile WALLCAST® Concert Series is made possible with the support of the Dr. M. Lee Pearce Foundation, Wege Foundation and the NWS Resilience Fund. Jazz at MOCA is made possible with lead support from the North Miami Mayor and Council and the City of North Miami.
A look back at this season's Mobile WALLCAST® Concerts
The Mobile WALLCAST® Concert Series officially launched on November 11 at CityPlace Doral with an evening of live performances by NWS Fellows and a prerecorded presentation of NWS concert excerpts featuring Artistic Director Stéphane Denève, and conductors Thomas Wilkins and Roderick Cox.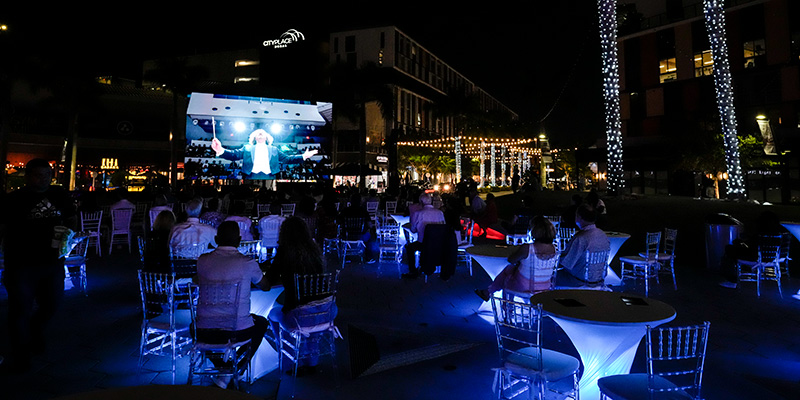 NWS continued its community centered Mobile WALLCAST® Concert Series on January 7 with Family Music Day at the African Heritage Cultural Arts Center in Liberty City. Families were invited to experience an arts-filled afternoon with visual and performing arts activities presented by some of Miami's own local artists and arts organizations.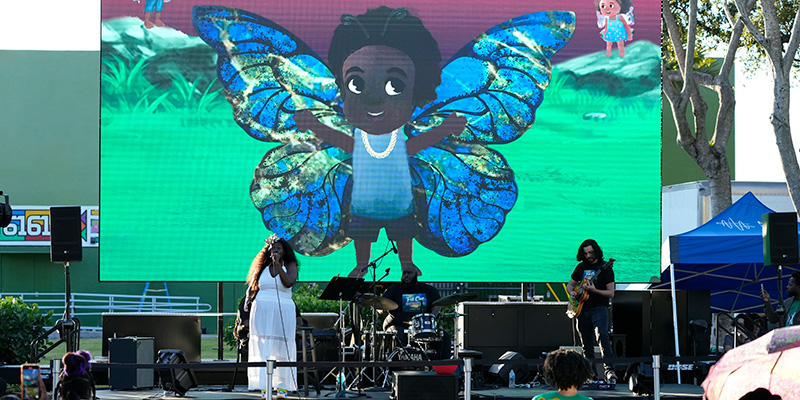 NWS and Councilwoman Shannan "Lady" Ighodaro hosted a free outdoor concert celebrating the glamour and innovation of the Harlem Renaissance at Miami Gardens' Betty T. Ferguson Recreational Center on March 25. The Mobile WALLCAST® featured highlights from NWS's annual I Dream a World festival, including NWS Fellows performing orchestral and solo works and The Ambassador Chorale of Florida Memorial University performing traditional gospel songs.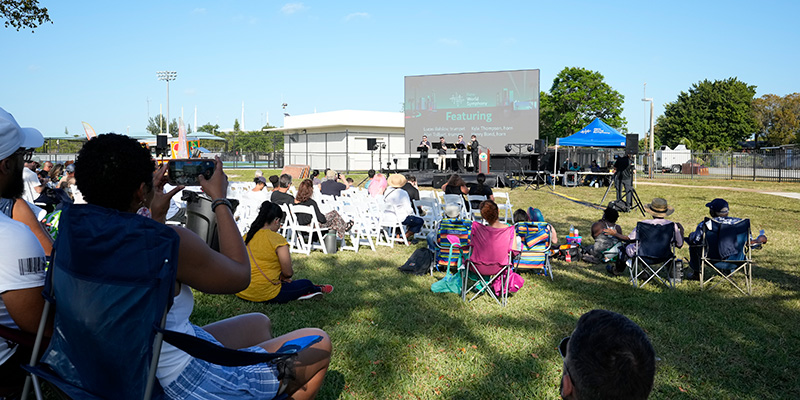 Posted in: Community Engagement, Fellows, Mobile Wallcast Concerts
---