News
October 18, 2023
NWS's 2023-24 WALLCAST® and Mobile WALLCAST® Series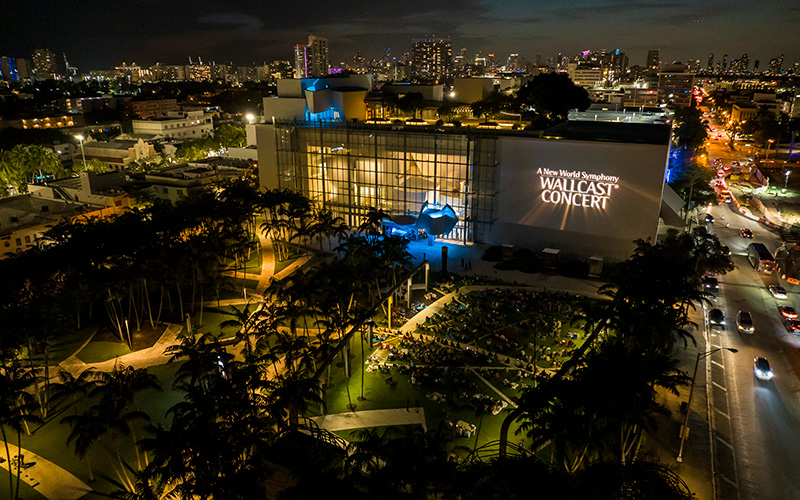 October 2023 WALLCAST® concert in SoundScape Park, photo by Alex Markow
New World Symphony (NWS) announces its much-anticipated 2023-24 WALLCAST® and Mobile WALLCAST® concert series. NWS WALLCAST® concerts bring audiences of all ages to SoundScape Park to enjoy live classical music broadcast straight from the stage to the 7,000-square-foot exterior projection wall of the New World Center through stunning audio and visual technology.
NWS's Mobile WALLCAST® Concert Series is an essential part of its commitment to make symphonic music accessible to audiences beyond the New World Center. The Mobile WALLCAST®, first unveiled in SoundScape Park in May 2022, brings NWS's groundbreaking WALLCAST® concerts on the road and into communities around Miami. Currently the largest mobile wall in South Florida, the 23x13 screen consists of state-of-the-art LED panels and sound system, offering a local and captivating way to experience WALLCAST® concert content.
WALLCAST® and Mobile WALLCAST® concerts are free to the public and do not require a ticket. 
Please click here for more information about the 2023-24 WALLCAST® and Mobile WALLCAST® concert series.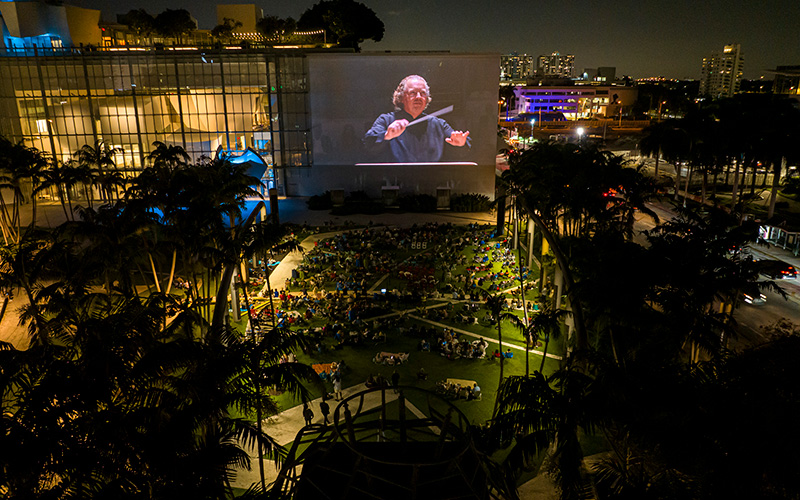 October 2023 WALLCAST® concert featuring NWS Artistic Director Stéphane Denève, photo by Alex Markow
WALLCAST® Concert Series
This season's WALLCAST® concert series features internationally acclaimed guest conductors and artists performing alongside the NWS Fellows. Audiences in SoundScape Park will enjoy live performances led by NWS Artistic Director Stéphane Denève, NWS Artistic Director Laureate Michael Tilson Thomas, Conducting Fellow Molly Turner, and guest conductors Lina González-Granados, Andrew Grams, Carlos Miguel Prieto, and Jukka-Pekka Saraste. Notable guest soloists include soprano Isabel Leonard, trumpeter Pacho Flores, pianists Emanuel Ax and Jean-Yves Thibaudet, and violinist James Ehnes. The series also includes a celebration of "first lady of jazz" Mary Lou Williams; an exploration of Jennifer Higdon's blue cathedral, which celebrates its 25th year and is one of the most frequently performed works of the 21st century; and a festive concert of holiday favorites from a tapestry of cultural heritages and traditions. The audience-favorite Concerto Showcase concert also returns to the WALLCAST® series this season. This popular all-concerto program features select Fellows who have earned the spotlight as winners of this season's concerto competition, an intense contest where Fellows compete head-to-head, armed with their favorite solo work. 
WALLCAST® Concert Club Returns
NWS's popular WALLCAST® Concert Club returns this year with a new spin. Attendees will win prizes and rewards based on how many WALLCAST® concerts they attend. Audience members attending three or more WALLCAST® concerts will win a pair of concert tickets to the 2023-24 NWS performance of their choice. Guests who check in at 8 WALLCAST® concerts will win a NWS tote bag and an invitation to a rooftop reception with NWS Fellows and artistic leaders. Attendees will check in once arriving to SoundScape Park via a QR code displayed on the wall at each WALLCAST® concert. 
WALLCAST® concerts offer audiences the opportunity to enjoy NWS performances in a casual setting. Perfect for date-night picnics, friends or family outings, or a solo culture fix, WALLCAST® concerts make symphonic music available to everyone.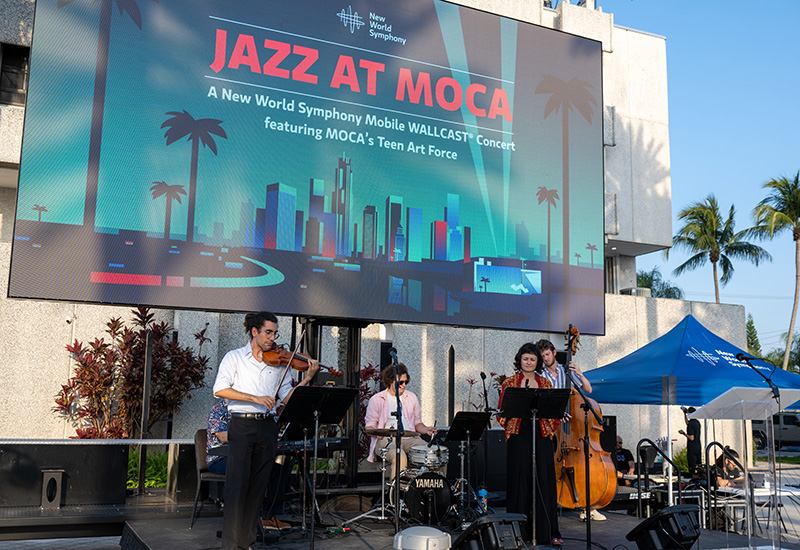 April 2022 Jazz at MOCA Mobile WALLCAST® Concert, photo by Gregory Reed
Mobile WALLCAST® Concert Series
NWS's Mobile WALLCAST® Concert Series, now in its second season, returns to previous locations and expands into new communities around Miami-Dade County.
"The Mobile WALLCAST® allows NWS to foster long-term, collaborative relationships with a broad representation of arts, culture, education and community centers that serve the residents of communities that reflect the diversity of South Florida," said Eduardo Delgado, NWS's Public Programs Director. "As we embark on the second year of the series, NWS remains deeply committed to expanding the bonds we've started to form in the neighborhoods and is excited to explore new communities as we continue to cultivate arts and culture exchanges throughout South Florida."
The series kicks off on November 2, 2023, beginning at 6:00 p.m., with a Día de los Muertos celebration at CityPlace Doral. NWS partnered with CityPlace Doral for its first Mobile WALLCAST® Concert in fall 2022 and is eager to return to such a vital spot within its community. The Mobile WALLCAST® Concert will include live performances by NWS Fellows and archival highlights of NWS's past seasons, including the 2022-23 performances of El Maíz de mi Gente and Spanish Dances. 
The November 2 event will also feature vibrant decorations, including an altar display of a trio catrines (male skeleton figures) with flowers, marigolds, papel picado (perforated paper) around Fountain Plaza and a wooden calavera (sugar skull) at the entrance. Children and families can enjoy face painting, food sampling from local restaurants and a center-wide processional with performances by folkloric dancers, stilt walkers, performances by Mariachi Sol de Oro and costumed characters. Guests are encouraged to dress up. 
Joining NWS and CityPlace Doral in sponsoring the evening through programming and live Spanish translations is Miami's Consulado General de México. 
"For the Consulate General of Mexico in Miami, it is a privilege and honor to be friends and partners with the New World Symphony, and together promote the Mexican culture in Florida," said Alexia Núñez Bachmann, Deputy Consul General. "The "Day of the Dead" tradition comes to life annually with the gathering of thousands of people on November 1st and 2nd. This event represents an educational and cultural opportunity to promote the richness of this mystical celebration as part of the cultural diplomacy actions that uphold the ancestral wealth of indigenous and prehispanic cultures, reinforcing our identity and belonging, as well as the community integration of Mexicans abroad and other nationalities."
The Mobile WALLCAST® Concert series continues on December 5, 2023, 7:00 p.m., at The Black Archives Historic Lyric Theater in Overtown, with a preview of NWS's "I Dream A World" festival, which this year honors the life and work of the "first lady of jazz," legendary pianist and composer Mary Lou Williams. The program will include remarks by festival curator Dr. Tammy Kernodle, pre-recorded performances from past "I Dream A World" festivals, and live performances by NWS Fellows.
On January 6, 2024, the Mobile WALLCAST® arrives at Juan Pablo Duarte Park in Allapattah for "Celebrating Little Santo Domingo." In addition to live and pre-recorded performances by NWS Fellows, event partner Allapattah Collaborative will present music inspired by Julia Alvarez's "In the Time of the Butterflies," which depicts four sisters' fight for freedom against the dictatorial regime of Rafael Leonidas Trujillo in the Dominican Republic. Allapattah Collaborative is dedicated to supporting wealth-building strategies for marginalized communities of color and advocates for policies and procedures that support equitable, comprehensive, and sustainable community development in Allapattah. Small businesses and food vendors supported by the Collaborative will also be part of the event.
NWS continues its community centered Mobile WALLCAST® Concert Series on Saturday, January 27, 2024 with the Second Annual Family Music Day at the African Heritage Cultural Arts Center (AHCAC) in Liberty City. Families are invited to experience an arts-filled afternoon with visual and performing arts activities presented by some of Miami's own local artists and culture organizations. Themed activities for families provided by Miami Children's Museum. 
"Partnering with the New World Symphony for this special Mobile WALLCAST® event enables us to increase accessibility and nurture a deep appreciation for the arts to the widest possible audience," said Isis C. Roberts, Theater Arts Administrator, African Heritage Cultural Arts Center. "For our community, it's a way to say welcome. The New World Symphony campus is on the beach, and our facility is closed in by a gate. When we canvas the community and provide personal invitations to events, it sends a message that we care about our community, fostering a sense of ownership and pride."
The 2023-24 Mobile WALLCAST® Concert Series concludes on April 26, 2024 with a return to the Museum of Contemporary Art in North Miami for a special edition of Jazz at MOCA. The thrill of an NWS Mobile WALLCAST® concert will be paired with Visual Jazz Artwork by MOCA's Teen Art Force, a one-of-a-kind, free, multidisciplinary art program that provides students with a foundation in the visual arts. This NWS Mobile WALLCAST® Concert is the culmination of a partnership between New World Symphony and MOCA. Throughout the season, NWS Fellows and MOCA Teen Art Force students will meet at the Museum to discuss the intersections of art and music. MOCA Teen Art Force students shared their artwork and artistic style and approaches, and NWS Fellows shared jazz-influenced music they enjoyed. Together, they paired the students' art with musical works to create this program for Jazz at MOCA.
NWS also activates the Mobile WALLCAST® screen in SoundScape Park for an additional viewing area during NWS WALLCAST® concerts. Additional dates for the 2023-24 Mobile WALLCAST® Concert Series will be announced soon.
WALLCAST® concerts are made possible with support from Hitachi and Knight Foundation. Knight Foundation and New World Symphony: Reimagining Classical Music in the Digital Age. NWS's Mobile WALLCAST® Concert Series is made possible with the support of the Dr. M. Lee Pearce Foundation, Wege Foundation and the NWS Resilience Fund. 
2022 Family Music Day Mobile WALLCAST® Concert at the African Heritage Cultural Arts Center, photo by Siggi Bachmann
2023-24 WALLCAST® Concert and Mobile Concert Series 
WALLCAST® Concert Series
Denève: Prokofiev's Romeo + Juliet
Saturday, October 14, 2023 at 7:30 PM
Mahler 6
Saturday, November 4, 2023 at 7:30 PM
Sounds of the Season
Saturday, December 16, 2023 at 7:30 PM
Denève and Isabel Leonard
Saturday, January 20, 2024 at 7:30 PM
Carlos Miguel Prieto + Pacho Flores
Saturday, February 10, 2024 at 7:30 PM
The Soundworld of Mary Lou Williams 
Saturday, February 24, 2024 at 7:30 PM
MTT and Emanuel Ax
Saturday, March 9, 2024 at 7:30 PM
Denève: Higdon's Blue Cathedral
Saturday, March 30, 2024 at 8:00 PM
Concerto Showcase
Saturday, April 13, 2024 at 8:00 PM
Side-by-Side Concert
Saturday, April 27, 2024 at 8:00 PM
MTT and Jean-Yves Thibaudet
Saturday, May 4, 2024 at 8:00 PM
Season Finale: Denève and Ehnes
Saturday, May 11, 2024 at 8:00 PM
Mobile WALLCAST® Concert Series 
Día de los Muertos at CityPlace Doral
Thursday, November 2, 2023 at 6:00 PM
I Dream a World Preview Event at The Black Archives Historic Lyric Theater
Tuesday, December 5, 2023 at 7:00 PM
Celebrating Little Santo Domingo at Allapattah's Juan Pablo Duarte Park
Saturday, January 6, 2024 at 6:00 PM
Second Annual Family Music Day at the African Heritage Cultural Arts Center
Saturday, January 27, 2024, time to be announced
Jazz at MoCa (Museum of Contemporary Art, North Miami)
Friday, April 26, 2024 at 8:00 PM
Posted in: Concerts, Denève, Events, Mobile Wallcast Concerts, MTT, SoundScape Park, Wallcast Concerts
---