News
December 22, 2022
NWS's Mariah Forde named to Sphinx LEAD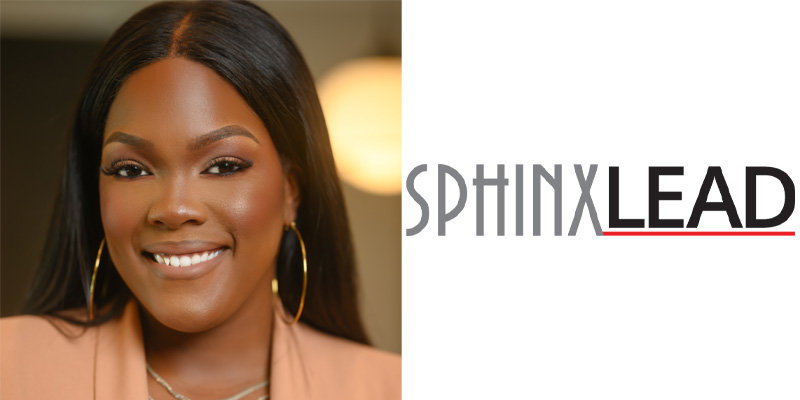 The Sphinx Organization announced its fifth Sphinx LEAD (Leaders in Excellence, Arts & Diversity) program cohort and Mariah Forde—NWS's PR and Social Media Manager—was named as one of its 11 members.
Sphinx LEAD is a two-year leadership program designed to evolve the industry landscape by empowering the next generation of executive leaders. Each cohort is comprised of Black and Latinx arts leaders selected from around the country. Through in-person and remote learning opportunities, Sphinx LEAD will provide the skill sets, professional networks, career mentorship and inspiration needed to develop and support these future leaders.
"It is an honor and a privilege to join such a transformative program like Sphinx LEAD," says Mariah Forde. "I am excited to learn and grow alongside dynamic arts leaders and for the opportunity to make a meaningful impact in our arts community."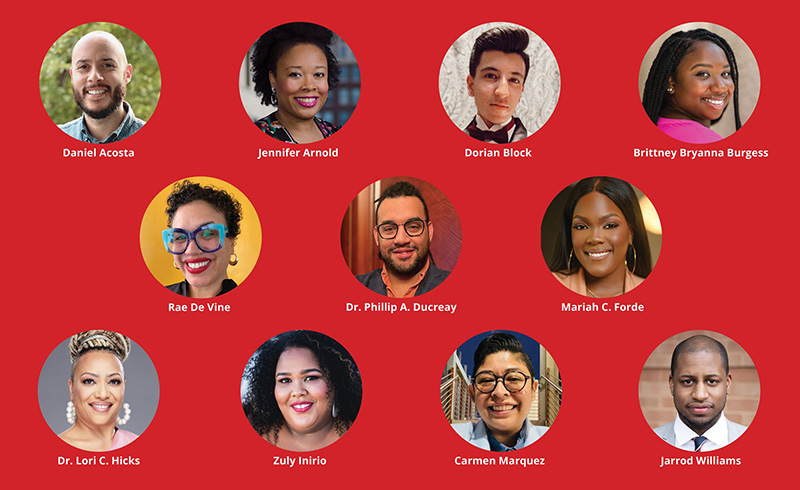 Sphinx LEAD Cohort 5
"We congratulate Mariah on being named to Sphinx's prestigious LEAD program, whose members are leaders, advocates and changemakers for the arts," said Maureen O'Brien, NWS's Executive Vice President for Institutional Advancement. "Mariah plays a critical role in New World Symphony's Communications Team and we look forward to hearing her voice and ideas further resonate as part of this cohort."
The Sphinx LEAD program was founded in 2018 and its first four cohorts include NWS staff Kewan Smith, Eduardo Delgado and Elyse Marrero, NWS alumnus Blake-Anthony Johnson, and former NWS staff Terell Johnson and Yvette Loynaz. The Sphinx LEAD is supported by First Republic Bank, the John S. and James L. Knight Foundation and the Fund II Foundation.
Sphinx LEAD Retreats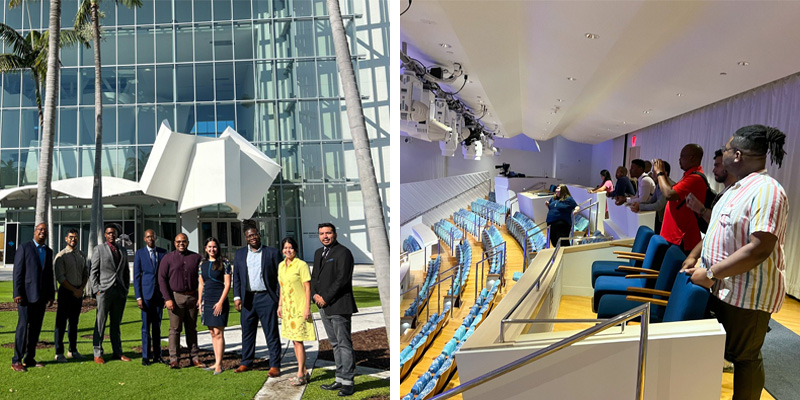 Sphinx LEAD Cohort 4 Members at New World Center, photo courtesy of Sphinx
A key component of the Sphinx LEAD program is Leadership Learning Retreats, which are structured for LEADers to learn from experts in the field, spend time with fellow LEADers, and take advantage of networking opportunities. Each year, leading arts institutions throughout the country welcome LEADers for three days of meetings and activities.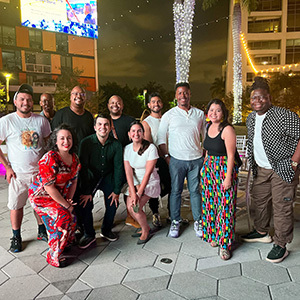 Sphinx LEAD members at CityPlace Doral
Over the course of the two-year program, LEADers will experience eight retreats. New World Symphony has served as host for each LEAD cohort, most recently in November 2022 where members of Cohort 4 met with NWS staff and observed NWS Fellows' program activities, including a tour of the Michael Tilson Thomas Performance Hall at New World Center and NWS's first Mobile WALLCAST® Concert at CityPlace Doral.
Other LEAD retreats have been hosted by Cleveland Institute of Music, The Colburn School, Curtis Institute of Music, The Juilliard School, Manhattan School of Music, Minnesota Orchestra, Nashville Symphony, San Francisco Symphony and more.
Sphinx + New World Symphony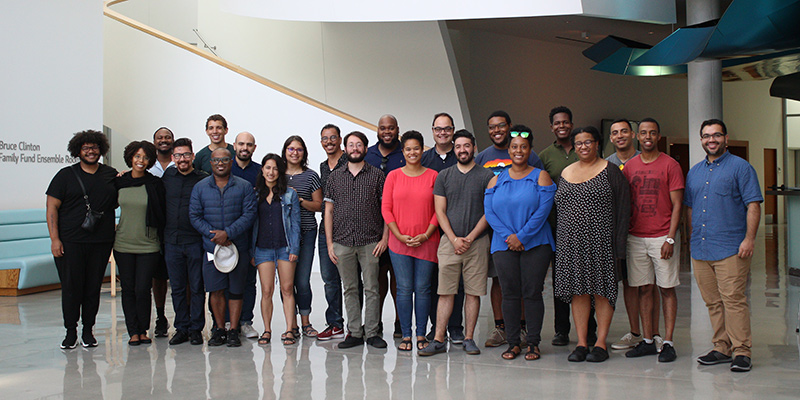 Former NAAS participants and faculty at the New World Center
The Sphinx Organization is a national nonprofit organization dedicated to transforming lives through the power of diversity in the arts. Its four program areas – Education & Access, Artist Development, Performing Artists, and Arts Leadership – form a pipeline that develops and supports diversity and inclusion in classical music at every level: music education, artists performing on stage, the repertoire and programing being performed, the communities represented in audiences, and the artistic and administrative leadership within the field.
NWS enjoys a strong partnership with the Sphinx Organization, including co-founding the National Alliance for Audition Support (NAAS) alongside the League of American Orchestras.
"New World Symphony envisions a strong and secure future for classical music," said NWS President Howard Herring. "We believe that is possible only if the orchestras of this country are representative of their communities. New World is committed to diversifying its Fellowship with the support of our alumni, who have won positions in orchestras and ensembles around the world. We are honored to partner with Sphinx and the League in forming this Alliance dedicated to making equity and inclusion part of the future for American orchestras." 
Since NAAS's formation in 2018, NWS has hosted over 100 participants at the New World Center and online for Audition Intensives. The free, three-day sessions include instrumental and performance training faculty from major orchestras and institutions across the country, many of them NWS alumni.
---