News
November 23, 2021
NWS's new harp unites donor, alumni, Fellows and audience

New World Symphony audiences this season will enjoy the dulcet sounds of a brand-new harp. The instrument—chosen by NWS alumna, Julia Coronelli—is a generous gift by longtime NWS donor Francinelee Hand.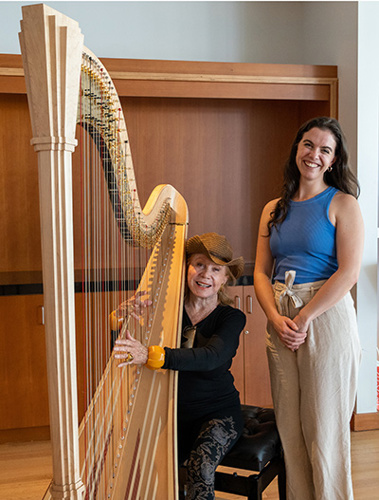 Francinelee Hand and NWS Harp Fellow Phoebe Powell
Francinelee is a devoted Patron and Legacy Society member, ensuring that the needs of NWS Fellows are met through a generous inclusion in her estate plan. She is especially interested in NWS Fellows performing on instruments whose quality matches that of the Fellows' immense talent. When she learned that one of NWS's harps was beyond repair, she worked with Paul Woehrle, NWS's Vice President for Capital and Planned Giving, to fund a new instrument.
Julia Coronelli, NWS alumna 2014-17, is now the Principal Harp of the Milwaukee Symphony, but also a native of Chicago, where some of the best harps are made. She agreed to assist NWS in testing and selecting the perfect instrument for future NWS Harp Fellows.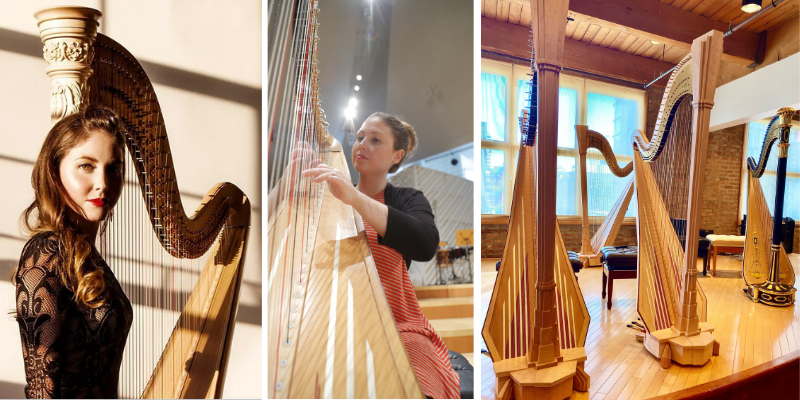 Julia Coronelli, at the New World Center and trialing harps at the Lyon & Healy factory
"People come from all over the world to visit the Lyon & Healy harp factory and I have always felt so fortunate to have grown up in the same city where they are made," said Julia.  "It took three trips to the factory and multiple trials, but I finally found the one. NWS's new harp is one of Lyon & Healy's Salzedo models, which will go perfectly with Miami Beach and the New World Center as they are inspired by Art Deco design."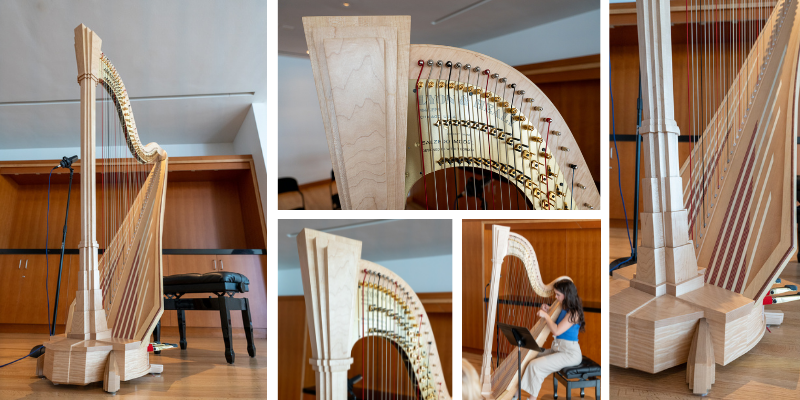 NWS's new Lyon & Healy Salzedo harp, performed by Fellow Phoebe Powell
Introduced by Lyon & Healy in 1928, the Salzedo is named after legendary harpist-composer-teacher Carlos Salzedo, who collaborated with Witold Gordon on its design. Created in the Art Deco style characteristic of the 1920s, the Salzedo is marked by precise linear carving and austere geometric decoration in the Hard Maple column and base. This same style is reflected in the ornamentation on the extended soundboard, which features hand-applied red and silver stripes – also a popular Art Deco pattern. Its bold lines and angles create a striking and unmistakable profile.
                -- Lyon & Healy
"Since New World holds such a special place in heart, I really wanted them to be able to get the best instrument possible and this is it," said Julia. "It is absolutely beautiful and the harp that New World Symphony deserves."
This month Francinelee got to "meet" the new harp with a personal performance by current Harp Fellow Phoebe Powell and even try the instrument herself.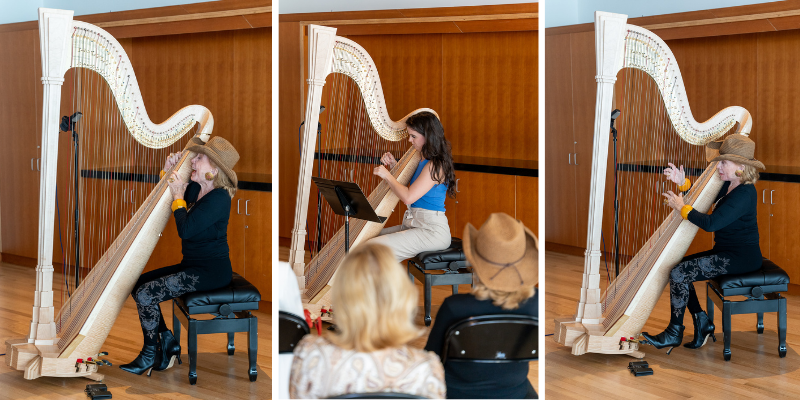 "There's no artform that does what music does," said Francinelee. "I didn't just gift this harp to NWS and its Harp Fellows, I gave it to the hundreds of thousands of people who will hear its magic when it's played. This instrument will be part of performances that will have a profound influence on people. That's the greatest gift you can give: influence. With it, you never see the end ripples of the difference you've made and I want to leave the world a little better than I found it."
If you would like to discuss a gift of tangible property, stocks, a contribution from your IRA, or making or updating a charitable bequest or other inclusion for NWS in your estate plans, please contact Paul S. Woehrle, Vice President for Capital and Planned Gifts, directly at 305.428.6731.
Video by Rafael Baldwin; photos by Scott Leger
---