News
July 11, 2019
NWS WALLCAST® concerts inspire new venue at Oklahoma State University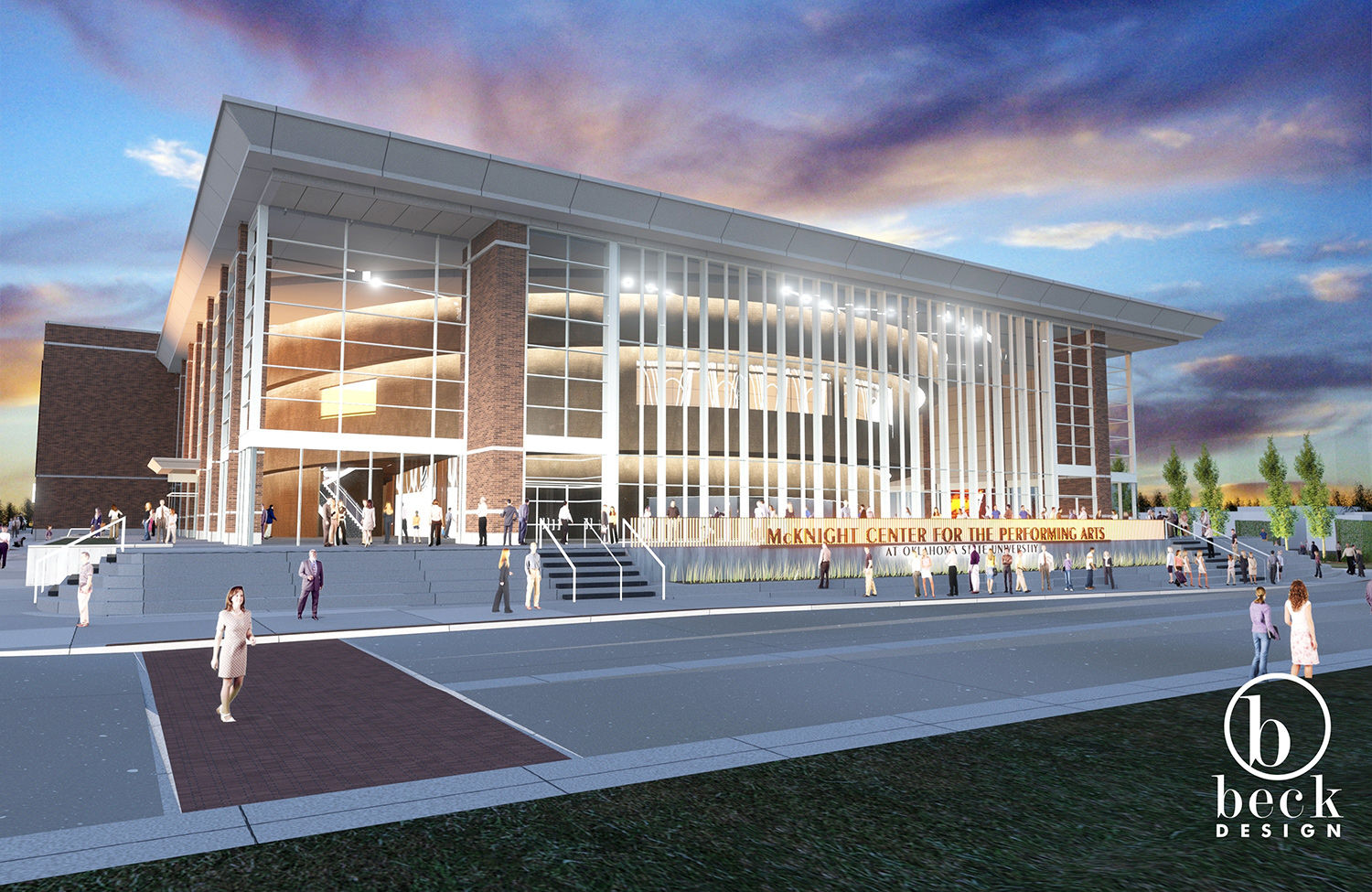 As MTT and Fellows take the stage for NWS's Season Opener on October 12, another venue 1500 miles from the New World Center will be making its own debut. The McKnight Center for the Performing Arts at Oklahoma State University (MCPA) will open its doors for the first time to welcome the New York Philharmonic (and its four NWS alumni) to Stillwater, Oklahoma.
At first glance, the land-locked college town--with a population of just 50,000--nestled in the rural Oklahoma heartland holds little resemblance to the bustling Miami Beach. But, like NWS, The McKnight Center seeks to engage and enrich its community through two intimate performance spaces, and a closed-circuit plaza with exterior projection wall and gathering place inspired by our own New World Center and SoundScape Park.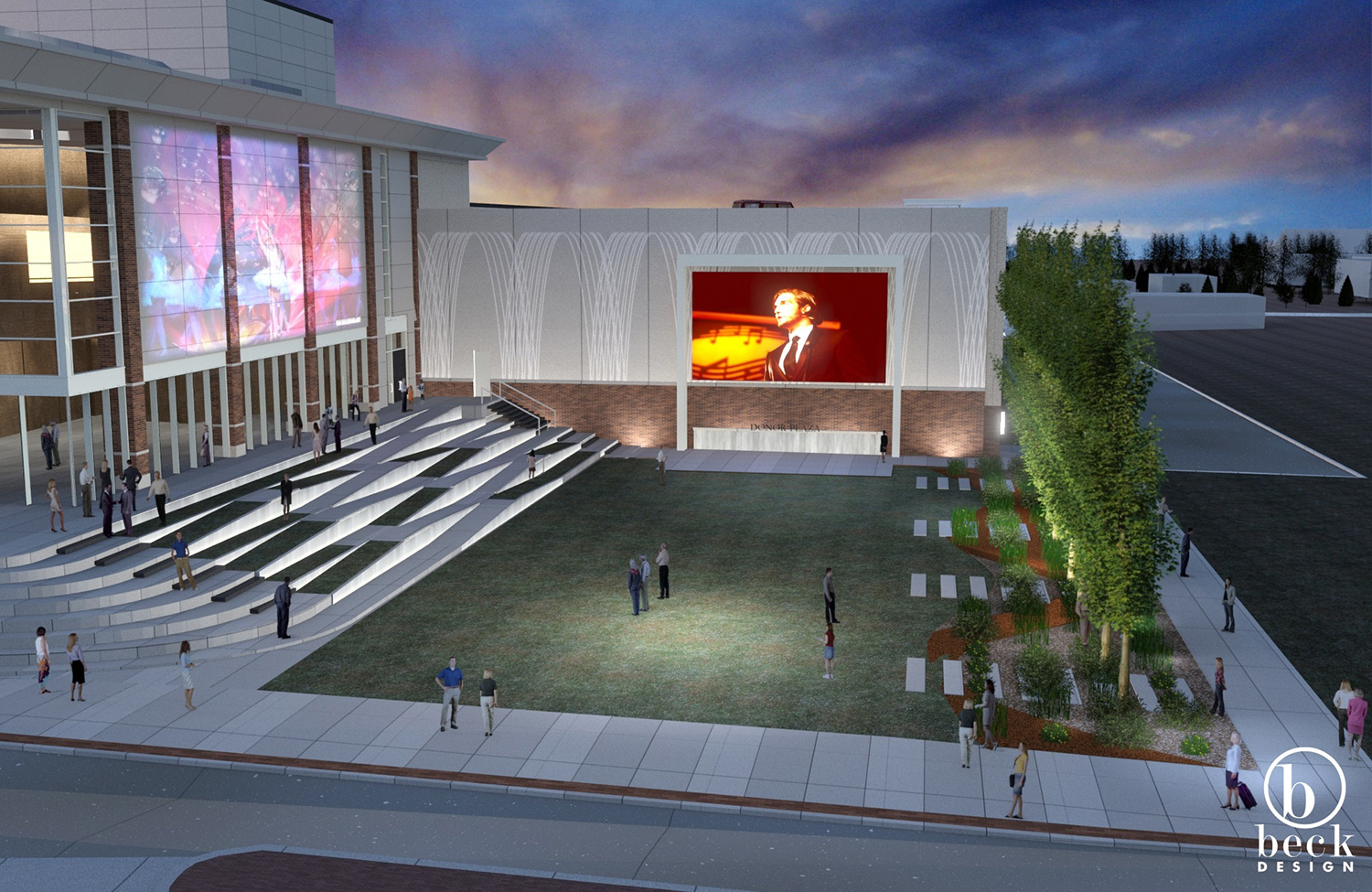 Rendering of MCPA Plaza 
In March 2014, when MCPA's development was in its early stages, Oklahoma State University President Burns Hargis and later other MCPA leadership met with NWS President (and fellow Oklahoman) Howard Herring to discuss how WALLCAST® concerts transform the audience experience. With WALLCAST® concerts, NWS is "bringing new people to this art form … with an experience that is social and comfortable and inviting, yet there is no diminishment of the power of classical music," said Herring.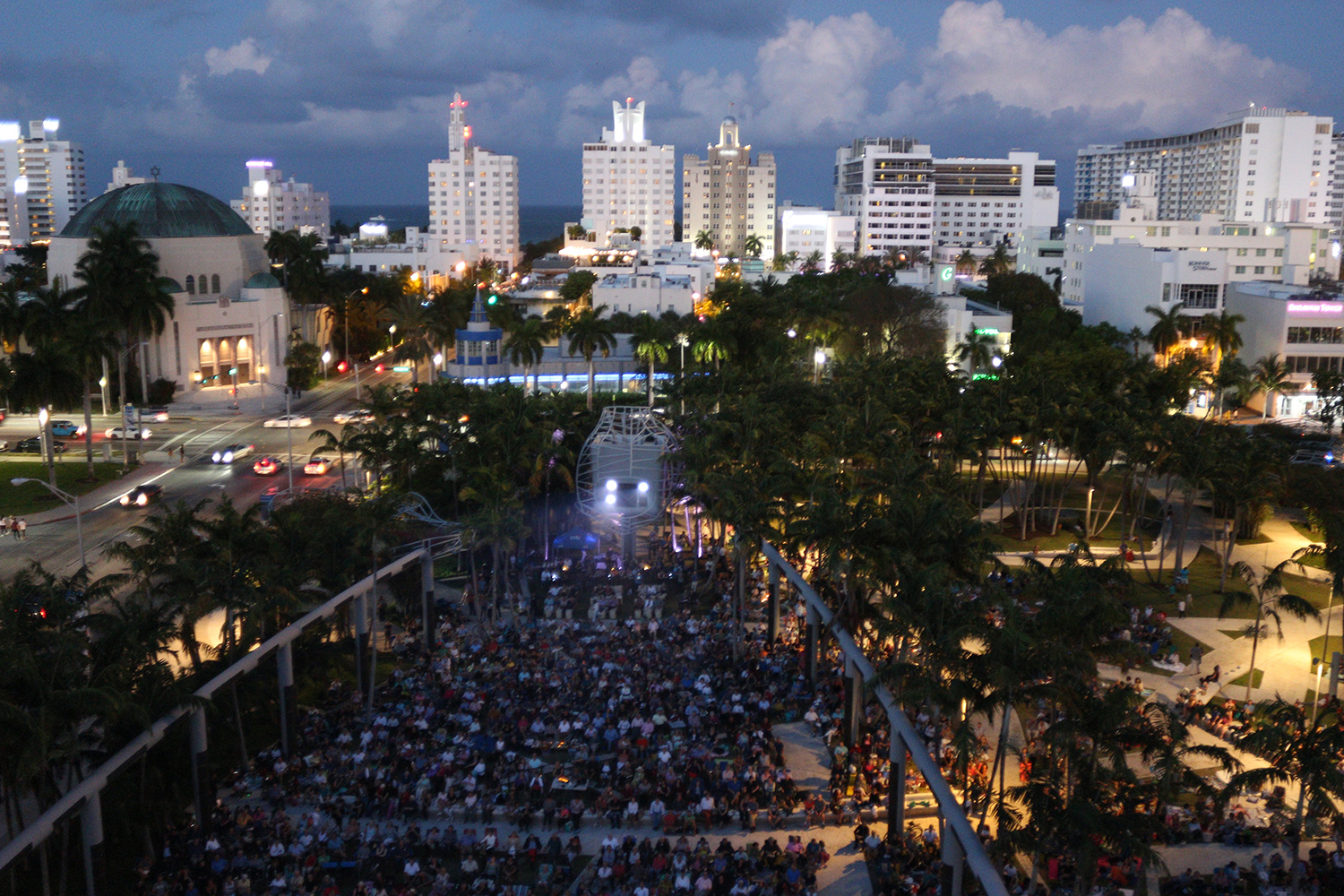 NWS WALLCAST® concert audience, photo by Siggi Bachmann
As a laboratory for the way classical music is taught, presented and experienced, NWS conducted a yearlong study of The WALLCAST® Concert Experience. Its research findings confirm the positive impact of the WALLCAST® concert format in furthering NWS's broader effort to bring in new listeners, while also shedding light on the effectiveness of the simulcast format. These visits and research were the inspiration for MCPA to create its own outdoor gathering place for simulcasting live events happening in its two halls.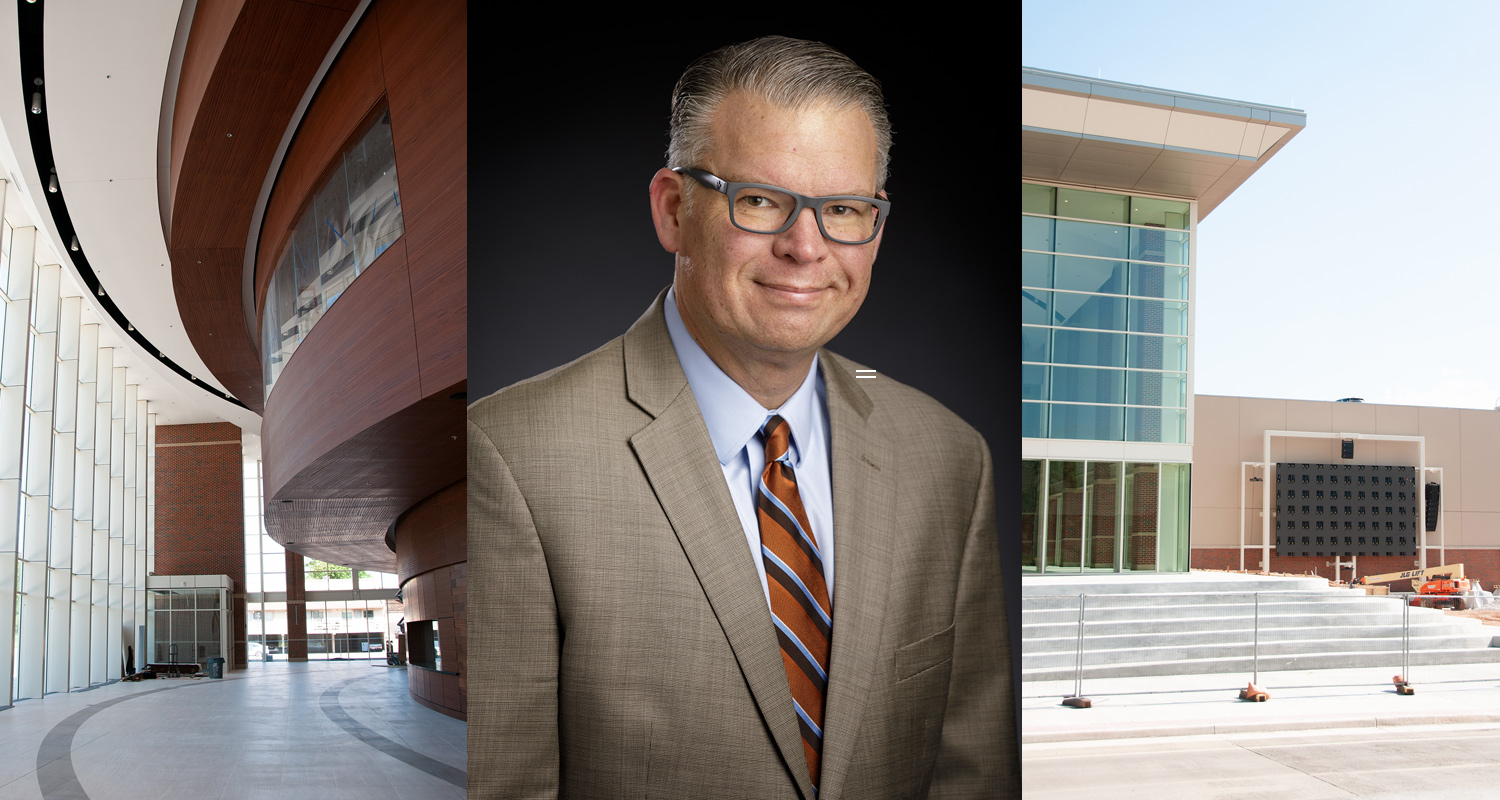 MCPA's Mark Blakeman with construction-phase photos from the atrium and plaza
Now at the helm of MCPA's indoor and outdoor venues is Mark Blakeman, the Marilynn and Carl Thoma Executive Director, who returned to Oklahoma after serving as President and CEO of the Tucson Symphony and Chief Operating Officer at the Nashville Symphony. "The McKnight Center's mission, like New World's, is to share great art with as many people as possible and serve as a world-class epicenter for the arts," says Blakeman. Fueled by a $50 million program endowment, he's doing just that with an inaugural season that includes multiple performances by the New York Philharmonic, Joshua Bell leading the Academy of St. Martin, pianists Andre Watts and Jonathan Biss, and a chamber music festival led by pianist Anne-Marie McDermott. "We're not easing into it at all."

Rendering of MCPA Performance Hall 
While Blakeman and his team continue to develop the MCPA plaza's simulcast strategy and calendar, all visiting artists are offered the option as part of their agreement. Pianist Jonathan Biss, who most recently appeared at NWS alongside John Adams in 2018, will have his seven-performance cycle of all 32 Beethoven Piano Sonatas broadcast in the plaza over the course of the inaugural season. Which is good, because all seven have been sold out since single tickets went on sale in May. In fact, tickets are so in demand that MCPA subscribers will travel from as far as California, Washington, D.C., Georgia and New Mexico to attend season events and, in an unprecedented move, MCPA halted subscription sales to save inventory for single tickets in order to welcome as many into its 1100-seat performance hall and 200-seat recital hall as possible.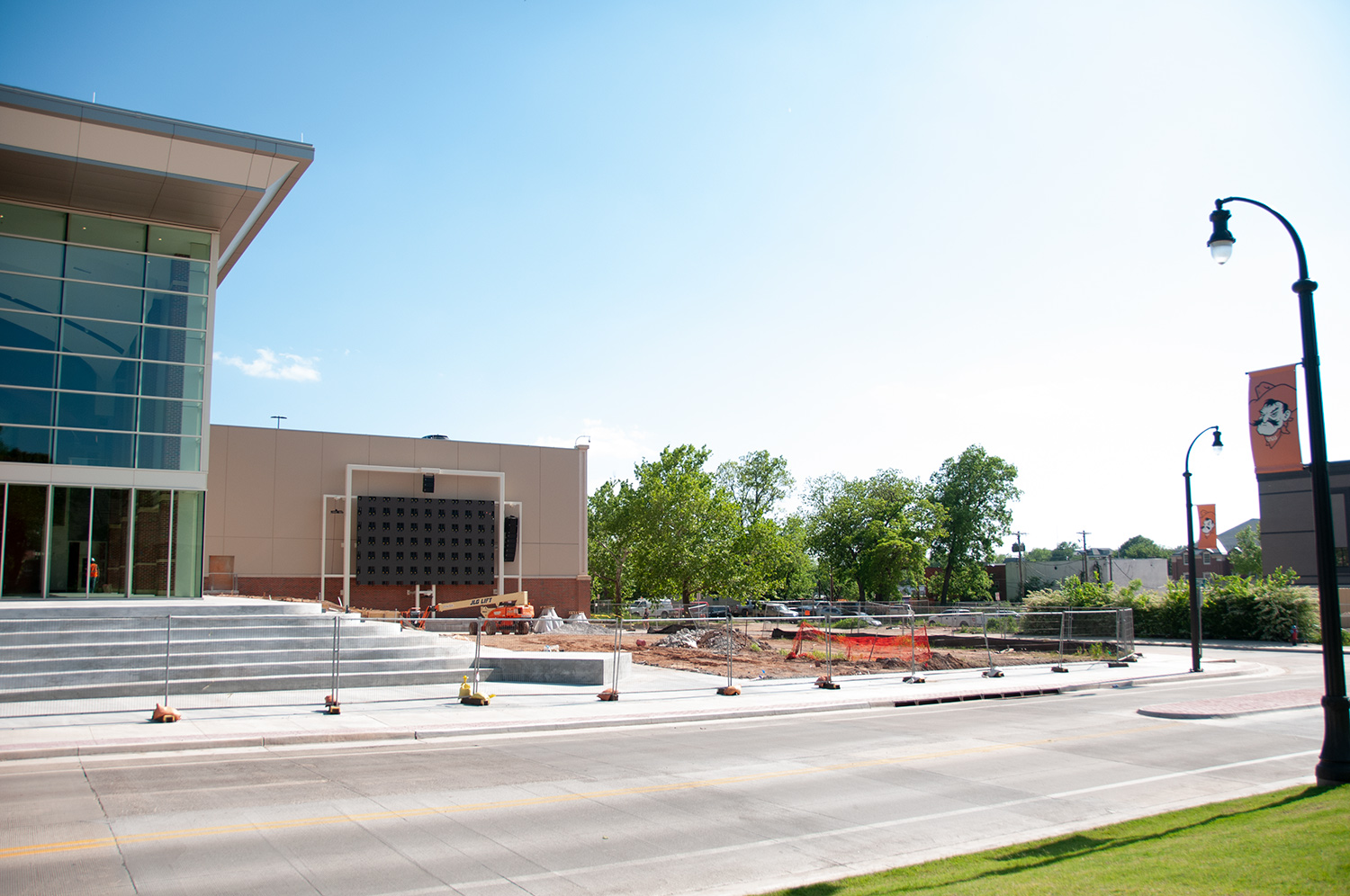 The McKnight Center plaza is roughly 10,000 square feet with a LED screen sized at 32 by 16 feet. The plaza is equipped with a line array sound system with surround sound towers.
With their outdoor space's closed-circuit LED screen, green space and non-permanent stage, MCPA will be able to attract an even larger audience when the sold-out signs frequent their marquee throughout the season. And, like NWS, they intend to use the space to transform the community through other offerings like free yoga and movie nights, as well as other college-town happenings, like game-day tailgating.
"Culture binds community," said NWS's Howard Herring. "Digital access to cultural expression increases the number of participants and the depth of their experience. The McKnight Center is a welcome partner in shaping the future of classical music and enriching communities. We wish everyone at The McKnight Center the best in their new endeavors."
Click here for more information on The McKnight Center for the Performing Arts, and follow them on Facebook, Twitter and Instagram. 
MCPA renderings are by Beck Design, courtesy of MCPA. Construction-phase photos from May 2019 by Marci Falvey
Posted in: Wallcast Concerts
---