News
July 26, 2022
NYO2 returns to New World Center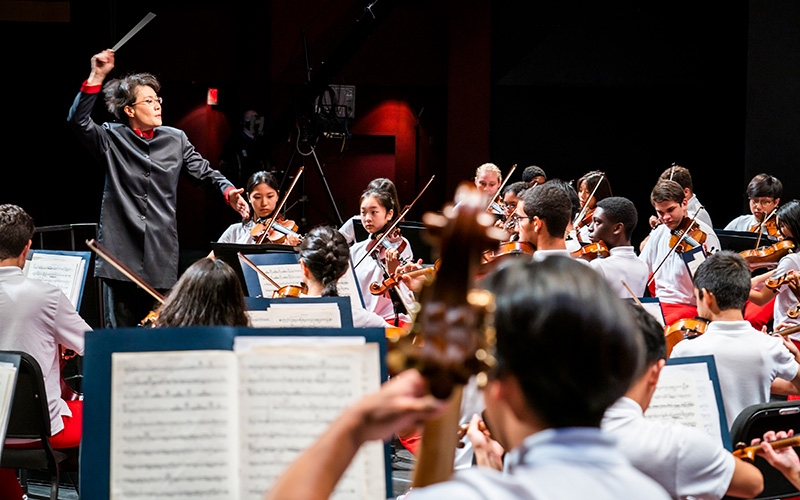 NYO2 with conductor Mei-Ann Chen, photo by Chris Lee
This week, following eight days of intensive training in New York, the 81 members of NYO2—including extraordinary teen instrumentalists from across the United States—return to Miami Beach for their third summer residency with the New World Symphony, America's Orchestral Academy (NWS), culminating in a performance at the New World Center on Saturday, July 30 at 7:30 PM led by conductor Mei-Ann Chen and featuring pianist Aaron Diehl. Throughout the Miami Beach residency, which runs from July 26–30, NYO2 players will work with NWS Fellows, thanks to a continued partnership between Carnegie Hall and the New World Symphony. NYO2 first traveled to Miami Beach in summer 2018, which included a sold-out concert at the New World Center.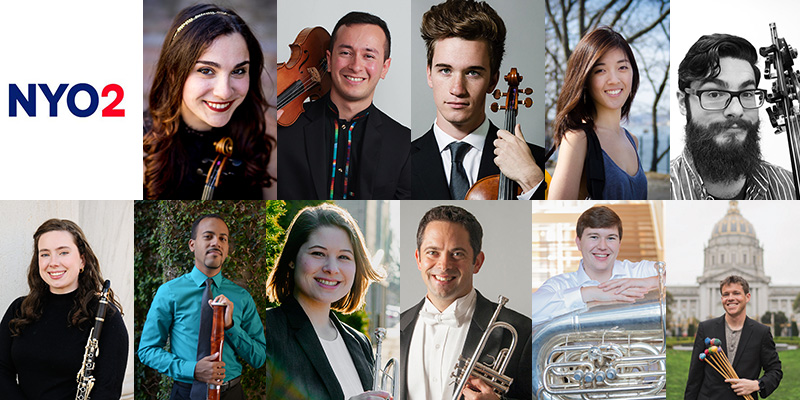 NWS Fellows and Alumni serving as 2022 NYO2 mentors and faculty; left to right: Sophia Bernitz, Violin Fellow; Luis Salazar, Violin Fellow; Peter Ayuso, Viola Fellow; Vivian Chang, Cello Fellow; Eric Windmeier, Bass Fellow; Julianna Darby, Clarinet Fellow; Francisco Joubert Bernard, Louisville Orchestra Bassoon; Morgen Low, Trumpet Fellow; Anthony Prisk, Philadelphia Orchestra Trumpet; Andrew Abel, Tuba Fellow and Jacob Nissly, San Francisco Symphony Principal Percussion
In addition to sectionals and full orchestra rehearsals, the NYO2 members will have opportunities to work with NWS Fellows and alumni leading up to their performance at the New World Center. The full list of NWS Fellows can be found here. The musicians will also have the chance to explore the sights and sounds of the city and other cultural attractions during their time in Miami.  
The concert at the New World Center will be available to audiences everywhere for free via a webcast. The program includes Jessie Montgomery's Soul Force, Rachmaninoff's Symphonic Dances, and Gershwin's Piano Concerto in F major, featuring Aaron Diehl as soloist. Following its Miami Beach residency, NYO2 returns to New York for a culminating performance at Carnegie Hall on Monday, August 1 at 8:00 PM.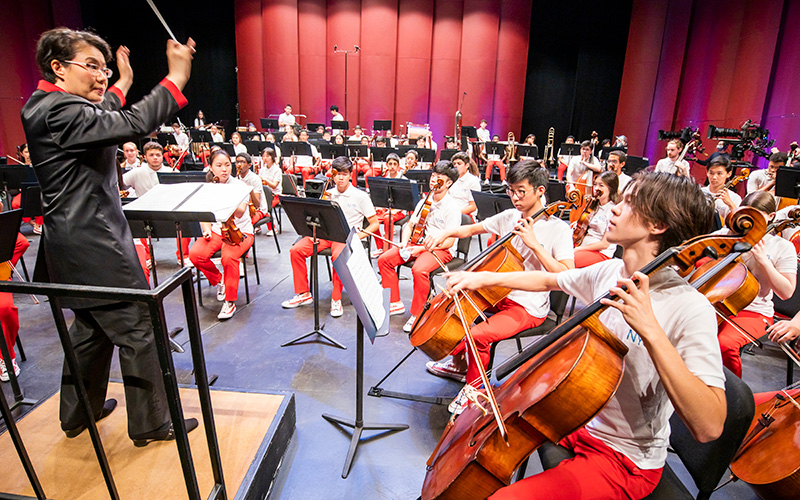 NYO2 with conductor Mei-Ann Chen, photo by Chris Lee
"We are thrilled to partner again with the New World Symphony to bring the talented young musicians of NYO2 back to Miami Beach" said Clive Gillinson, Carnegie Hall's Executive and Artistic Director. "The opportunity to work with NWS Fellows and learn from conductor Mei-Ann Chen and pianist Aaron Diehl will be transformative for these students. We hope they will return home to their communities inspire to further develop their playing and use music to connect with audiences everywhere." 
 
New World Symphony President and CEO Howard Herring said "We look forward to welcoming the NYO2 musicians again this summer. Our Fellows will bring out the best in these talented young players in the collegial way that is a New World tradition. NYO2 will be playing one of the first concerts in the recently named Michael Tilson Thomas Performance Hall, so designated in honor of our founding artistic director. MTT has been a pioneer in electronic distribution of classical music for his entire professional life. The technological infrastructure of the Hall reflects his commitment to sharing classical music with as many people as possible. So, it is fitting that the NYO2 concert will be streamed from the Hall to the world." 
 
The 81 members of this year's NYO2 ensemble—ages 14–17 and coming from 27 U.S. states plus Puerto Rico—have been recognized as exceptionally talented musicians who not only embody a very high level of artistry, but who also come from a wide range of backgrounds, representing a bright future for American orchestral music. The roster includes seven musicians from Florida, including three local players from Miami. Fourteen musicians will be returning to NYO2 from past seasons, and 33 prior members of NYO2 have been accepted to Carnegie Hall's National Youth Orchestra of the United States of America (NYO-USA) this summer. Click here for the full list of NYO2 musicians, including photos, fun facts, and a national map. 
 
The NYO2 program begins with an intensive 8-day training period at Purchase College, State University of New York (SUNY) in mid-July. There, the young musicians work with top-notch professional players from orchestras around the country and NWS Fellows and have opportunities to make music side-by-side with members of NYO-USA and NYO Jazz. Joseph Young, Music Director of the Berkeley Symphony and Artistic Director of Ensembles at the Peabody Institute, returns as NYO2's resident conductor, and the students will also have the opportunity to work with James Ross, music director of the Alexandria Symphony Orchestra in Virginia. The faculty will lead private lessons, master classes, chamber music readings, and other seminars on essential music skills in preparation for the culminating concerts in Miami Beach and New York. Click here for a full list of NYO2 guest artists and faculty.
About NYO2
Created by Carnegie Hall's Weill Music Institute in summer 2016, NYO2 brings together outstanding young American instrumentalists ages 14–17 for a summer orchestral training program that culminates in exciting concerts in Miami Beach and Carnegie Hall. Running in conjunction with NYO-USA and NYO Jazz's annual summer residencies at Purchase College, SUNY, NYO2 offers an opportunity for participants to play alongside exceptionally talented peers and learn from a world-class faculty. The program aims to expand the pool of young musicians across the country equipped with the tools to succeed at the highest level, particularly those who come from communities that have often been underserved by and underrepresented in the classical music field. 
2019 NYO2 at New World Center, photo by Gregory Reed
The inaugural season of NYO2 in summer 2016 culminated in a side-by-side concert with The Philadelphia Orchestra in Philadelphia's Verizon Hall led by conductor Giancarlo Guerrero. In summer 2017, NYO2 made its Carnegie Hall debut with Guerrero, members of The Philadelphia Orchestra, and Grammy Award–winning bassist and vocalist Esperanza Spalding. In 2018, NYO2 partnered with the New World Symphony for the first time, traveling to Miami Beach for a six-day residency, highlighted by performances at the New World Center and Carnegie Hall led by conductor Carlos Miguel Prieto and featuring violinist Gil Shaham. In 2019, the orchestra performed at Carnegie Hall and returned to Miami Beach for its residency with New World Symphony, once again led by Carlos Miguel Prieto, and joined by pianist Gabriela Montero as soloist. The ensemble participated in an all-digital residency due to the COVID-19 pandemic in 2020 and last summer the orchestra was able to gather at Purchase College, SUNY led by Mei-Ann Chen. The 2021 residency marked the first time that most young musicians had the opportunity to play in full ensembles since the start of the pandemic.
 
To learn more about NYO2, visit carnegiehall.org/nyo2.
Posted in: Press
---