News
October 20, 2021
Oliver Herbert: NWS, the next generation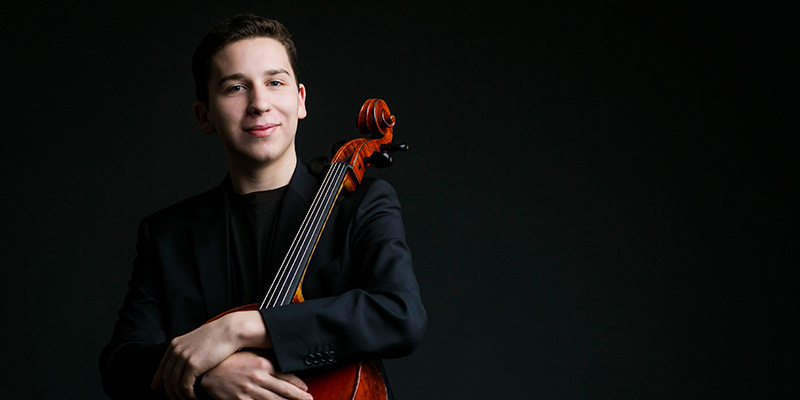 Photo by Todd Rosenberg
2021 is proving to be a memorable year for Oliver Herbert. The renowned cellist was awarded a prestigious Avery Fisher Career Grant, recognizing talented instrumentalists who have great potential for major careers; has performed with orchestras across the country; and has launched several ambitious projects. And on Sunday, October 24, he will make his anticipated New World Symphony debut—which will feel more like a homecoming, as his connection to NWS and MTT runs deep. Click here for tickets.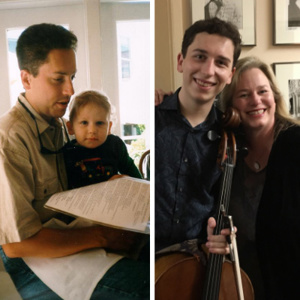 Oliver--the 24-year-old musical wonder--is the son of two NWS alumni from 1993-95: David Herbert, Principal Timpani of the Chicago Symphony, and Adrienne Sengpiehl, a freelance violinist in the Bay Area and Teaching Artist for the San Francisco Symphony's Music and Mentors Program. From a young age, Oliver was immersed in the world of music and would frequently attend rehearsals rather than staying home with a babysitter. Today he is one of the classical music world's fastest rising stars, consistently praised for his virtuosity, musical instincts, youthful exuberance and sophisticated musical expression.
Oliver + NWS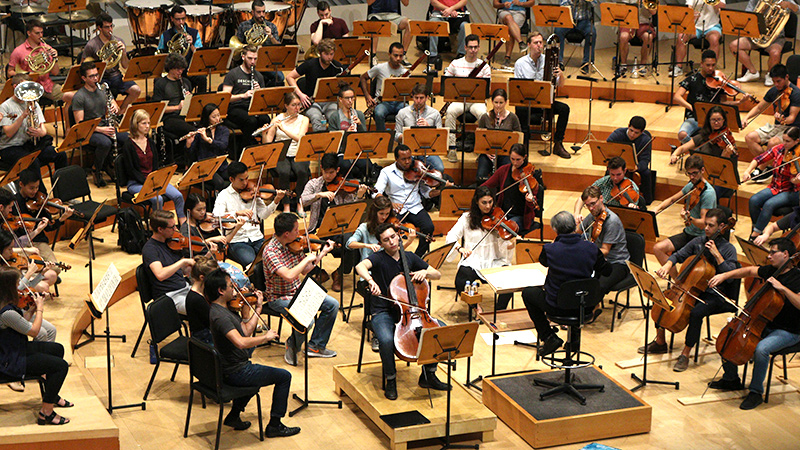 In 2017 Oliver—then a 19-year-old student at the Curtis Institute—joined NWS and MTT in rehearsals of Richard Strauss' Don Quixote as a stand-in for Yo-Yo Ma. Both parents and son reflected on the experience:
"NWS's environment really allowed me to immerse myself in the piece, and the rehearsals with MTT and the orchestra left me invigorated," said Oliver. "Immediately when I arrived, I felt that NWS was a place that I could try new things and test boundaries with my playing, so I really appreciated the opportunity to be there and collaborate with so many inspired musicians."
"I am forever grateful for the inspiring musical experiences, imaginative projects and infectious creative energy of MTT," said mother Adrienne. "My time with NWS nurtured me musically and personally and I am thrilled that Oliver has the opportunity to experience the magic of the New World Symphony."
"Michael Tilson Thomas and the generous supporters of the New World Symphony have created the largest thriving and functioning musical family in the history of classical music," said father David. "There is no better place to learn and grow as a musician and the Herbert family is grateful for the opportunities of participation in the past, present and future of this bold and innovative ensemble."
Oliver + MTT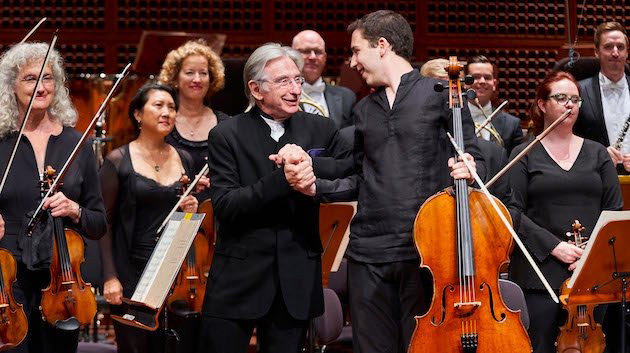 Oliver and MTT with San Francisco Symphony, photo by Grittani Creative LTD
In September 2019, Oliver made his San Francisco Symphony debut with MTT in a performance hailed as a knockout by San Francisco Classical Voice.
"Youthful but magisterial,… Herbert cut a dramatic figure onstage. The audience adored him... A star, it seemed, was found and embraced."
Later that year, Oliver was part of MTT's Kennedy Center Honors celebrations and offered a congratulatory (and musical) message as part of San Francisco Symphony's #MTT25 online ceremony.

This arrangement of the Adagietto from Gustav Mahler's Fifth Symphony, performed by Oliver and NWS conducting alum Teddy Abrams is a must-listen:
Get Tickets
Hear Oliver kickoff NWS's 2021-22 Chamber Music series this Sunday, October 24, 2021 at 2:00 PM. Click here for tickets.
Cello Fantasy
Oliver Herbert, cello
Kyle Marshall Choreography
Chad Goodman, conductor
Music by Schumann, Eastman, Sibelius, Kendall and Ibert
Posted in: Alumni, Concerts, Events, MTT
---