News
October 19, 2022
Once-in-a-lifetime experience: Rachmaninoff, MTT and Bronfman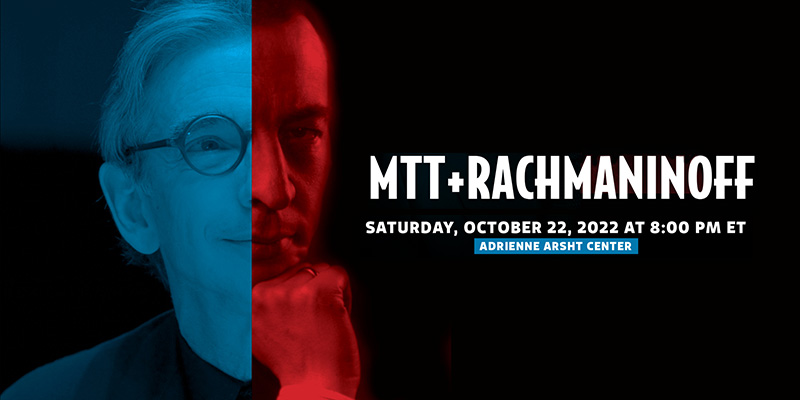 One-night-only event on Oct. 22: click here to buy tickets.

When world renowned pianist Yefim Bronfman takes the stage with MTT and NWS Fellows on October 22 at the Adrienne Arsht Center, he will conquer what many consider the most demanding piano work of all time. Rachmaninoff's Third Piano Concerto is an dazzling Romantic masterpiece requiring feats of skill, stamina, courage and heart. Bronfman checks every box.
In fact, the Third Concerto is a favorite for the Soviet-born, Israeli American pianist. Bronfman calls its melodies some of the most beautiful ever written, and the easiest introduction to classical music.



NWS last performed the Third Concerto—also with MTT and Bronfman, and also at the Adrienne Arsht Center—on April 12, 2008. Alan Becker at the Miami Herald called it a once-in-a-lifetime experience:
Although there was a time when few pianists willingly took on the massive technical challenges of Rachmaninoff's Third Piano Concerto, today's well-equipped keyboard wizards perform it frequently.
Yefim Bronfman is no stranger to the work and has once again returned to it, this time with Michael Tilson Thomas and the New World Symphony. Few listeners will easily forget Saturday's once-in-a-lifetime experience at the Adrienne Arsht Center's Knight Concert Hall.
Bronfman threw off a fast and furious performance several years back, but now he has added considerable depth and nuance to his interpretation. All the necessary fire and brimstone are intact but, partnered with Tilson Thomas, the Russian adds the spark of inspiration to the mix. The conductor molded the orchestral phrases with care and passionate thrust, achieving an ideal rapport. Playing like a man possessed, Bronfman took chances few pianists would attempt in live performance.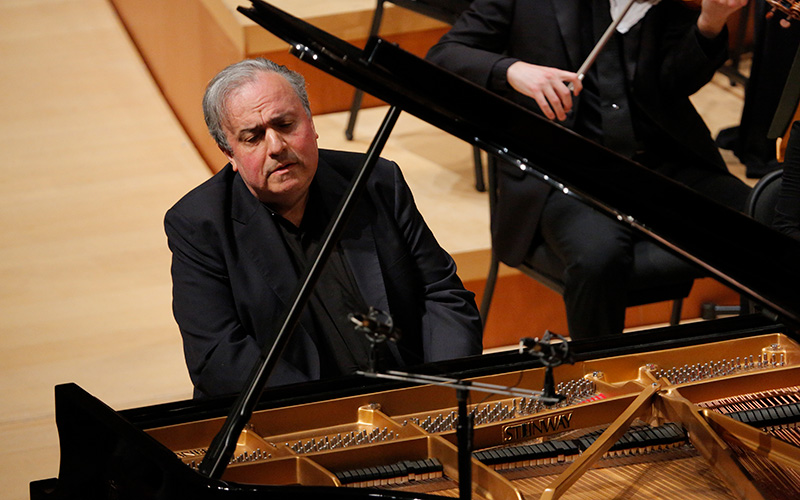 Yefim Bronfman performs with NWS in 2018, photo by Rui Dias-Aidos, REDAV, Inc.

Earlier this year, Bronfman performed the Third Concerto in Boston and Los Angeles to similar triumphant praise.
Boston Globe writer A.Z. Madonna wrote of Bronfman's February 2022 performance: "It seems only fitting that during the 2022 Olympic Games, the BSO should also present a concerto that might as well be an Olympic event: Rachmaninoff's Piano Concerto No. 3 in D minor, a 45-minute gauntlet that tests the soloist's technical and artistic abilities to the maximum, with barely a breather to be found amid the expansive cadenzas and devilish variations. Fortunately, if the concerto was an Olympian challenge, Bronfman was its Nathan Chen."
That same month, Bronfman also performed the work with the Los Angeles Philharmonic, where Henry Schlinger of Culture Spot LA said: "It was man against piano, and Bronfman tamed the Steinway Grand throughout 40 grueling minutes. At various points, it seemed as if the piano would crumble under the weight of Bronfman's mighty hands. But it wasn't bravado; it was one of the great pianists of our time tackling one of the great piano concertos of all time. So many adjectives come to mind about the performance whose conclusion immediately brought the audience to their feet cheering behind their masks. From the gentle notes of the four-note sequence in the opening movement to the crashing conclusion of the third movement, Bronfman's performance was captivating, electrifying and commanding. … one could not take their eyes off Bronfman. The entire performance was spellbinding."
MTT + Rachmaninoff
Saturday, October 22, 2022 at 8:00 PM
Adrienne Arsht Center
Click here to buy tickets. 
Posted in: Concerts, Events, Guest Artists, MTT
---