News
November 15, 2023
Passing the Baton: Stéphane Denève leads NWS + TCO collaboration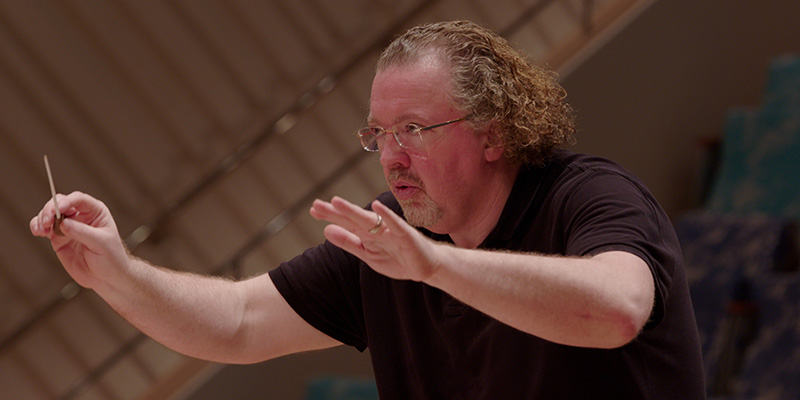 This week, The Cleveland Orchestra returns to Miami for its 17th residency at the city's Adrienne Arsht Center for the Performing Arts. For the second year in a row, this includes a collaboration with the New World Symphony that brings together musicians from both orchestras in side-by-side chamber music and orchestral performances.
Established by New World co-founder and longtime artistic leader Michael Tilson Thomas (MTT), this partnership now falls into the capable hands of conductor Stéphane Denève, who assumed the role as Artistic Director of New World Sympho­ny in 2022. Denève spoke about his relationship with both orchestras, how this partnership is a "win-win" for both, and his plans for a truly thunderous performance of Strauss's An Alpine Symphony.
You have longstanding relation­ships with both The Cleveland Orchestra and New World Symphony. How do you see them coming together this season?
STÉPHANE DENÈVE: This is a dream come true because I adore both institutions. I had my debut with The Cleveland Orchestra already 15 years ago, in 2007. What an honor it was for me to make music with them. And the other institution represents the future of our orchestral world: the New World Symphony. I love the concept of the New World Symphony, I love all the possibilities that it offers. To have them both united is absolutely incredible. I'm so happy that MTT started this collaboration and that I can continue it, especially starting with this side-by-side.
For that side-by-side, you selected Strauss's An Alpine Symphony, which has one of the largest orchestras in the reper­toire. Was that intentional?
DENÈVE: I was dreaming to find the right piece to allow this symphonic feast and, there is one very important German word here. [At this point Denève opens up his score of An Alpine Symphony to the page that lists the orchestration.] So this is my score and you can see here Strauss writes in 18 first violins, 16 second violins, 12 violas … this is already a bit bigger than tradition. But the first word, before the numbers of the different strings is "Mindestens," and that means "at least." So you can see that Strauss was recommending more, he was happy to have a huge, crazy string section. And that's what will happen in November. We will have 92 string players.
I don't think I've ever seen a string section that large!
DENÈVE: I have a great image of the stage for this coming November that I already treasure. In it, you see that Cleveland is represented by green seats and the orange is New World, and every stand in the strings is shared. We will be close to 150 people on stage in total.
That will blow your hair back.
DENÈVE: I'm sure that I won't need to brush my hair after the concert [laughs]. But seriously, the idea is I love The Cleveland Orchestra for many reasons, including how incredibly soft and how incredibly transparent they can be. They can also be ultra powerful. But I remember from when we performed Debussy or Scriabin — they really are a chamber music group, the largest chamber music group I know. So don't bring your earplugs, this is not to make everyone deaf. It's actually to allow an even larger palette of colors.
Will your approach to the side-by-side rehearsals be different than your usual preparations?
DENÈVE: I definitely would like the New World Symphony musicians to understand the way of playing and the way of interacting of The Cleveland Orchestra, and really become an extension of them. There is a lot to learn from this experience. The New World Symphony musicians are very high level. They're all in excellent shape and all very, very athletic, so they'll have no problems joining Cleveland's great musicians. But it's very important that they fit in, and they get a real feeling of what it is to be part of one of the very best orchestras in the world. They will have to resonate within the sound of the Orchestra. The culture of sound is very special. As I said, it's not about playing louder, it's about helping to give even more depth to the sound.
One thing I will try to do during the rehearsal is to pause and let the musicians discuss with their partner. In rehearsal, especially for orchestras like Cleveland, normally everybody's very disciplined and silent. But here we will break the rule so that everybody can have an exchange with their partner in the section.
What do you hope the New World musicians will get out of this experience?
DENÈVE: For me, this experi­ence with one of the very best orchestras in the world is something that will give them the possibility to dream, because I think it's very import­ant to keep dreaming, you know? And when they feel like it's possible to be among one of these great orchestras, that this could be their life, it's very important in helping them maintain this dream.
There are currently nine New World alumni in The Cleveland Orchestra, do you think there's a reason why so many Fellows have found success in Cleveland?
DENÈVE: What is incredible, if I may say, is that this amazing institution has indeed produced so many musicians who have found success around the world. Everywhere I go to conduct, I take a photo with the New World alumni, and I think it's something to celebrate. And I mean to perpetuate this great feeling of community among people that have been in the New World Symphony. It's a huge responsibility to follow the legacy of Michael to develop all that it means to be a musician in our Fellows. Music excellence is a prerequisite, but on top of that we need to connect to the community, we need to connect to education, learn how to develop chamber music groups, how to put together a concert program. The Fellows get a chance to discover the full scope of what it is to be a musician today. And that is really fantastic.
What are you hoping to achieve in these side-by-side concerts?
DENÈVE: I don't want to be overly American, but I really hope for a "win-win situation." Indeed, [laughs], it's this very American expression, win-win. I'm in the situation of when you teach, you learn — it's symbiotic. And I think that it will be the same for the Cleveland musicians.
NWS + TCO Side-by-Side Performances

An Alpine Symphony at the Adrienne Arsht Center
Friday, November 17, 2023 at 8:00 PM
Saturday, November 18, 2023 at 8:00 PM
Click here for tickets. (Use promo code NWSBOGO for a 50% off discount!)
Chamber Music at the New World Center
Sunday, November 19, 2023 at 2:00 PM
Click here for tickets.
Posted in: Alumni, Concerts, Denève, Events, Fellows
---