News
March 11, 2022
Richard Kaufman on Music of the Silver Screen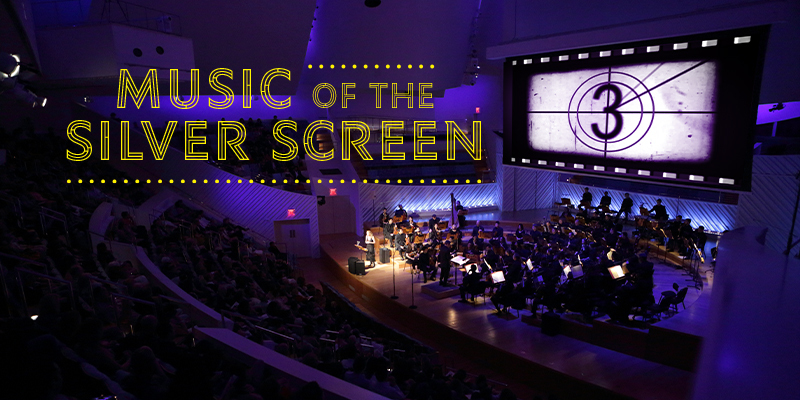 On Friday, March 19, NWS will perform Music of the Silver Screen—a concert dedicated to the iconic scores of some of Hollywood's famous films. On the podium, making his NWS debut, is Richard Kaufman. As one of the leading interpreters and most passionate advocates of the great music literature written for films, Kaufman will bring to life music by John Williams, Charlie Chaplin, Erich Korngold, Ennio Morricone, Tan Dun and more. Below are excerpts from an interview he conducted with The Legacy of John Williams. Click here to read the full interview.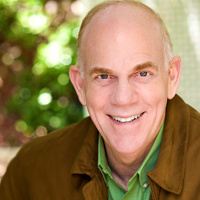 Richard Kaufman
Richard Kaufman's strong connection to the music of John Williams dates back to 1975, when Kaufman was a Los Angeles-based violinist playing for film music recordings. Between 1975 and 1977, Kaufman performed in the violin section for Williams' scores for Jaws, The Eiger Sanction, Black Sunday, Family Plot, Midway and Close Encounters of the Third Kind. This unique position gave him a special insight into Williams' music, while also witnessing the composer's path into worldwide success during those years. Since then, Kaufman has shared a personal friendship with Williams.
When did you decide to become a professional musician?
I began playing the violin at age seven. In our home, my parents played recordings of all kinds of music and I grew to love everything from classical to Broadway to film music. It was an exciting childhood of musical discovery. By the time I was in high school, I had pretty much decided that I wanted to be a professional musician. However, I didn't really focus on one specific genre of music, and that has been the case my entire career.
You're also an accomplished violinist and played in many film recordings in the 1970s. Do you have any special memory about your time as a studio musician?
I played in the studios for around nine years and loved it. It was an opportunity to work with incredible musicians, as well as with some of Hollywood's greatest composers. So many experiences come to mind, but of course I would have to say playing on six of John Williams' scores would be at the top of the list.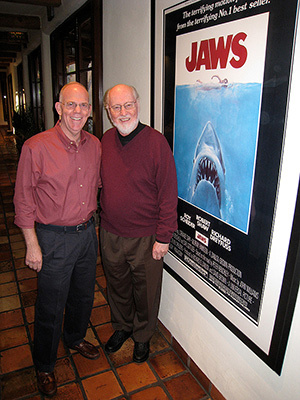 Richard Kaufman and John Williams
Did your background as an orchestral member help your conducting skills and your transition to the podium?
I view my conducting from the point of view of an orchestral player. I learned everything I know about conducting from my experiences as a player, whether in the studio or as a symphonic orchestral musician. There is so much to know…the music, the leadership skills, communication with the baton…the list goes on and on.
When was the first time you met John Williams? And what was the first score you performed with him as violinist?
I met John on the recording sessions for Jaws. It was my first time playing violin on one of his scores. I was the ripe old age of 27.
What were your impressions about his music and performing Williams' film music under his baton?
John's music speaks for itself, and certainly the score for Jaws was one of the finest examples of his composing. He writes so intelligently for each instrument, and his demeanor on the podium creates an instant respect and excitement among the musicians.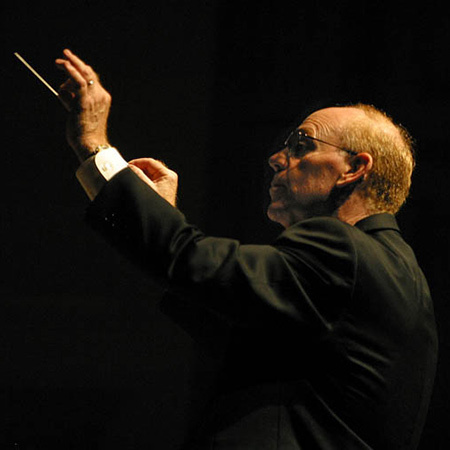 You have performed a lot of film music as a conductor and regularly conduct Williams' music in concert around the world. What have you discovered about his music after studying it for concert performance?
Film music is a very special art form. It exists within the film to accompany the action and characters, but as John's music has proven, it also can stand alone in the concert hall. His melodies, harmonies and the way he constructs a concert suite is amazing. He is the master and audiences and musicians around the world have, for years, shown their admiration and love for his music at every performance, and they continue to do so.
Do you have a personal favorite among Williams' works?
That's like asking a parent of several children "who's your favorite child?" I love conducting all of John's music because there is so much contrast in his writing based on the various styles of films for which he has created the music. Planning a concert of John's music is like being in the world's greatest restaurant and having dozens of choices, each one absolutely delicious and memorable. Among his lesser-known works…if there even are lesser-known works of John Williams…I would have to say The Reivers is one of my favorites of all his scores. His use of the colors of the orchestra is remarkable. It's also a terrific film.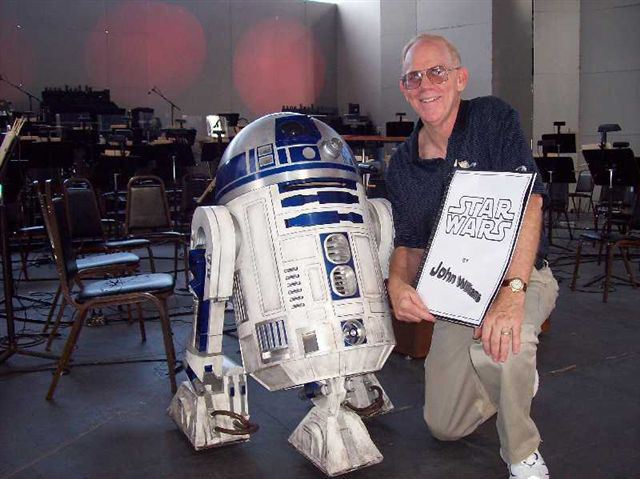 Williams' music has had an enormous impact over generations of listeners and musicians. He has ignited a lot of enthusiasm for symphonic music in young people and brought them closer to the great classical repertoire of the past. What do you think his legacy will be for future generations and what will be his place in music history?
John's legacy will be the music that the world has come to know and love. His use of the symphonic orchestra is beyond compare, whether it be in the world of film music or classical concert music. He is keeping alive the sound of the orchestra in films and, for young people today, he is their connection to not only film music, but also to the musical sounds of Beethoven, Brahms, Stravinsky, Mahler and so many others.
What place does film music occupy in the general canon of contemporary orchestral music?
As the great composer Erich Wolfgang Korngold once said, "music is music, whether it be for the cinema or the concert hall." Film music accompanies a movie in the exact same way opera music accompanies an opera…or ballet music accompanies a ballet. Human emotions are created by all kinds of music.
Click here to learn more about Richard Kaufman.
Music of the Silver Screen with Richard Kaufman
Saturday, March 19, 2022 at 7:30 PM
New World Center
Tickets: nws.edu/events
Special thanks to The Legacy of John Williams for permission to use the article. Photos provided by Richard Kaufman.
---