News
August 15, 2016
See You in September: Summer Play-cation Is Still in High Gear
New World Symphony Fellows, new Fellows for 2016-17, and alumni are all in the home stretch of the summer music festival experience before the regular season begins at NWS and other orchestras. They are performing in some of the most prestigious and diverse summer music festivals both at home and abroad.
---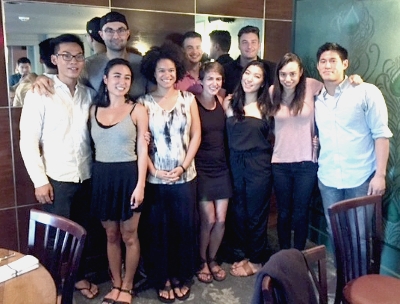 Tanglewood, MA is not only also the Boston Symphony Orchestra's summer home, but the venue for the Tanglewood summer music festival and the Tanglewood Music Center. The TMC Fellowship Program is the BSO's summer academy for advanced musical study. The TMC offers an intensive schedule of study and performance for emerging professional instrumentalists under the tutelage of BSO musicians and other guest artists.
Tanglewood is considered by many to be the gold standard in its field and eager musicians apply each year to participate. NWS has a big presence there this summer: Fellows Kelton Koch, trombone , Priscilla Rinehart, horn, Stephen Kehner, percussion, Meredith Bates, cello, Maya Cohon, violin, Dave Raschella, horn, and Heather Thomas, violin; new alumnus Christian Reif, conducting; new 2016-17 Fellows Russell Rybicki, horn, Kurt Tseng, viola, Natsuki Kumagai, violin, Kevin Gobetz, double bass, and Peiming Lin, violin; plus alumnus Amos Fayette, violin; and Library Fellow Ashton Bush, assisting the BSO.
---
We reported on the Britt Festival last week, but here's a pictorial update of New World Symphony attendees. NWS alumnus and festival Music Director Teddy Abrams is surrounded here by NWS alumni and Fellows: (front) Nicola Payne, violin, Chris Riggs, percussion, Clara Lee, violin, Fellow Sarah Peters, violin, Matt Eckenoff, horn; (back) Andrea Levine, clarinet, Hye Jin Chang, violin, Jeff Garza, horn, Fellow Julia Coronelli, harp, Rosanna Butterfield, cello, new Fellow Ian Greenberg, cello, Meredith McCook, cello, Robb Aistrup, double bass.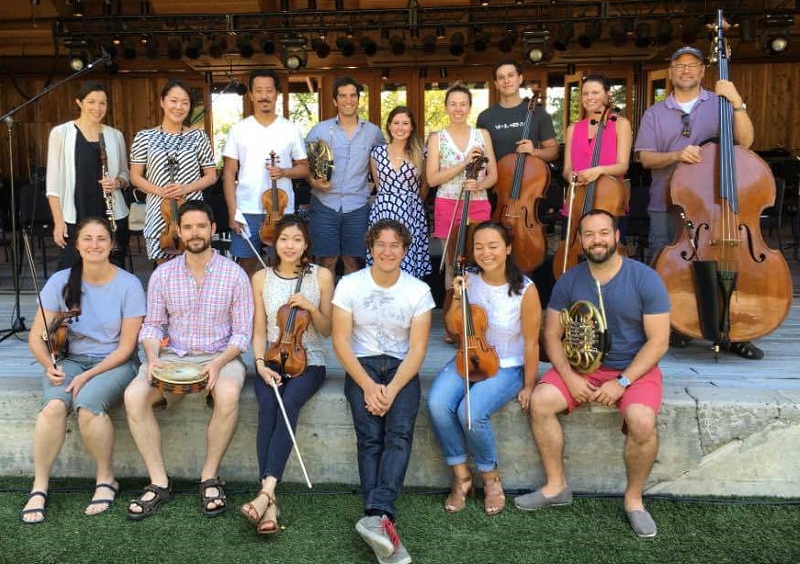 ---
The Cabrillo Festival of Contemporary Music takes place during the first couple of weeks in August in Santa Cruz, CA. It is led by Music Director Marin Alsop. NWS alumni playing are new alumna Madeline Sharp, viola, plus Kathleen Balfe, cello, Brad Ritchie, cello, Karen Wagner, oboe, and Bharat Chandra, clarinet; also Ella Frederickson, librarian, who was NWS' very first music librarian in 1988.
The Lakes Area Music Festival takes place during the first three weeks of August in Brainerd, central Minnesota. Its orchestra is a mix of a heavy complement from the Minnesota Orchestra and other upper Midwest orchestras, a variety of other professionals and a lesser number of pre-professionals. Naturally it's another popular venue for NWS particpation. NWS Fellows in the festival orchestra are Lauren Densinger, violin, Hannah Nicholas, viola, Ran Kampel, clarinet, and Zach Manzi, clarinet; plus incoming Fellow Joseph Peterson, trombone; along with NWS alumni Alexandra Early, violin, Brian Fox, violin, Emilia Metterbrink, violin, Michael Sutton, violin, Austin Fisher, cello, Matthew Frischman, double bass, Kevin Pearl, oboe, Joseph Peters, oboe, and Dominic Rotella, horn. Recent conducting alum Christian Reif is zooming up to Minnesota from his previous gig at Tanglewood.
---
The European Union Youth Orchestra is back on its feet again and touring throughout Europe this August. While its musicians are obviously all from Europe, the EUYO does take on extra players during the summer. This year the lucky additional few include NWS Fellows Kristin Baird, violin, and Hilary Glen, cello.
The Lucerne Festival Academy in Switzerland is part of the Lucerne Festival and runs through early September. Among those who are members of the LFA Orchestra are NWS Fellows Alexa Ciciretti, cello, Zubi Azezi, violin, and Zach Manzi, clarinet; and 2016 alumnus Kevin Kunkel, cello.
The innovative Lake George Festival in upstate New York, founded in 2011, is surrounded by the scenic Adirondack Mountains and beautiful Lake George, and runs August 15-25. NWS Violin Fellow Hye Jin Koh is on the roster.

Julia Yang, cello, a 2016 NWS alumna, plays at the Krzyzowa Music Festival in southwestern Poland, which runs August 16-28.

Finally, Bassoon Fellow Brenton Foster plays for the VIVO Music Festival based in Columbus, OH. VIVO is in its second season, bringing together an exceptional group of young professional musicians presenting concerts and events throughout central Ohio that directly engage with the community. The festival takes place over a very long Labor Day weekend so Brent may have to rush to get back to Miami Beach in time to start the new New World Symphony season. See you in September!
---