News
December 3, 2015
Sounds of the Times: Become Ocean: A Musical Palindrome
There's not much else the News can add to the detailed information on the composers, works, and guest conductor for this Saturday's New Music concert, "Sounds of the Times: Become Ocean: A Musical Palindrome." However, some interesting additional context may help in enjoying the event.

Of the three contemporary works to be performed, only one has already been in the New World Symphony repertoire. Milton Babbitt's All Set was first performed by NWS in the New Music concert of December 7, 1996, led by guest conductor Arthur Weisberg. A review in the Sun-Sentinel described it: "Babbitt's All Set (1957) suggests a cubist jazz band number, with tunes and rhythms turned inside out and every which way. The musicians tackled the brilliant work with disarming ease and energy."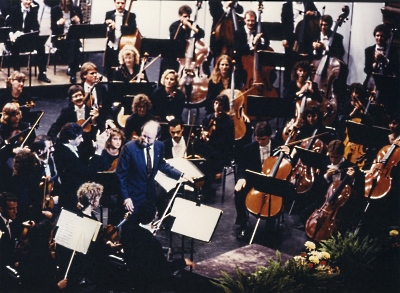 Charles Wuorinen's Bamboula Squared will receive its first NWS performance. However another Wuorinen Bamboula-entitled work was commissioned by NWS and performed at the Inaugural Concert of February 4, 1988. That was Bamboula Beach - The Miami Bamboula and the composer was in attendance (see photo). From the NWS newsletter: "Mr. Wuorinen insists that audiences needn't understand the technical aspects of his music to enjoy it… The key to understanding new music, he added, is becoming familiar with it. 'I always say, when asked for explanations or guidance, to listen to a piece again and again… Let's not forget that when many of the romantic symphonies were written, they were considered radical because people didn't understand them… Even Tchaikovsky was regarded as a difficult modernist…'"

Saturday's featured work is the Florida premiere of John Luther Adams' Become Ocean. This piece won the 2014 Pulitzer Prize for Music, and won the 2015 Grammy Award for Best Contemporary Classical Composition, as recorded by the Seattle Symphony who commissioned the work.

Click here for an insightful discussion of Become Ocean and the rest of the concert in the South Florida Classical Review

Guest conductor Jeffrey Milarsky made his New World Symphony conducting debut on November 7, 2009, for another new music concert "Sounds of the Times: New York State of Mind." However Milarsky's roots at NWS, like Wuorinen's, go all the way back to New World's beginnings. While never formally an NWS Fellow, he worked with Michael Tilson Thomas way back in the Great Woods Music Festival, and was part of a group that was coming to South Beach just about every week in the early days of NWS, performing as a member of the percussion section while they were building the institution. He considered his first guest-conducting engagement with NWS as a homecoming, and is very much looking forward to being here next weekend. Though he toured the New World Center while it was under construction, he's never been in the building since it opened, and is very excited to be with the Fellows and the staff, performing in the "new" concert hall.
Posted in: Composers, Concerts, From The Archives, Guest Artists
---