News
October 12, 2018
SoundScape Park will feature new art installation by Bill Fontana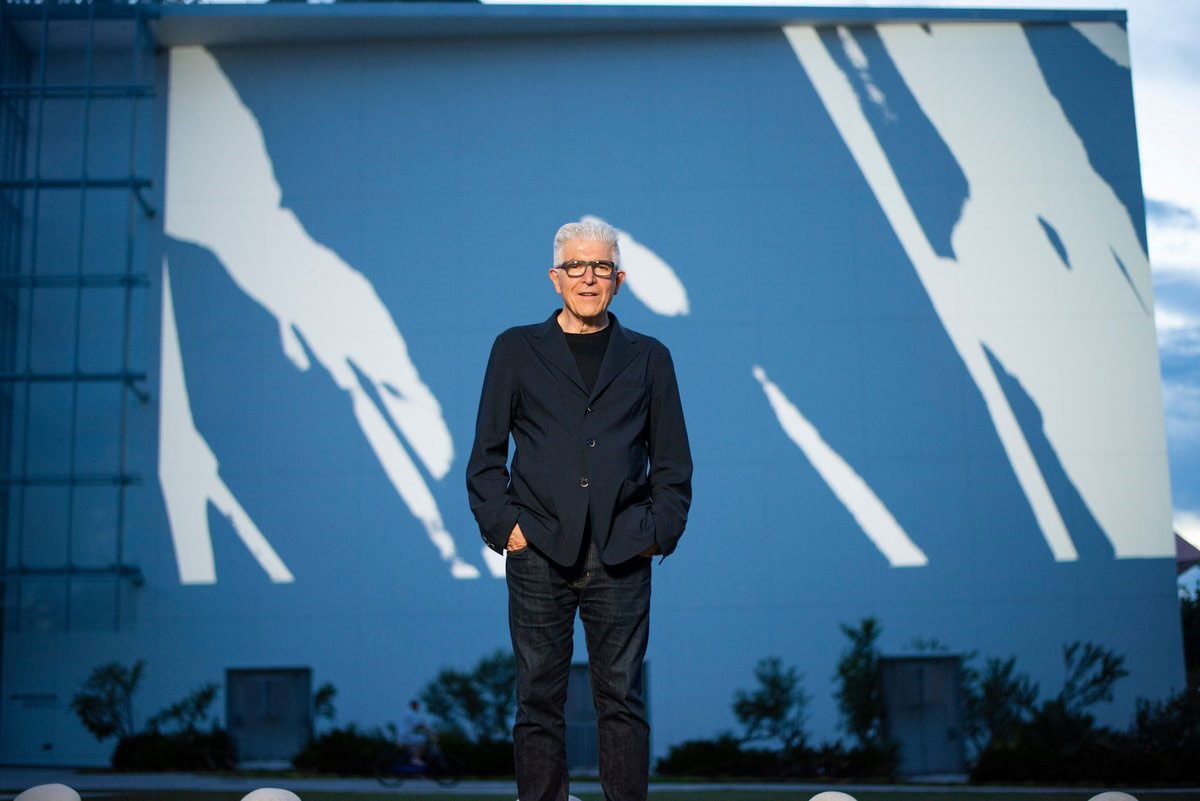 The City of Miami Beach Art in Public Places program is proud to present Sonic Dreamscapes, a new outdoor installation at SoundScape Park created by leading sound artist Bill Fontana. Using microphones, vibration sensors and hydrophones, Fontana has captured and re-created the environmental sounds of Miami Beach and South Florida.
Sonic Dreamscapes will open Friday, October 26 with events in the New World Center and SoundScape Park starting at 6:30 PM. The public is invited for a welcome and introduction by Bill Fontana, Miami Beach Mayor Dan Gelber and NWS's Michael Tilson Thomas in the New World Center's SunTrust Pavilion before gathering in SoundScape Park for the unveiling of Sonic Dreamscapes.
Sonic Dreamscapes presents a sound and video installation created for both daytime and evening viewing via SoundScape Park's sophisticated 72-channel Meyer sound and projection systems. "It is the perfect instrument to create sound choreography inspired by the marine and natural environments of South Florida," says Fontana. "These accompanying videos will be of an abstract nature and will explore the idea of an image that a sound makes and the sound that an image makes, which I call 'Acoustic Visions.'"
The installation cycle begins during the day with individually recurring auditory recordings answering each other from different spatial points in SoundScape Park. By afternoon, the "musical vocabulary" will grow as additional sounds are added to the repertoire. As the evening approaches, environmentally inspired abstract videos will emerge on the video wall, allowing visitors to experience a myriad of floating sounds and meditative images.
Sonic Dreamscapes is the inaugural piece in a yearlong initiative by the City of Miami Beach Art in Public Places program, which will be introducing permanent site-specific works of public art by internationally recognized artists throughout the newly renovated and expanded Miami Beach Convention Center area.
"Bill Fontana's Sonic Dreamscapes exemplifies Miami Beach's commitment to commissioning world-class public art. This work will enhance Miami Beach's public art landscape, home to an already outstanding collection of Art in Public Places projects, including permanent work by Dan Graham, Roy Lichtenstein and Tobias Rehberger, among others," says Mayor Gelber.
Sonic Dreamscapes is the culmination of intensive research and a lengthy series of field recordings. Two years of exploration, supported by Art in Public Places and the New World Symphony, has yielded multiple versions of the artwork, allowing visitors at SoundScape Park a different experience with each visit. Trained as a composer, this work marks Fontana's first collaboration on a public commission with a music institution. Sonic Dreamscapes is Fontana's third major public art commission in the United States, following Soaring Echoes for the Pritzker Pavilion in Chicago's Millennium Park and Acoustical Visions for the Golden Gate Bridge's 75th anniversary in San Francisco. His works abroad have been publicly installed at the Tate Britain and Tate Modern, The Venice Biennale and MAXXI in Rome.
About Bill Fontana
Bill Fontana (b. 1947, Ohio) is an American composer and media artist who has developed an international reputation for his pioneering experiments in sound. Since the early 1970s, Fontana has used sound as a sculptural medium to interact with and transform our perceptions of visual and architectural spaces. He has realized sound sculptures and radio projects for museums and broadcast organizations around the world. His work has been exhibited at the Whitney Museum of American Art; the San Francisco Museum of Modern Art; the Museum Ludwig, Cologne; the Post Museum in Frankfurt; the Art History and Natural History Museums in Vienna; the Tate Modern and Tate Britain, London; the 48th Venice Biennale; the National Gallery of Victoria, Melbourne; the Art Gallery of New South Wales, Sydney; MAXXI, Rome; and MAAT, Lisbon. He has done major radio sound art projects for the BBC, the European Broadcast Union, the Australian Broadcasting Corporation, Nation Public Radio, West German Radio (WDR), Swedish Radio, Radio France and the Austrian State Radio. He is currently working on new commissions for the Kunsthaus Graz, the International Renewable Energy Agency, and the 2018 Venice Architecture Biennale.
About the Miami Beach Art in Public Places program
The Miami Beach Art in Public Places program is a City of Miami Beach program for commissioning public art. The program was created in 1984, with its ordinance adopted in 1995. The program allocates funds totaling 1.5% of all capital costs for City projects and joint private/public projects. Appointed by the City Commission, the AiPP Committee's seven members serve in an advisory capacity to the Mayor and City Commission. Program is administered and curated by Brandi Reddick, Cultural Affairs Program Manager and Dennis Leyva, Art in Public Places Administrator.
Posted in: SoundScape, SoundScape Park
---