News
December 10, 2022
Stéphane Denève makes first NWS visit as Artistic Director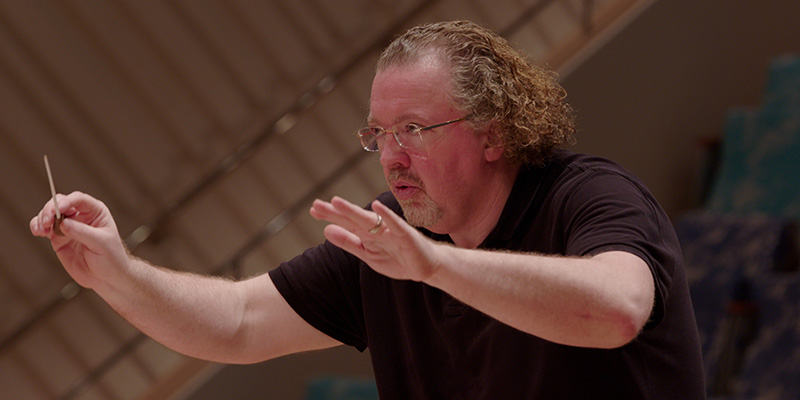 Stéphane Denève, NWS Artistic Director, rehearses at the New World Center
In early December, Stéphane Denève visited New World Symphony for the first time since being named Artistic Director on September 30. Denève succeeds NWS Co-Founder and Artistic Director Laureate, Michael Tilson Thomas. Denève is also Music Director of the St. Louis Symphony Orchestra and in 2023 will begin his tenure as Principal Guest Conductor of the Netherlands Radio Philharmonic.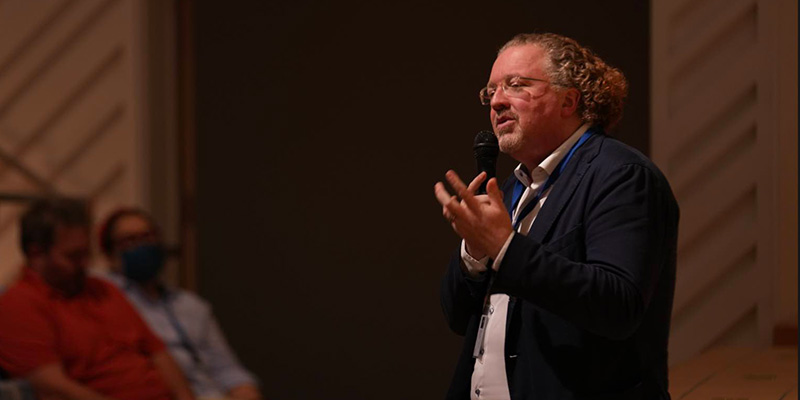 Stéphane Denève meeting NWS staff
In addition to meeting with staff and members of NWS's Board of Trustees, Denève spent most of his time with Fellows. Together they shared a series of rehearsals at the New World Center, where they explored works by Johannes Brahms, Pyotr Ilyich Tchaikovsky, James Lee III, George Gershwin and Denève's fellow Frenchman Albert Roussel.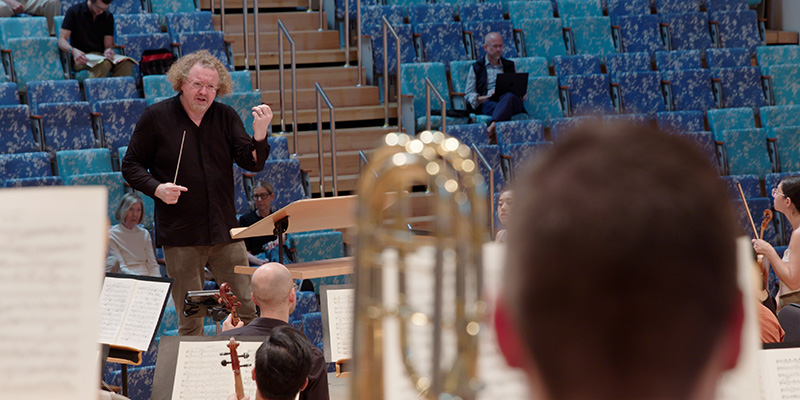 Stéphane Denève rehearsing Strauss in the Michael Tilson Thomas Performance Hall
Fellows also enjoyed a preview of what's to come this spring, when Denève returns for his concert debut as Artistic Director on April 8. The program will culminate in Richard Strauss' epic tone poem Ein Heldenleben, which translates to A Hero's Life.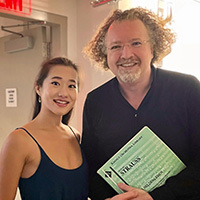 Beatrice Hsieh
"It was my first time ever playing Ein Heldenleben, let alone the famous concerto-like solo, so it was a once-in-a-lifetime opportunity to play it under his baton and receive his interpretive guidance," said first-year Violin Fellow Beatrice Hsieh. "I was blown away by his generosity and mentorship, and my further interactions with him only underscored how he embodies and shares those values off the stage, as well. I'm so excited to work with him again later this season; New World's legacy will certainly continue to shine with him at the helm!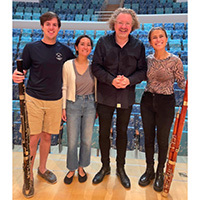 Bassoon Fellows
"Denève brings artists together to play as one musical unit," said second-year Bassoon Fellow Eleni Katz (far right). "My first experience with him was last year. I remember the time in both rehearsals and performances passing extremely fast because he got the orchestra to be in a focused flow state with high expectations for the group."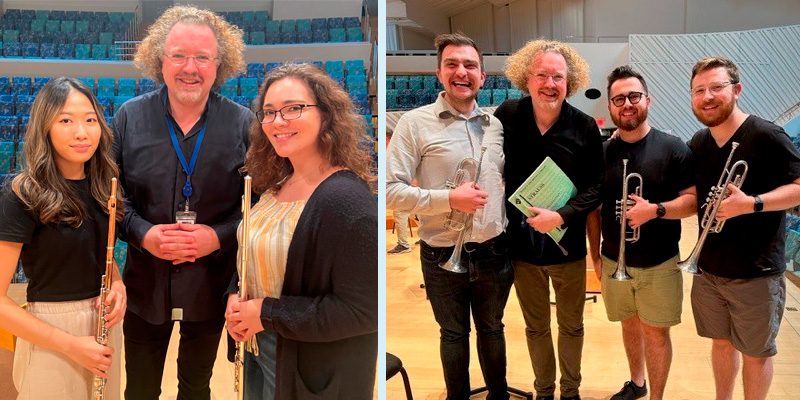 Stéphane Denève with Flute and Trumpet Fellows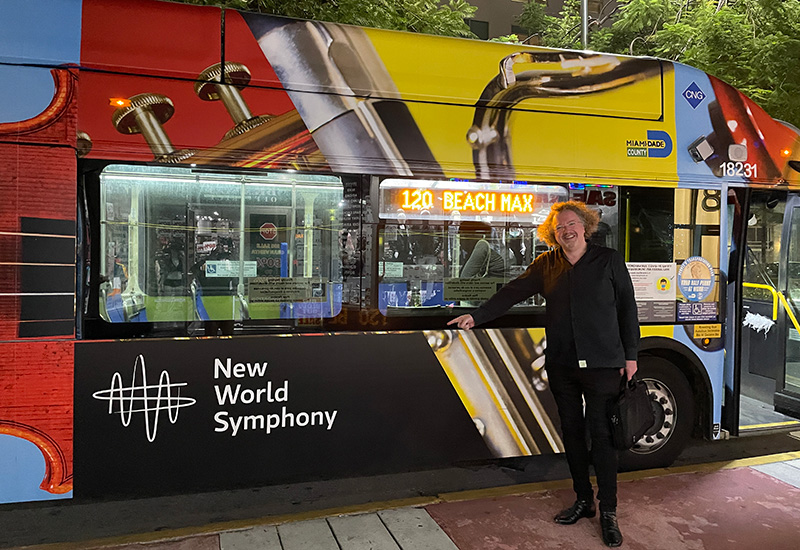 Stéphane Denève spots the NWS bus in downtown Miami, photo by Martin Sher
Stéphane Denève will make his Artistic Director debut on Saturday, April 8 at the New World Center. This one-night-only performance will be the first opportunity for audiences in Miami Beach to welcome Denève to our community. Tickets available at nws.edu/debut.
The recently announced concert will present a blend of traditional classical favorites and modern-day revelations, including Maurice Ravel's La valse, Richard Strauss' Ein Heldenleben and bass-baritone and activist Davóne Tines' co-written work, Sermon. Tines joins the program to perform vocal selections from Sermon as well as spoken narrations.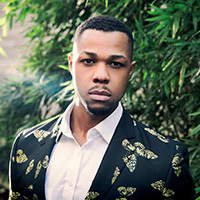 Davóne Tines
Premiered in January 2021 with The Philadelphia Orchestra, Sermon is a three-part song cycle that shines a light on race in America. The cycle includes "You Want the Truth, but You Don't Want to Know" from composer Anthony Davis' opera X: The Life and Times of Malcolm X, "Shake the Heavens" from composer John Adams' opera El Niño and "Vigil," a co-written piece dedicated to the memory of Breonna Taylor. Throughout the song cycle are spoken texts written by James Baldwin.  
Saturday, April 8, 2023 at 8:00 PM
New World Center, Michael Tilson Thomas Performance Hall
John S. and James L. Knight Foundation Stage
Tickets start at $35 and are available at nws.edu/debut or by calling the NWS Box Office at 305.673.3331.
Posted in: Concerts, Denève, Events, Fellows
---