News
January 31, 2018
Team NWS runs Miami Marathon
On Sunday, January 28, over 20 NWS Fellows, alumni and staff took to the streets for the Fitbit Miami Marathon, Half Marathon and Tropical 5k race.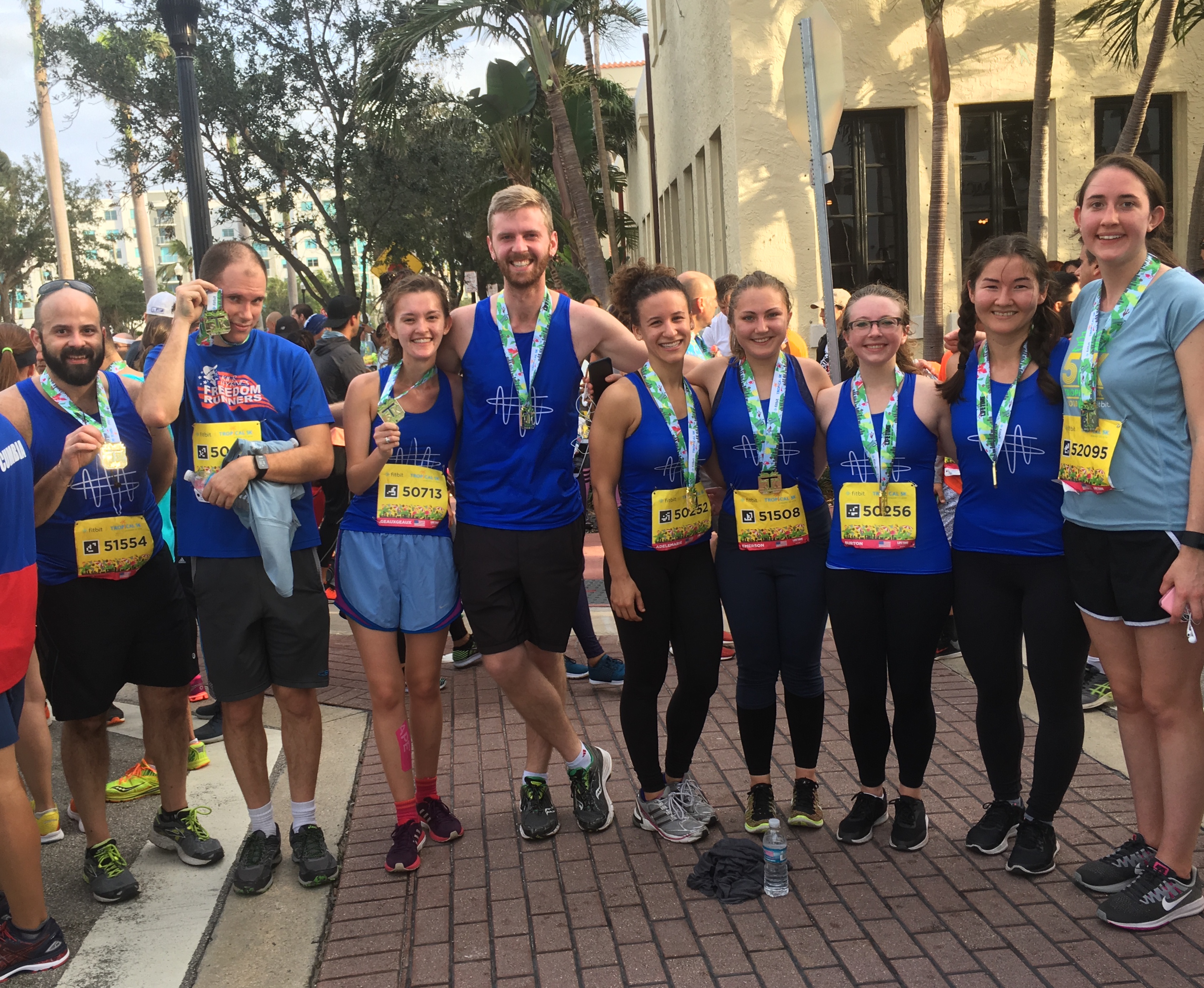 Team NWS for the Tropical 5k included Fellows Margeaux Maloney (violin), Emerson Millar (violin), Elizabeth Oka (viola), Adèle-Maris Buis (oboe), Cynthia Burton (violin), Andrew Johnson (percussion), Jessica Pasternak (viola) and Assistant Vice President of Information Technology, Luis Quintero.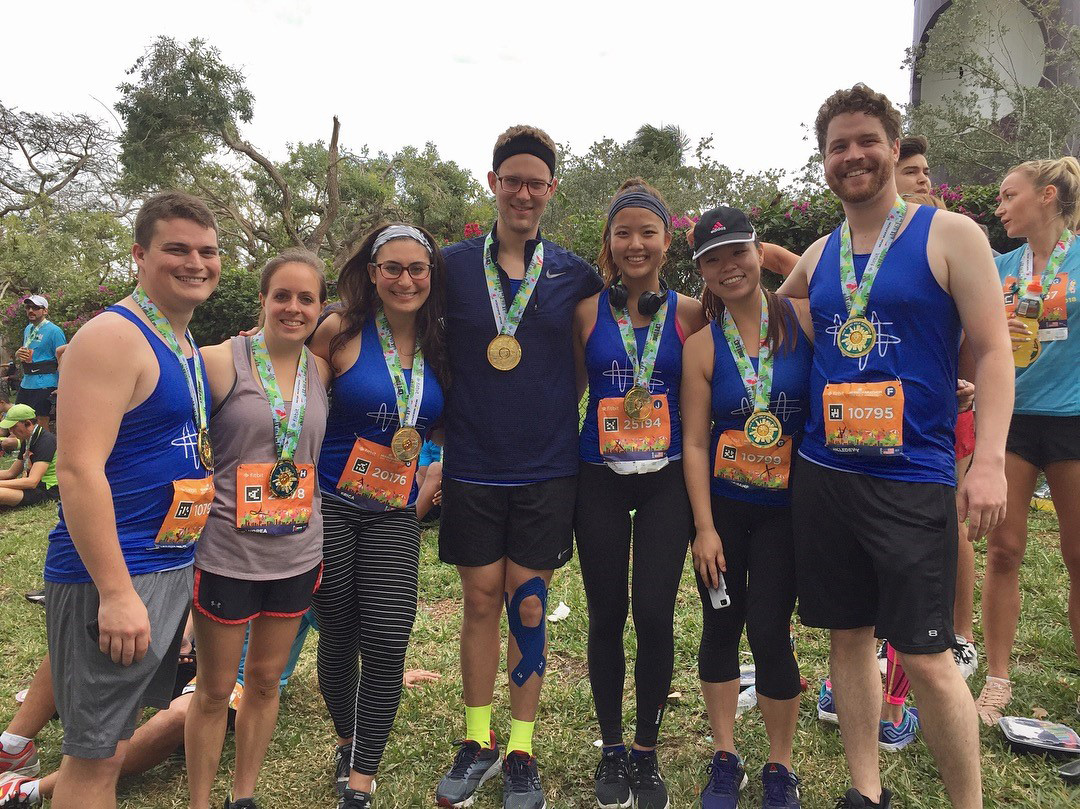 Half-marathon runners included Fellows Drew Comstock (cello), Jacob Hanegan (cello), Jessica Ryou (violin), Andrea Beyer (bass), Jennifer Choi (cello), Nick Castellano (horn), Erica Gailing (viola); alumnus Bradley Loudis (percussion), substitute Sean Hawthorne (cello), Director of Business Development Charlotte Schou and Director of Lighting Luke Kritzeck.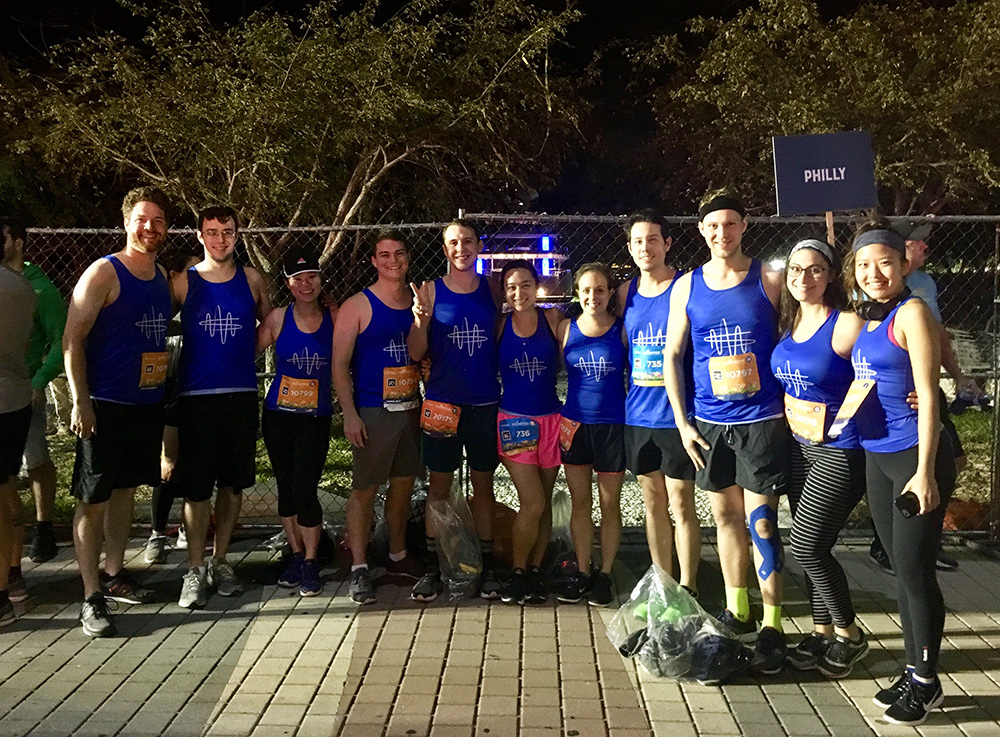 Members of Team NWS who ran the full marathon include Fellows Alan Ohkubo (cello) and Sarah Peters (violin), Vice President of Musician Advancement Cassidy Fitzpatrick and Production Technician Michael McEvoy.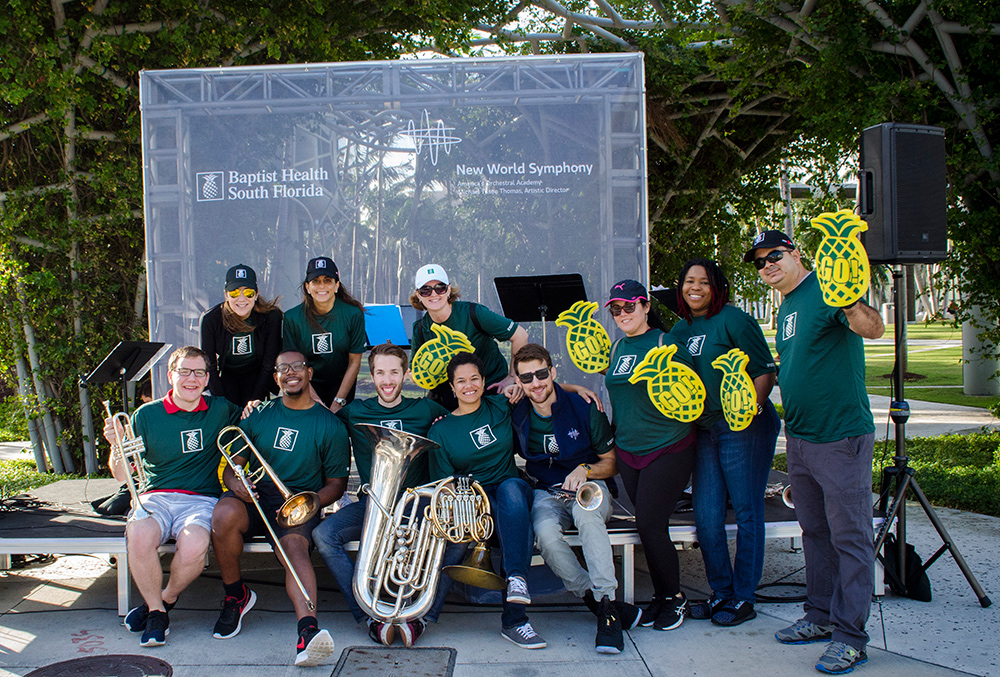 The marathon marked the launch of NWS's partnership with Baptist Health South Florida (BHSF), one of our community sponsors.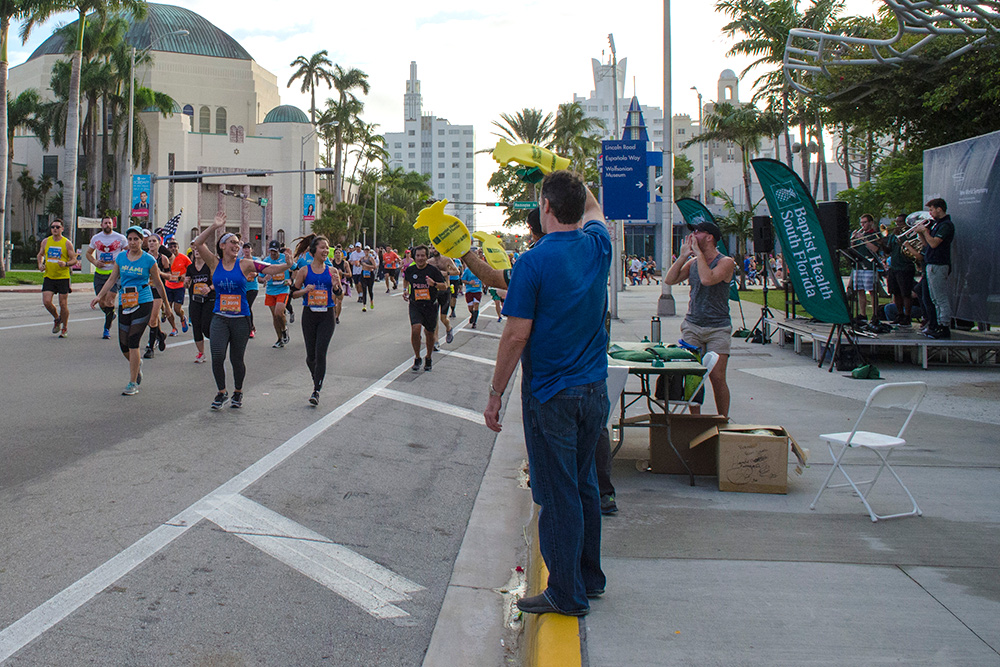 BHSF hosted an official CheerZone in SoundScape Park, where five Brass Fellows performed two sets of music for over 25,000 runners who passed on 17th Street. BHSF also covered the three races' registration costs for Team NWS.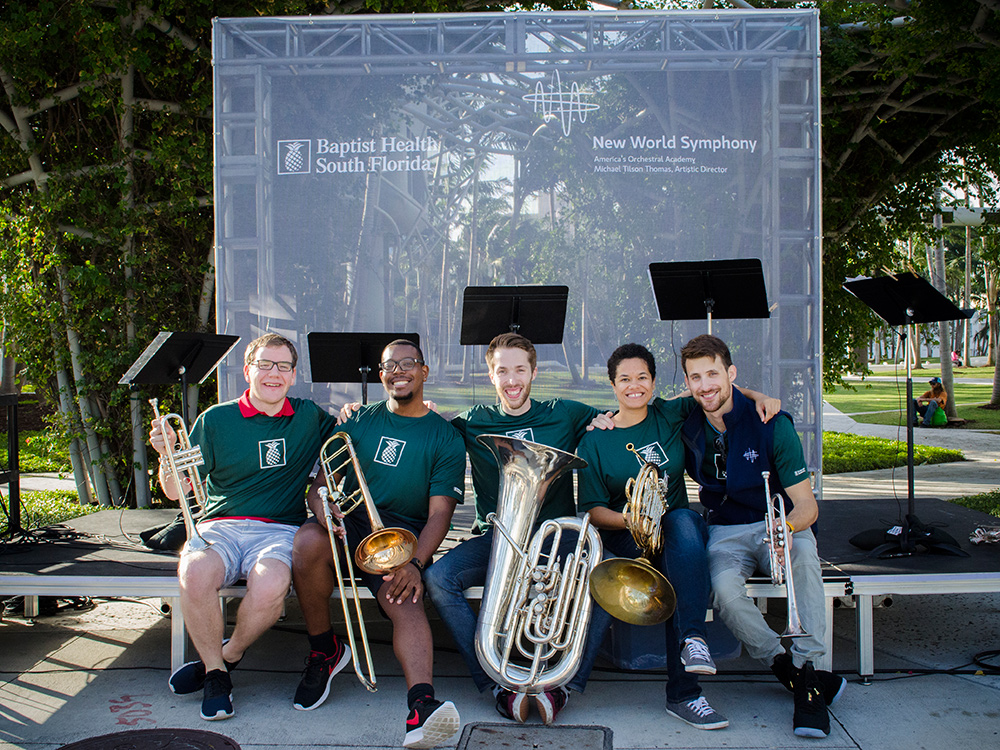 Baptist Health South Florida's partnership with New World Symphony will continue throughout the year through community events at New World Center and at BHSF's new urgent care facility coming soon to Miami Beach. BHSF's Miami Cancer Institute is also a Platinum Sponsor of our 30th Anniversary Gala next month.
Congratulations to Team NWS Miami Marathon participants!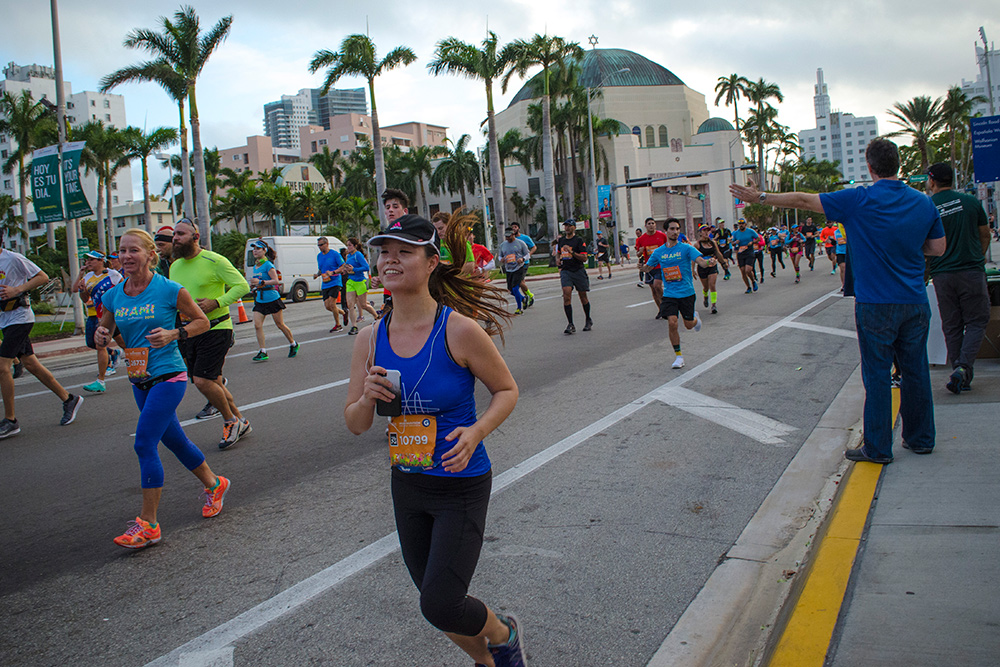 Final times for Team NWS: 
Tropical 5K:
Andrew Johnson 23:08
James Knuutila 23:42
Adèle-Marie Buis 24.52
Elizabeth Oka 27:34
Emerson Millar 27:51
Jessica Pasternak 30:25
Cynthia Burton 32:31
Margeaux Maloney 34:00
Luis Quintero 35:09 
Half Marathon:
Luke Kritzeck 01:48:37
Jake Hanegan 02:00:56
Jessica Ryou 02:06:54
Erica Gailing 02:11:31
Andrea Beyer 02:14:14
Jennifer Choi 02:15:23
Bradley Loudis 02:15:43
Drew Comstock 02:22:47
Nick Castellano 02:28:28
Charlotte Schou 02:41:51
Sean Hawthorne 03:03:19 
Full Marathon:
Michael McEvoy 03:22:45
Alan Ohkubo 04:15:49 
Sarah Peters 04:51:51
Cassidy Fitzpatrick 06:09:11




Photos courtesy of Eduardo Delgado, Sarah Peters and the Miami Marathon
Posted in: alumni, Fellows, staff
---