News
October 15, 2021
Teddy Abrams named Musical America's 2022 Conductor of the Year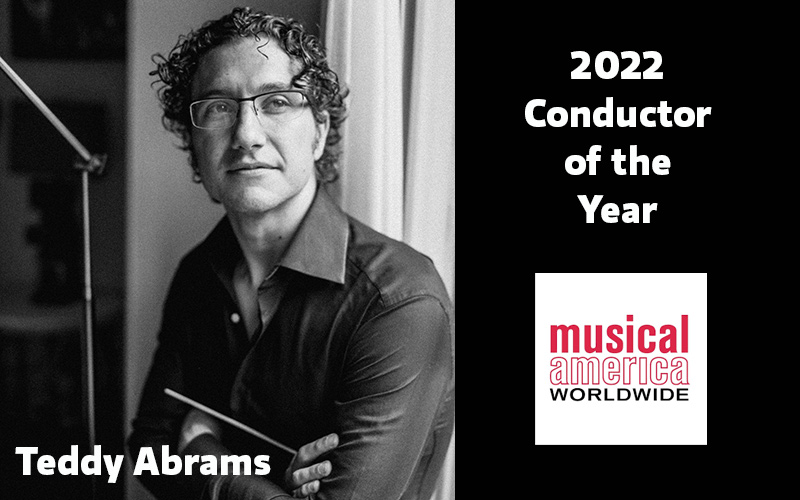 Photo by Gage Allen
Musical America has named Teddy Abrams—the galvanizing conductor now in his eighth season as Music Director of the Louisville Orchestra—Conductor of the Year. From his earliest days in Louisville, Teddy has been lauded for his efforts to connect the orchestra with the community at large. Teddy also serves as Music Director and Conductor of the Britt Festival Orchestra in Jacksonville, Oregon, and from 2008 to 2011, was the Conducting Fellow and Assistant Conductor of the New World Symphony.
As a recipient of this prestigious award, he joins a long list of conducting luminaries that includes Marin Alsop, Jaap van Zweden, Gianandrea Noseda, Pablo Heras-Casado, Franz Welser-Möst and Teddy's own mentor, Michael Tilson Thomas.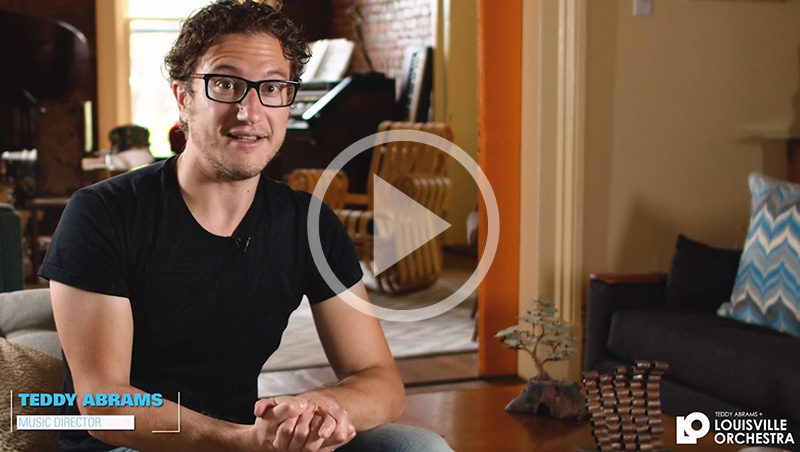 Early in the pandemic, Teddy redoubled his efforts to bring comfort through music to people across the city. He and the orchestra participated in "Lift Up Lou," collaborating with Louisville's mayor to offer Louisville residents "uplifting and engaging" live and shareable content as well as ideas to stay connected. Teddy brought together numerous Louisville-based musicians to record the collaborative song "Lift Up Louisville," with proceeds benefiting the One Louisville COVID-19 Response Fund; played a series of one-man pop-up shows on his electronic keyboard in neighborhoods around the city; offered personal 10-minute online "comfort concerts" throughout the pandemic; and co-hosted the radio show "In This Together" on WUOL Classical Louisville. His indefatigable community engagement, not only during the pandemic but throughout his tenure—including musical responses to the Black Lives Matter movement, as well as creative initiatives like his rap-opera, The Greatest, honoring heavyweight champion and Louisville native Muhammad Ali—has received significant attention from national media, including a feature in Vogue that detailed the orchestra's virtual season-opening concert honoring Breonna Taylor, and profiles on PBS's Articulate show, the PBS Newshour and NPR.,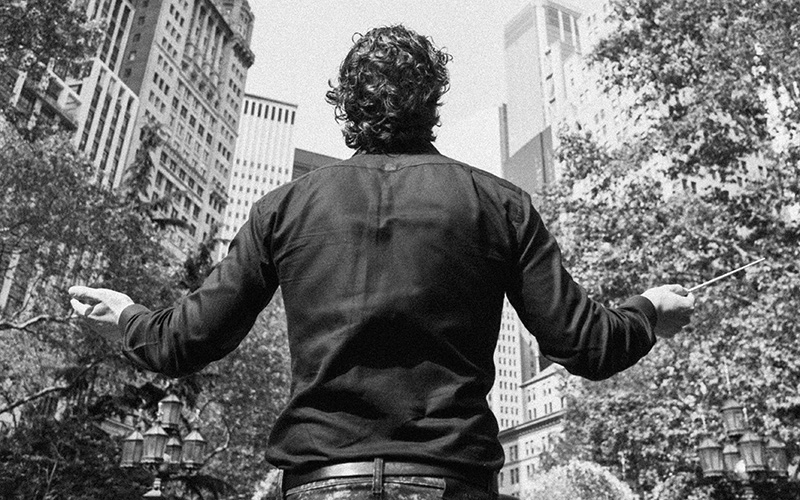 Photo by Gage Allen
In addition to conducting the Britt Festival Orchestra's annual three-week festival of concerts, he has taken the orchestra across the region in the creation of new work—including Michael Gordon's Natural History, which was premiered on the edge of Crater Lake National Park in partnership with the National Parks Service, and was the subject of the PBS documentary Symphony for Nature; and Pulitzer Prize-winning-composer Caroline Shaw's Brush, an experiential work written to be performed this summer on the Jacksonville Woodlands Trail system.
Highlights of Teddy's 2021-22 season include engagements with the Buffalo Philharmonic, New World Symphony, Pacific Symphony and Sarasota Orchestra. He appears as a featured speaker at the Rancho Mirage Writers Festival. As a guest conductor, Teddy has worked with such distinguished ensembles as the Los Angeles Philharmonic; the San Francisco, National, Houston, Indianapolis, Milwaukee, Vancouver, Colorado, Utah and Phoenix symphonies; Saint Paul Chamber Orchestra and Florida Orchestra. Internationally, he has worked with the Royal Scottish National Orchestra, Orchestre Philharmonique du Luxembourg and Malaysian Philharmonic. He served as Assistant Conductor of the Detroit Symphony from 2012-14.
Teddy returns to NWS
Since finishing his fellowship in 2011, Teddy has been a frequent NWS guest conductor, artistic collaborator and mentor to Fellows and young musicians across South Florida. Teddy returns to NWS in April 2022 to lead Latin Love and Lore—a concert featuring music by Aaron Copland, Leonard Bernstein, Gabriela Lena Frank and the world premiere of a new work by Dafnis Prieto for orchestra and the Latin ensemble People of Earth.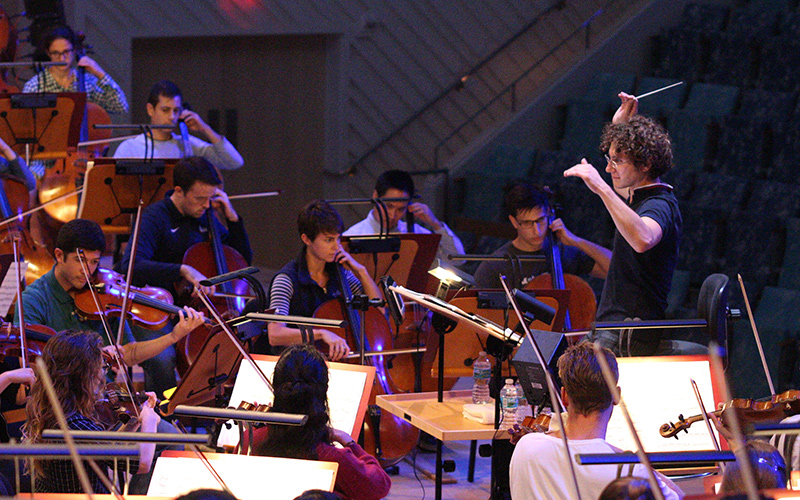 Teddy leads NWS at the New World Center in 2016, photo by Siggi Bachmann
Teddy and MTT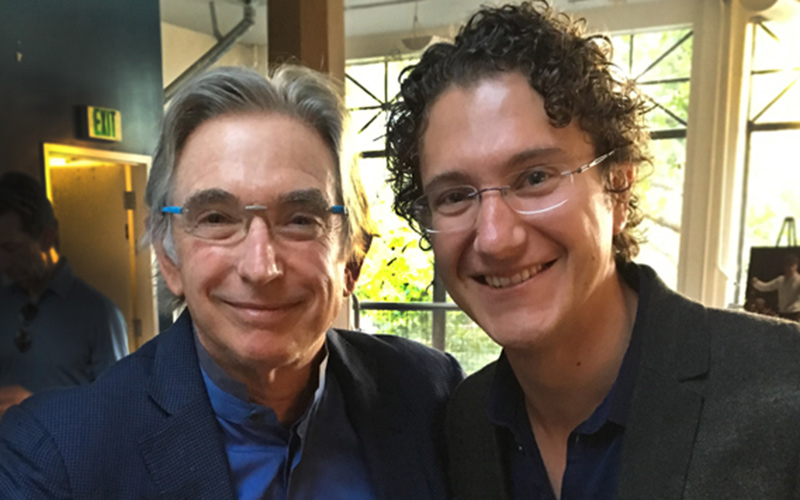 At nine years of age—after attending his first orchestra concert, Teddy wrote a letter to Michael Tilson Thomas asking if he could provide conducting lessons and soon, a mentorship developed.
By the time Abrams began his NWS fellowship in 2008, he had already worked alongside MTT during various workshops and master classes from age 15—including a conducting workshop with NWS at Carnegie Hall. In 2019 Teddy led two of MTT's tributes at the Kennedy Center Honors ceremonies.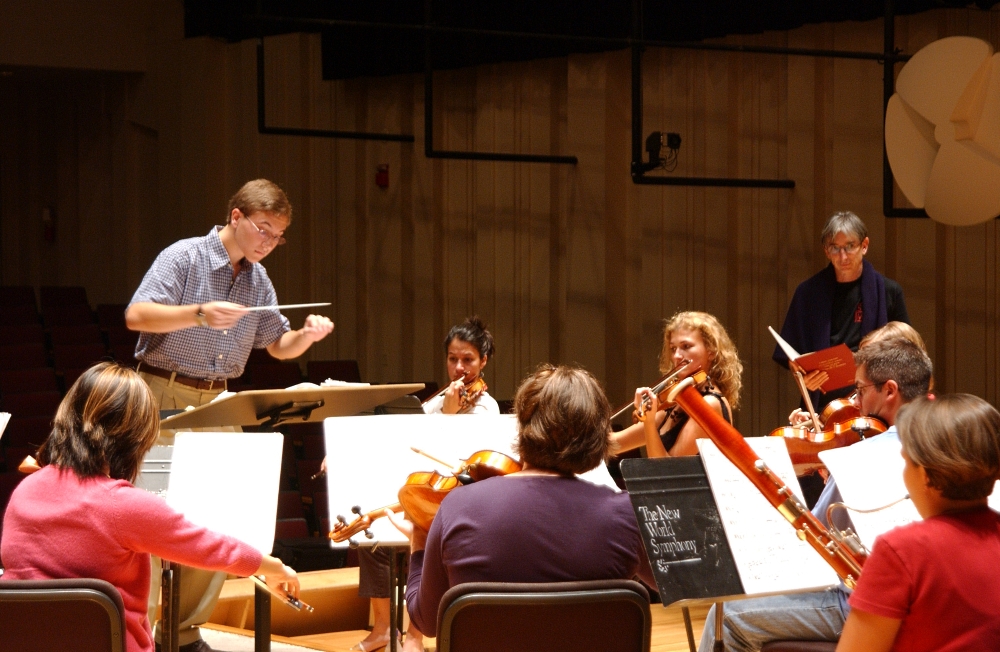 Teddy leads a conducting workshop with MTT at the Lincoln Theatre in 2003 
Music is one of the remaining professions where the master/ pupil relationship still thrives. Outside my own immediate family, there aren't that many people I've had such a steady relationship with for two decades. This world has a lot of very talented and attractive personalities, but the number of visionaries really willing to put themselves out for what they believe, is a very small number and Michael is one of them. His experiments are part of the reason we have symphony orchestras around at all these days. In my own way, I'm trying to do the same thing. I owe everything to Michael and to New World Symphony because they took crazy risks and had a lot of faith in what I would be able to absorb.
Had I not been around people like Michael Tilson Thomas growing up, I'm not sure I would have the same drive and desire to do all this work in the community, to do all this work with young people, and to be out there in ways that are beyond what you would expect of a conductor.
More on Teddy Abrams
---