News
April 5, 2022
The Rhythms of Temptation – A multicultural love story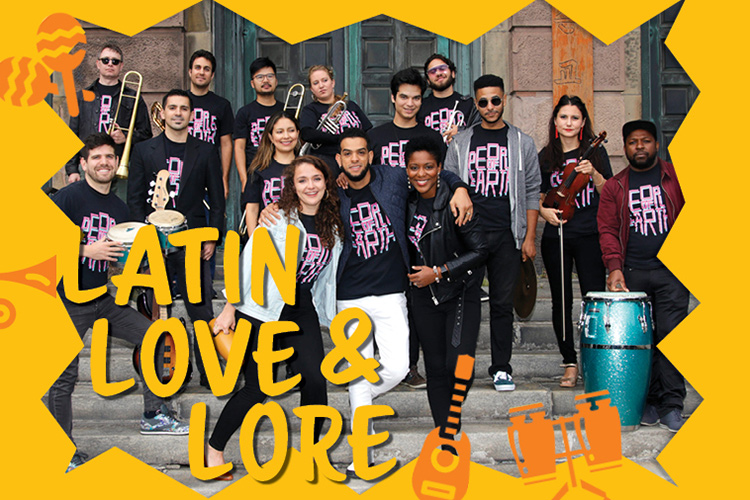 Latin Love and Lore: April 9 and 10 at the New World Center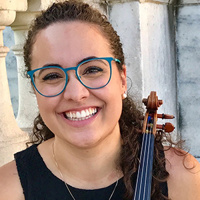 Hosanna Carella
On April 9 and 10, 2022, New World Symphony will perform Latin Love and Lore—a celebration of culture and expression. Teddy Abrams—Musical America's 2022 Conductor of the Year and NWS alumnus—joins Latin ensemble People of Earth to perform Tentación, a new work by Cuban-American drummer, composer and University of Miami professor Dafnis Prieto. The work was co-commissioned by New World Symphony and received its world premiere last month with the Louisville Orchestra. 
Click here for tickets to Latin Love and Lore.
First-year Violin Fellow Hosanna Carella recently interviewed Dafnis Prieto, Teddy Abrams and the musicians of People of Earth to learn how this piece came to be and how Tentación honors Prieto's Cuban heritage.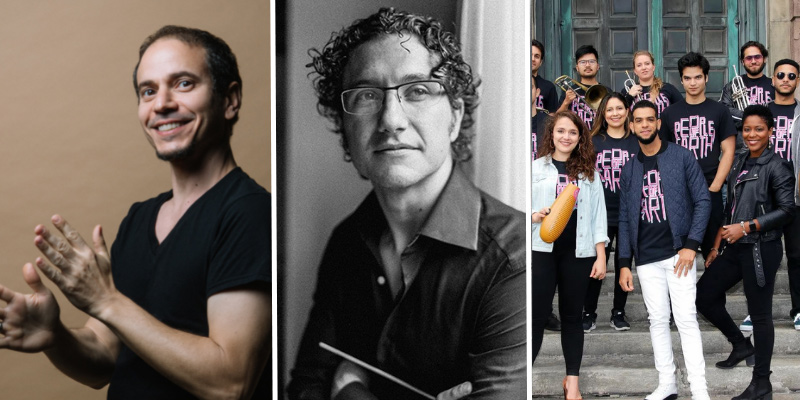 Left to right: Dafnis Prieto, Teddy Abrams and People of Earth
It is a special sensation when you can quite literally feel music with your whole being. How it courses through you, and how it elicits an exhilarating fiery energy. No other music does that like Latin music. Latin American music is its own language—it is composed of passion, sadness, anger, oppression, resistance and, last but not least, love. If you have ever been immersed by Latin American music, you know all of the above to be true. If you haven't, you can venture into this beautiful and culturally-rich world for Latin Love and Lore this weekend—April 9 and 10—at the New World Center. Conductor (and NWS alum) Teddy Abrams will be leading the New World Symphony in works by Latin American composers Dafnis Prieto and Gabriela Lena-Frank, as well as other crowd pleasers by Aaron Copland and Leonard Bernstein. One of the highlights of the concert will be the collaboration of the New World Symphony with the multicultural band, People of Earth, for the world premiere of Dafnis Prieto's piece Tentación.
Interview: Dafnis Prieto and Teddy Abrams
I had the honor of speaking with Maestro Abrams and Cuban composer Dafnis Prieto on the origins of the work and the importance of Latin American music.
How was Tentación born?
Teddy Abrams (TA): We had this amazing idea for this collaboration with old friend and classmate, Gabriel Globus-Hoenich, founder and leader of People of Earth. He had collaborated with the Louisville Orchestra in the past and we were talking one day and I said "What if instead of just having one soloist, your entire band was the soloist and we created a piece of music as the vehicle?." I asked Gabe if there was a specific composer he would like to commission and without any hesitation he said "Dafnis Prieto." From there, we decided to do a Latin American Music Festival in Louisville. We have one of the largest Cuban populations in the U.S. after Miami and it made so much sense to celebrate a population that often doesn't get attention.
How does your Latino identity influence your music?
Dafnis Prieto (DP): It's in everything that I am. In the way I think, walk and look at things. With that, it was very natural to write this piece, but it was still a challenge… But in a way that reminded me where I was coming from, culturally. The piece has so many different styles of Cuban music, like the Danzón, which is the national dance of Cuba, and it also includes Timba, Wawancó and Rap.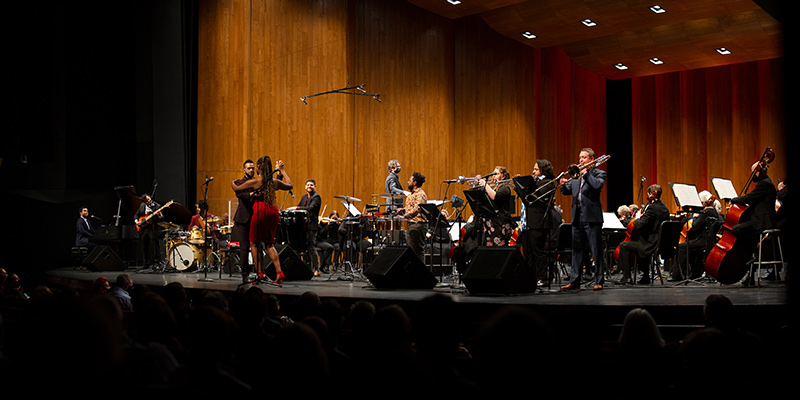 World premiere of Tentación; photo by O'Neil Arnold, courtesy of Louisville Orchestra
What sets Tentación apart from other Latin American works?
DP: The beginning is almost classical, even romantic, in a way that melts into the Danzón and the other genres of the piece.
TA: The cool thing about this piece is that it takes us on a journey through the different genres that make up Latin American music. As opposed to West Side Story, a classical piece that invites Latin sounds and dance forms, Tentación is the opposite. We are brought into an authentic world of how this music is made. We are given a close up into a world that is too often taken for granted by being given the  chance to appreciate the talent and hard work that goes into it.
DP: I think we have created new style, "Symphonic Timba." Laughs
TA: I really like that!
What did you find challenging in the compositional process?
DP: The magnitude of the piece was very challenging. I had to write lyrics for a rap! Every piece has its own journey in the compositional process, so I have to be very open minded and alert in order to create its shape. One of the main ideas I had for the work was a love story, which is why it's called Tentación. It's a love story that happens within a woman's head when she sees someone she could have had a relationship with. It's all these questions and answers and hypothetic scenarios that she is imagining—I interacted with that idea and tried to put it into the piece.
What is the importance of Latino-composed works in the sphere of Classical music?
TA: I believe that orchestras and large civic arts institutions should put out music the reflects the populations that they serve. We should build relationships within the community that aren't being built in any other way. Our role, even before putting on great shows, is to create a stronger community that has real understanding and respect for each other. The Latin American population is one of the fastest growing groups within the U.S. and our concert halls should reflect that, not to mention that the music is extraordinary. We are supposed to be celebrating great art and this is great art.
DP: The element of integration, culture, respect and appreciation for those cultures is very important. Tentación is a great representation of all of that in the highest possible quality.
Interview: People of Earth
I also had the absolute joy of meeting several members of People of Earth: Director Gabriel Globus-Hoenich (percussion), Raul Ríos (trumpet), Iván Llanes (vocals), Joana Obieta (vocals) and Victor Pablo (percussion).
What is the origin story of People of Earth?
Gabriel Globus-Hoenich (GG-H): One day in 2013, I went to this Cuban restaurant in NYC called Gauntanamera, and I heard this music that I had never heard before called Timba. I became so obsessed with it! I quit everything that I was doing, I stopped playing the drum set and I started learning all the Latin percussion instruments. I went to Cuba in 2014 for two months to really learn all these instruments. When I headed back to NYC, I was way more equipped to launch myself into the Latin American music scene and was able to make a lot more connections and in 2016 I was able to create a Latin American music group with all the right people.
How did you make Tentación your own?
Raul Ríos (RR): It was a push and pull, multi-hour process of figuring out how much of our own things we could put into the music and when we had to surrender and just let the music be.
Iván Llanes (IL): We were really lucky to be able to work with Dafnis because he was really open to our ideas on how to make the piece our own. The fact that the message and energy of Tentación is about love, beauty and adventure, it was easy for me to implement my own ideas.
GG-H: Dafnis has a very clear voice in his music, so while some things were straightforward, we had to figure out other parts. For example, one part just said "male singer improv," so we had to figure out what we wanted to do there. But it really took playing it a bunch of times and working out little details for a number of hours.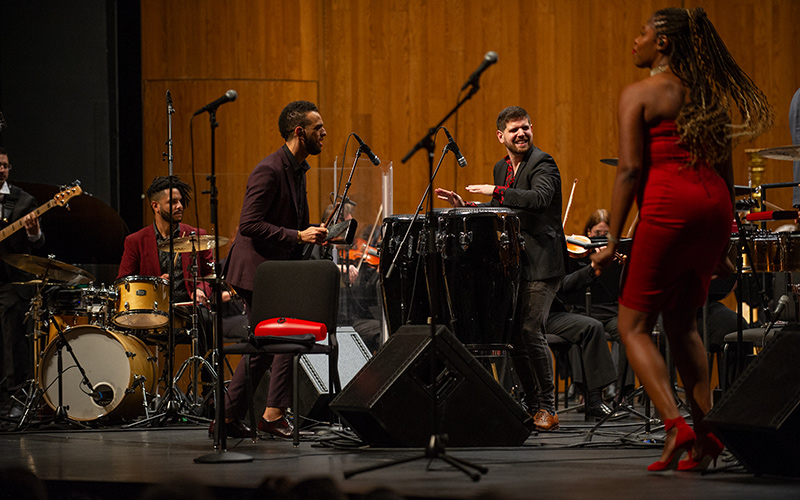 World premiere of Tentación; photo by O'Neil Arnold, courtesy of Louisville Orchestra
As a large ensemble, what are your rehearsals like?
GG-H: This is the band where everyone is a chef in the kitchen. Some of our musicians have hearing loss so they start to speak very loudly… and then the rest of the musicians start to speak loudly, so imagine a kitchen where everyone is yelling at each other and all out of love.
RR: It is very passionate! Laughs
What obstacles have you faced that have spurred your will to succeed as a group or as an individual?
RR: Being Latino and a Puerto Rican, it often feels like we need to overachieve in order to stand out. What I was taught was that I had to be better than everyone around me, practically perfect in order to succeed. As a group, the challenge is that classical players think that this is easy! Treating this as seriously as Mahler or Beethoven is not common in the classical world.
IL: I've had to leave my comfort zone many times by challenging myself to not just do percussion because it is so easy to just be "one more percussionist" in NYC. So, I've had to challenge myself to try different things, that's how I started to sing!
Joana Obieta: The Latin music scene is extremely male dominated, I have experienced this since my days in college. In the college that I attended, the professors were all male Latinos, and whenever they had to put a band together it was all men. If this is happening in an educational setting, what about the real world? It happens all the time. It's one of the things that I appreciate so much about People of Earth: it's so diverse and so open minded.
Do you find anything frustrating about how Latin American music is viewed in classical music halls?
RR: Society decided that European music was more important and it has left Latin American music to be used as program fillers, if at all. Latin American composers are not being given the time they deserve in the concert hall.
Victor Pablo: What frustrates me is that in the U.S., Latino composers / music is usually seen as lesser than or not deserving of the same attention as other composers. Sadly, it's very palpable with how orchestras and musicians avoid programming and engaging with them.
GG-H: It's really interesting when classical musicians play any repertoire that is influenced or is in another style, they do it in their own terms because they don't know how to transpose themselves into playing and thinking like a musician from that other style. For example, I have always wondered why the jazz part in West Side Story was written out in 2 instead of 4, because it gives it the completely wrong feel. You're missing out on the important beats that give it the right jazz feel. The reason for that, is that it is written in the easiest way to conduct and follow even though it is so counter to what the style actually is. The percussive rhythms of the Afro-diasporic music are a foreign way of thinking to most classical musicians.
What does being Latin American mean to you? 
RR: I love being Puerto Rican. Latin culture has such a great history, so many great musicians and maestros all over the world. We have so much gratitude for them for breaking stereotypes and for doing so many amazing things. When I play my instrument, I think of how fortunate I am to be able to honor my ancestors and carry on the legacy of Puerto Rican musicians. It brings me so much pride and gratefulness to be Latino.
VP: There are so many different meanings to being "Latino," so I can only speak for myself as a Puerto Rican. What I love about our culture is how inherently musical it is, we live it—we are born singing songs. We play parrandas with each other, we have Bomba and Plena…our history is recorded in these songs. The family-oriented aspect through musical experiences is something I don't get from anything else.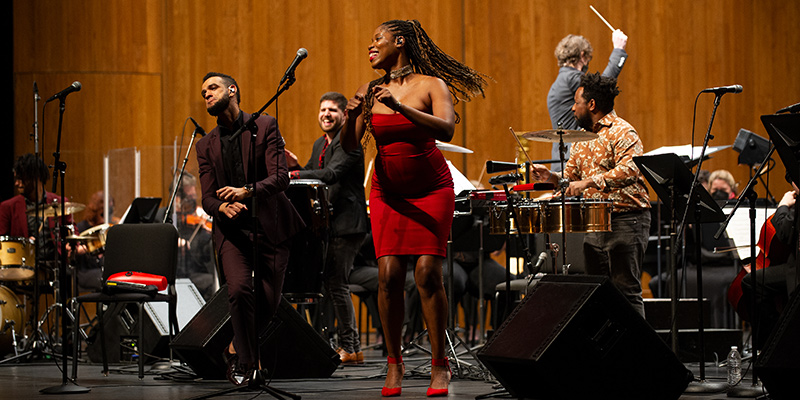 World premiere of Tentación; photo by O'Neil Arnold, courtesy of Louisville Orchestra
The feeling of community and connection that fuels Latin American music, is an experience like no other. The true essence of Latino voices cannot be feigned; there is a rich and abundant culture within them—all different, but equally important. Come explore that richness and beauty on April 9 and 10 at the New World Center.
Latin Love and Lore featuring People of Earth
Saturday, April 9, 2022 at 8:00 PM
Sunday, April 10, 2022 at 2:00 PM
New World Center
Tickets: In-Person or Webcast
Posted in: Alumni, Concerts, Events, Fellows
---