News
August 27, 2019
The Sounds of Summer 2019
Where in the world have the NWS Fellows been this summer? ALL OVER the globe! They've hit the road, skies and seas this summer to perform, teach and have fun. Read about some of their exciting adventures before their anticipated return to Miami Beach next week! Click here to plan when you'll see them next.
Harp Fellow Chloe Tula had a fruitful, coast-to-coast summer. After receiving the Third Place Selma Neumann Memorial Award at the Houston Symphony's Ima Hogg Competition, she performed with the San Francisco Symphony and Boston Symphony, and attended the Tanglewood Music Festival.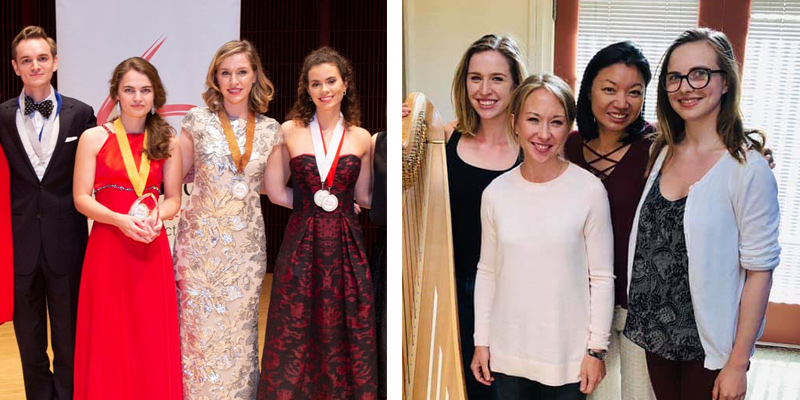 Left: Chloe with other Ima Hogg Competition finalists; Right: Chloe at Tanglewood Music Festival with NWS harp alumna Julie Smith Phillips (second from left)
Sixteen NWS Fellows and alumni served as faculty mentors for NYO2, spending time with the musicians in New York at Purchase College, at the New World Center and in New York City. Click here to read more about Bass Fellow Kathryn Bradley's experiences.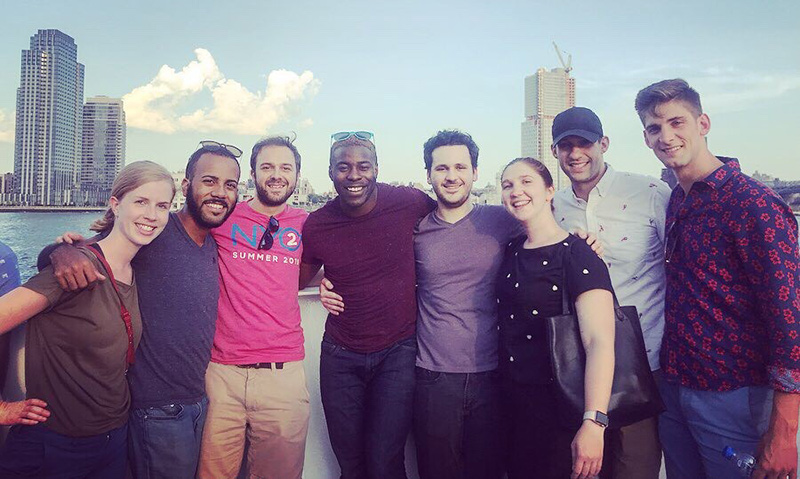 From left to right: Johanna Gruskin, Francisco Joubert Bernard, Matthew Searing, Blake-Anthony Johnson, Christopher Robinson, Kathryn Bradley, Scott Jackson and Kip Riecken
Cello alumnus Blake-Anthony Johnson returned to Carnegie Hall after the NWS Fellows' performances in May, sharing the stage with the young musicians of NYO2 and learning about Carnegie Hall's Link Up program with NWS alumni and Trustees.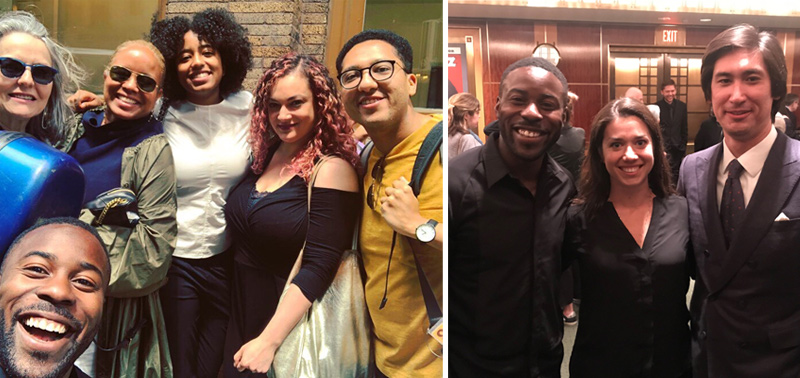 Left: Blake-Anthony with Tracey Robertson Carter (second from left) and Violin Fellow Alex Gonzalez (far right); Right: Blake-Anthony with alumni Caroline Gilbert and Dean Whiteside
Blake-Anthony also performed as part of a quartet in London, including performances in The Gherkin, as part of the Chineke! Foundation. This summer, Blake-Anthony was named the new Director of Learning and Community at the Louisville Orchestra, where he'll start this fall!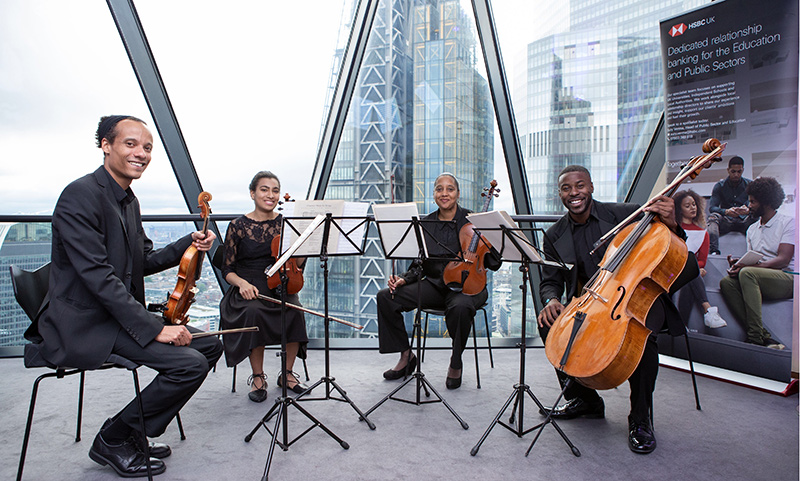 New Trumpet Fellow Gianluca Farina joined Antonio Escobedo (bass) and Brendon Elliott (violin) at the Pacific Music Festival in Japan. Highlights included performing Mahler's Eighth Symphony with a 450-piece choir and Shostakovich's Fourth Symphony for the former Emperor and Empress of Japan.
New Trombone Fellow Guangwei Fan (pictured below ,second from right) performed at the National Repertory Orchestra. He's pictured here with NWS alumnus and Music Director of the Louisville Orchestra, Teddy Abrams (center).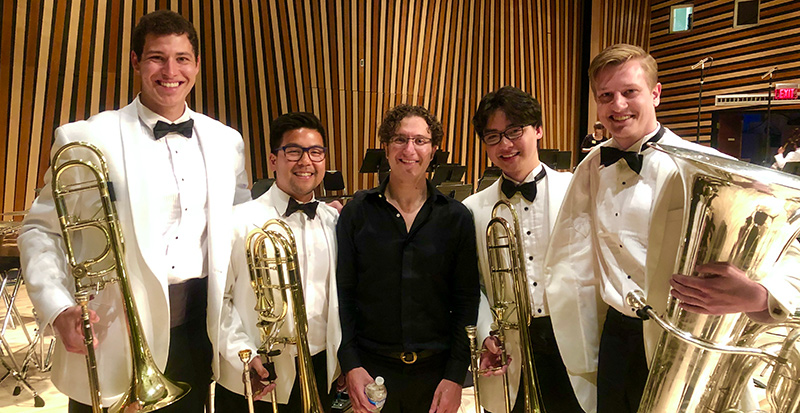 Horn Fellow Roy Femenella and recent alumnus Daniel Parrette served as Principal Horn and Principal Clarinet for the summer season of the Orquesta Sinfónica de Minería in Mexico City—an orchestra comprised of all-star members from Mexico City's five full-time orchestras and a few invited international musicians. They performed 25 concerts of 10 different programs, and are pictured here with Music Director Carlos Miguel Prieto, who will make his NWS debut this November.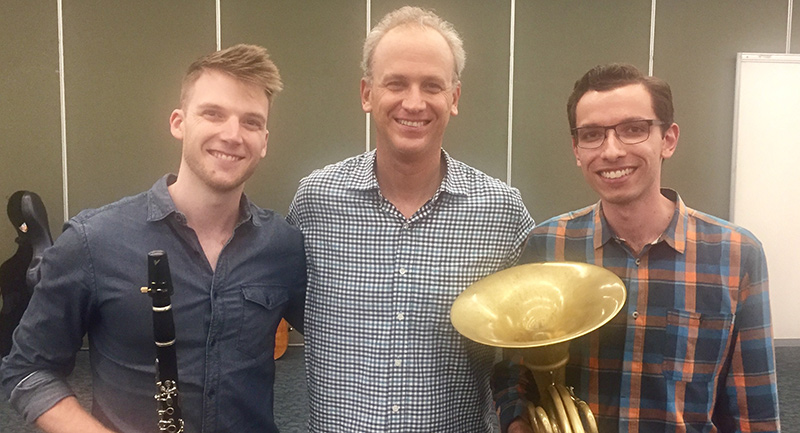 Viola Fellow Kip Riecken joined Violin Fellow Christopher Robinson and Horn Fellow Corbin Castro in Cuba for the Cuban-American Youth Orchestra. They played side-by-side with Cuban musicians with rehearsals in Spanish. As the project leader for last season's NWS BLUE project Damas y Caballeros—which sought to increase Spanish fluency within the orchestra, Kip was excited to be in a Spanish-speaking country for the first time.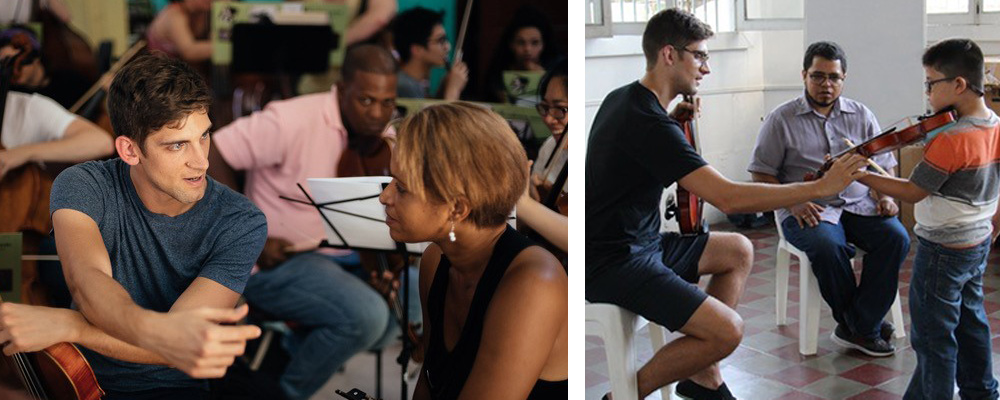 Left: Kip with stand partner Yenet Aguillon, photo by Nate Ryan, courtesy of the Cuban American Youth Orchestra; Right: Kip in El Salvador co-teaching with local teacher and violist Renato Portillo, photo by Andrea Beyer
Kip also spent time in El Salvador with Bass Fellow Andrea Beyer as part of MusAid's Teaching Artist Summer Lab. The workshop combined intensive teaching-artist training with hands-on teaching experience at partner school, El Sistema El Salvador. They worked with local students, performed at the National Theater and explored San Salvador. Andrea says her highlights included "reconnecting with bassists who I had first worked with five years ago who are now teaching their own students, playing in their National Symphony, and even have started their own music school. As a coordinator, I also enjoyed seeing the teaching artists with different backgrounds experience El Salvador for the first time, and I got to try out my photography skills throughout the trip!"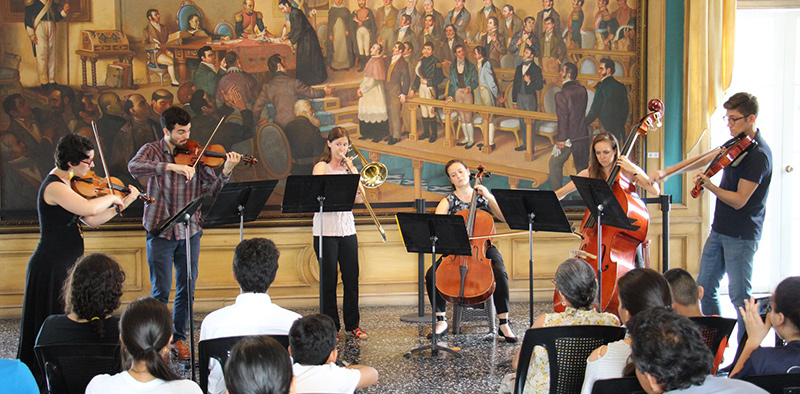 MusAid performance featuring Andrea Beyer and Kip Riecken (far right)
Violin Fellow Michael Turkell returned to the water as part of Lincoln Center Stage. He and incoming Cello Fellow Vivian Chang (pictured here in Alaska) performed on several ships from May through September.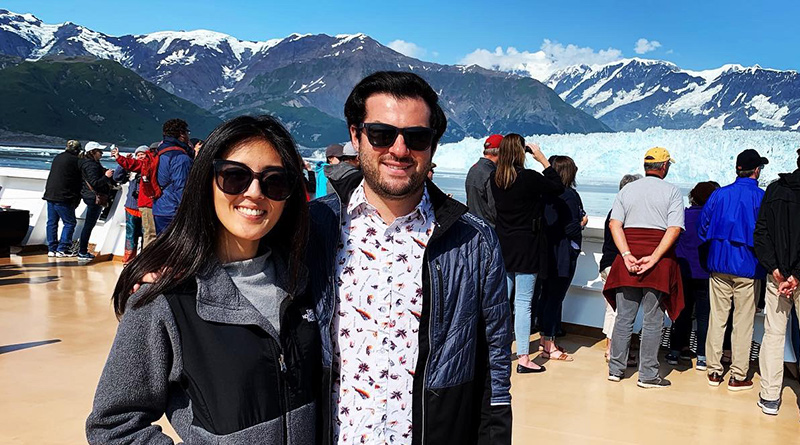 New Flute Fellow Jack Reddick—who hails from London—performed in two concerts at the BBC Proms. The first was in a joint orchestra of students from The Juilliard School and London's Royal Academy of Music at Royal Albert Hall. The second was a program titled The Sound of Space with the London Contemporary Orchestra. In the televised performance, Jack played flute, alto flute, bass flute and contrabass flute (pictured below), clarinet and baritone saxophone!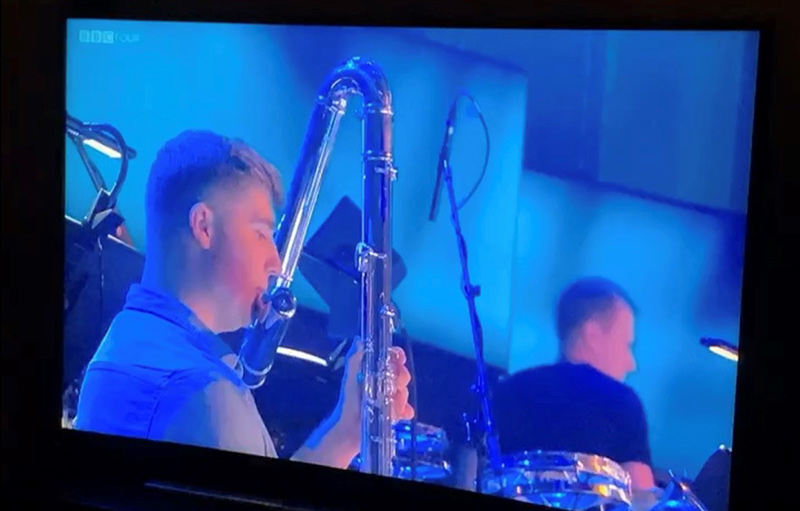 Tom Hadley—NWS horn alumnus and Dean of Admissions, Alumni and Fellow Services—traveled to numerous music festivals to catch NWS Fellows and alumni in performances across the country.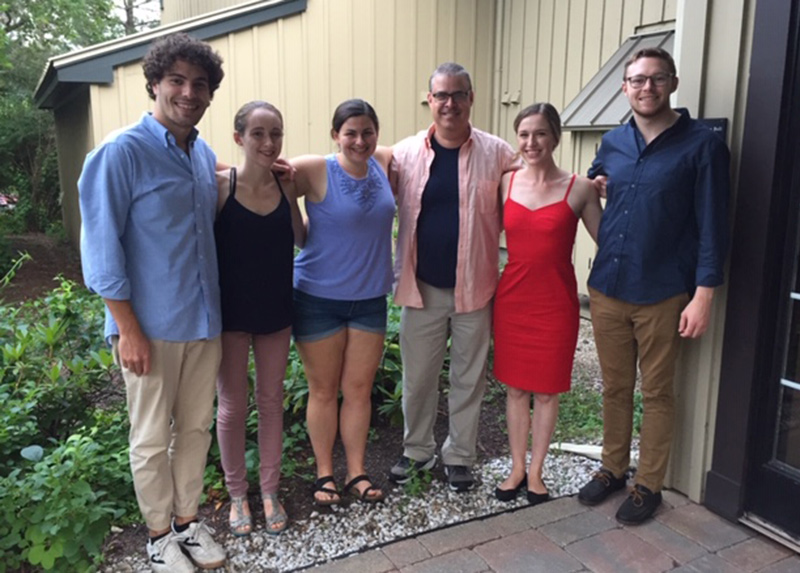 From left to right: Giovanni Bertoni, Emily Beare, Lisa Stoneham, Tom Hadley, Chloe Tula and Sam Pedersen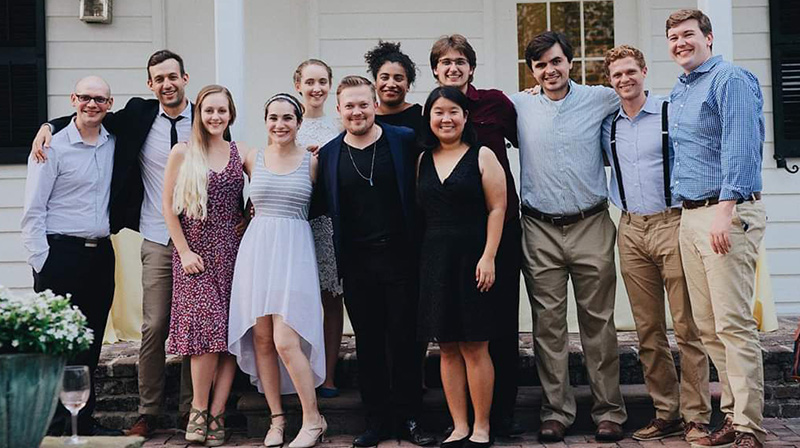 From left to right: Joe Peterson, Scott Jackson, Katherine Kobylarz, Sophia Bernitz, Emily Beare, Yefim Romanov, Chava Appiah, Yada Lee, Antonio Escobedo, Spencer Ingersoll, Ethan Hoppe and Andrew Abel
Santa Fe Opera and Chamber Music Festival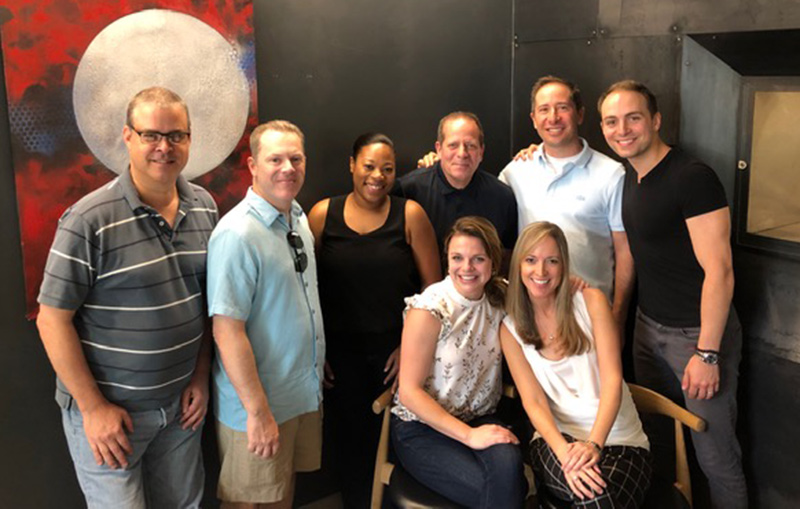 From left to right: Tom Hadley, Christopher Schnell, Ebonee Thomas, Todd Levy, Daniel Jordan, Miles Jaques, Grace Browning and Jennifer Best Takeda

From left to right: Daniel Morris, Mary Reed, Kayla Burggraf, Masha Popova, Jason Shafer, Ian Wisekal, Andrew Karr, Lou DeMartino, Theodore Harvey, Janet Harriman, Martin Shultz, Sunho Kim, Aimee Toomes Lopez, Karl Fenner and Nick Recuber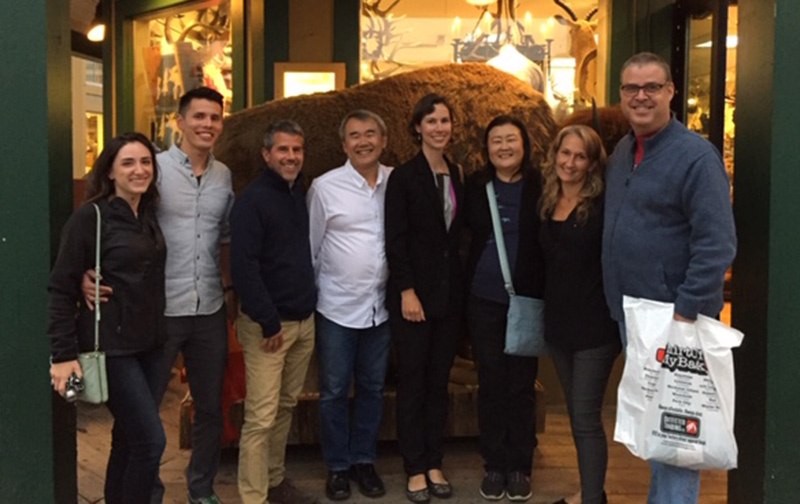 From left to right: Ally Goodman, Derek Powell, Ken Every, Simon Shiao, Anna Genest, Tomoko Iguchi, Eva Cappelletti Chao and Tom Hadley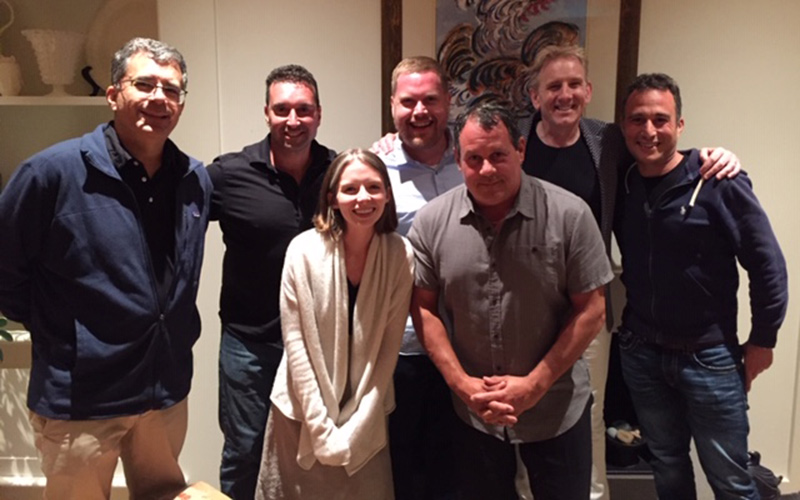 From left to right: Jerome Simas, Shawn Weil, Julia Noone, Bjorn Ranheim, Jeff Biancalana, Alasdair Neale and Alex Orfaly
---