News
September 16, 2022
The Sounds of Summer 2022
Where in the world have the NWS Fellows been this summer? ALL OVER the globe! They've traveled near and far to perform, teach and reunite with friends and colleagues. Here are some of their exciting adventures. Click here to plan when you'll see them in Miami Beach.


Several alumni performed as part of the Lakes Area Music Festival in Minnesota, where NWS conducting alum Christian Reif (center, back) is the Festival's Music Director.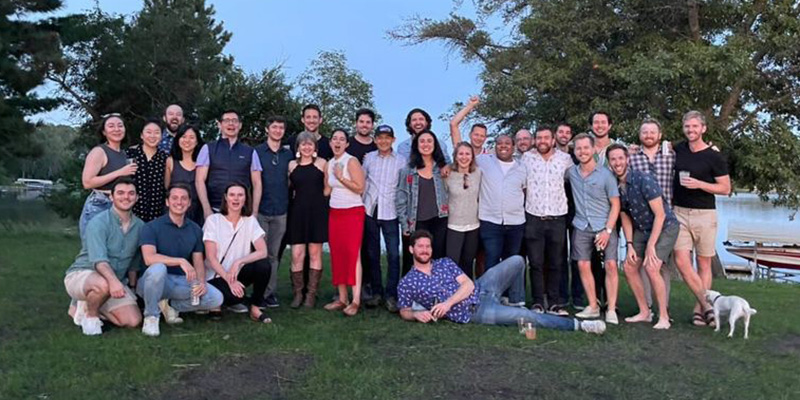 Harp Fellow Phoebe Powell attended the Spoleto Festival U.S.A. in Charleston, along with a number of other NWS Fellows and was part of the world premiere of the opera Omar by Rhianna Giddens and Michael Abels, which received a review by The New York Times. When not in rehearsal, you could find her surfing at Folly Beach. Phoebe also returned to the Chicago Symphony for its performance of Star Wars: Return of the Jedi. In August, several NWS Fellows and alums reunited in Toronto to celebrate the wedding of cello alum Clare Bradford. Aside from musical activities, Phoebe enjoyed the peace and quiet that Miami summers bring with lots of time spent at the beach and by the pool reading books, painting, baking and recharging.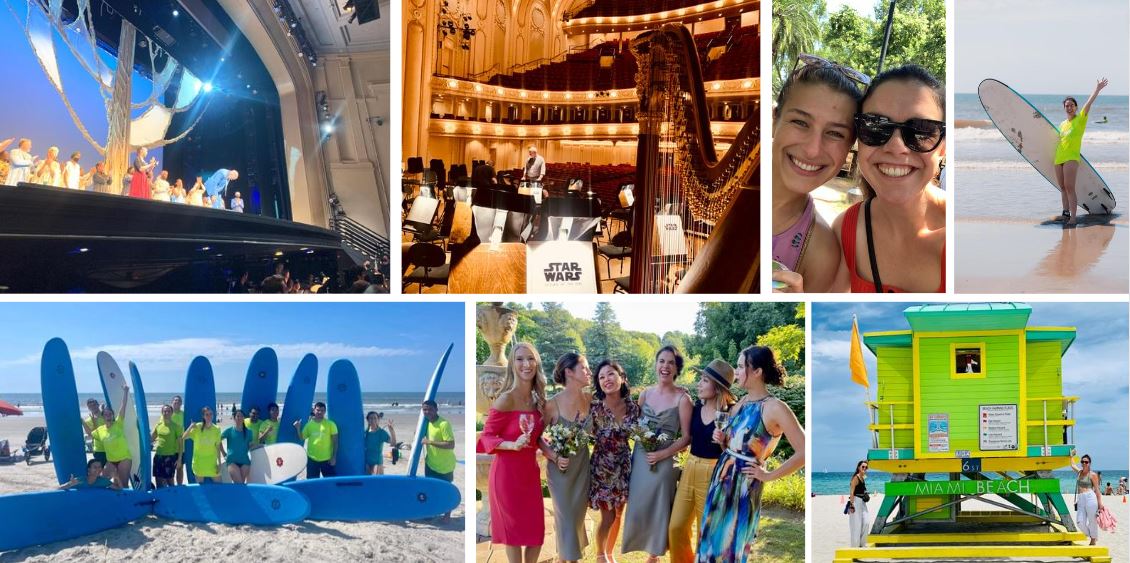 Bass Fellow Josephine Kim went to Aspen Music Festival, where she played Vivaldi's Four Seasons with Melissa White, and played in several of the Festival's orchestras.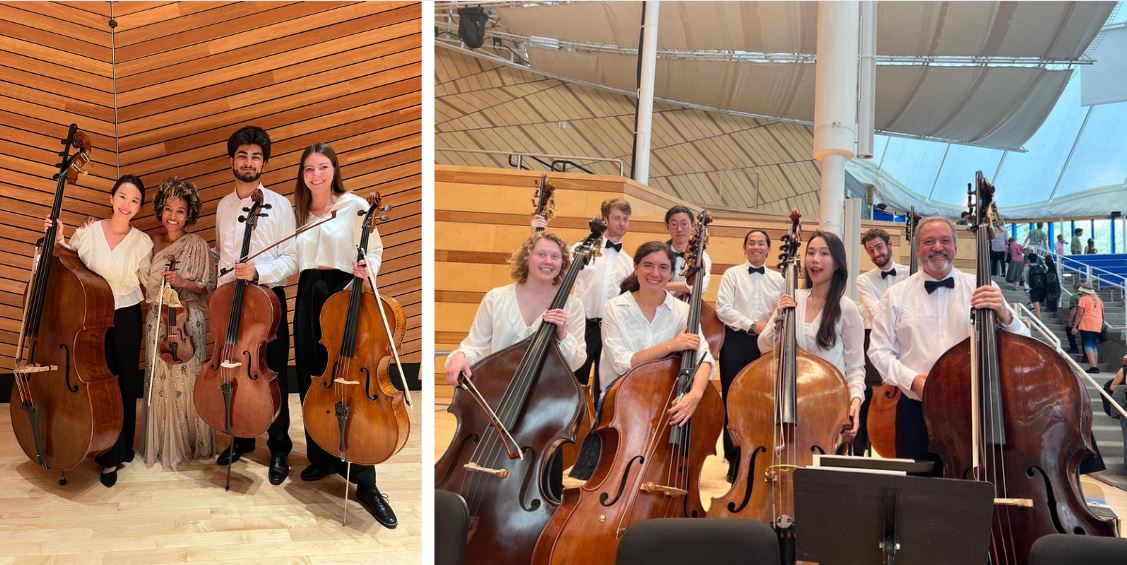 Bassoon Fellow Eleni Katz was named a winner of the Concert Artists Guild's 2022 Victor Elmaleh Competition. The Concert Artists Guild seeks to partner with musicians who are thoughtful citizen musicians and have a commitment to connecting their music to the greater world.


India Hooi, our Audio/Video Fellow, attended the choir course at Spain's Early Music Morella festival and sang a concert of Monteverdi choral works. She also performed a run of the self-penned classical music comedy show "Clas y Cos y El Del Piano," and sang a concert of Spanish Renaissance music with chamber choir Adamar. India also travelled to her hometown of Adelaide, Australia, where she sang and played at the weekly live radio music show "The Hillbilly Hoot" along with her musical family members.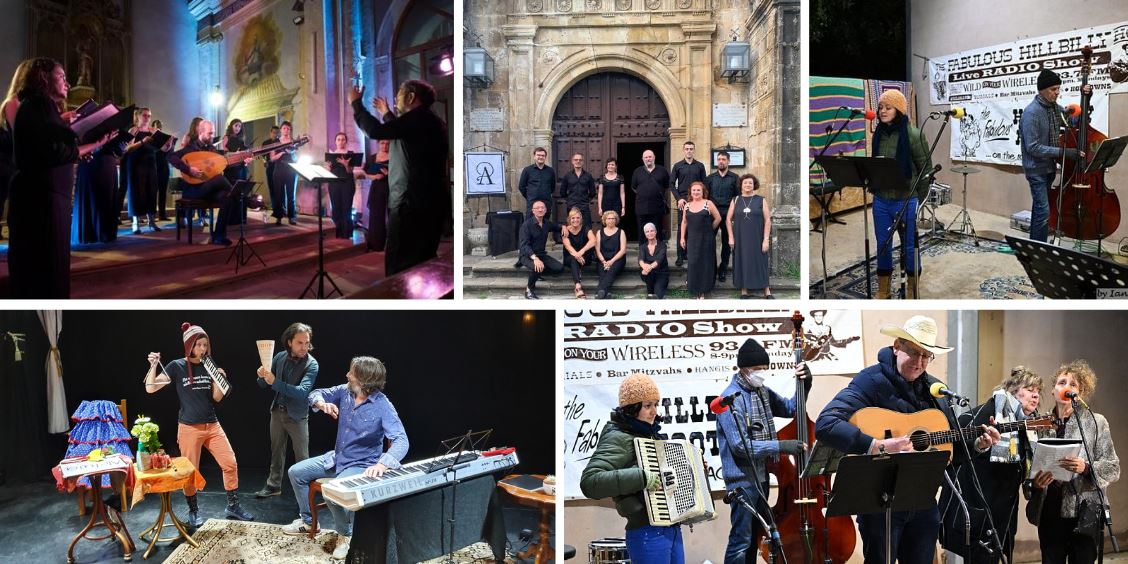 Library Fellow Julia Karstens took a road trip up Blue Ridge Parkway with her partner, Christian Youngers before heading to Aspen for the summer. While there, she was able to work with/learn from a couple NWS alumni: Ali Verderber and Aspen McArthur. Julia also got to say hi to another New World Fellow, Josephine Kim, and dress up as the four seasons with her team for Melissa White's recital, where she performed Vivaldi's Four Seasons. The Festival's season-closer included Berlioz's Requiem, which called for the entire AMFS library team. All of that was followed by another cross-country road trip back to Miami Beach.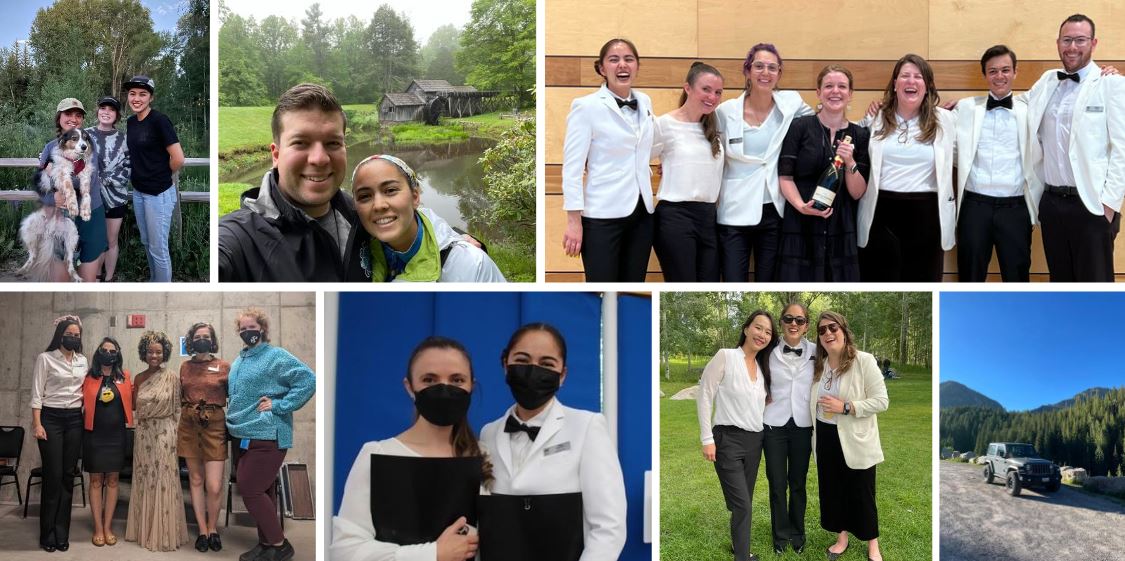 Percussion Fellow Joe Desotelle finished his summer on tour with the Philadelphia Orchestra. They were to perform in London on Thursday, September 8 where upon the news of the Queen's death the original program was cancelled and replaced with "God Save the King" and Elgar's Nimrod. Prior to this they travelled and performed in Edinburgh, Hamburg, Berlin, Dresden, Lucerne and Paris. Along the way Joe met with NWS alums from The Cleveland Orchestra, Marc Damoulakis and Tom Sherwood, and Pittsburgh Symphony, Emilio Carlo and Jeremy Branson.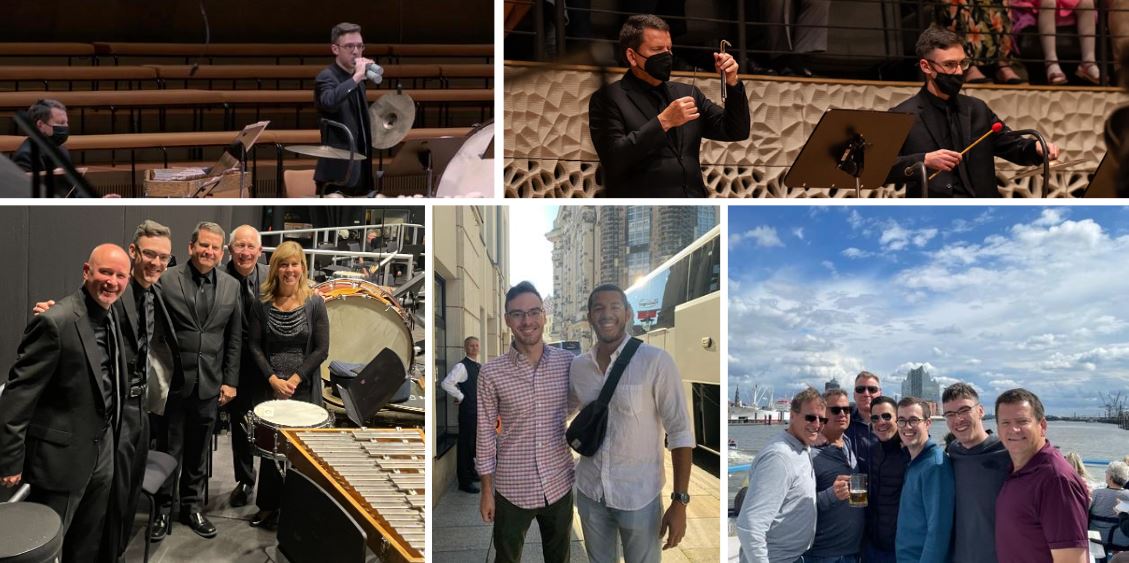 First-year Bassoon Fellow Brendon Sill played with the National Repertory Orchestra in Breckinridge, Colorado this summer. He performed 25 concerts in eight weeks, with artists such as Michael Stern, Tanya Miller and Jason Seber. He was able to take part in community engagements, master classes, hiking and horseback riding at 9,600 feet; he received his offer to join the New World Symphony while summitting Quandary Peak, a hike that surpasses the elevation of 14,271 feet.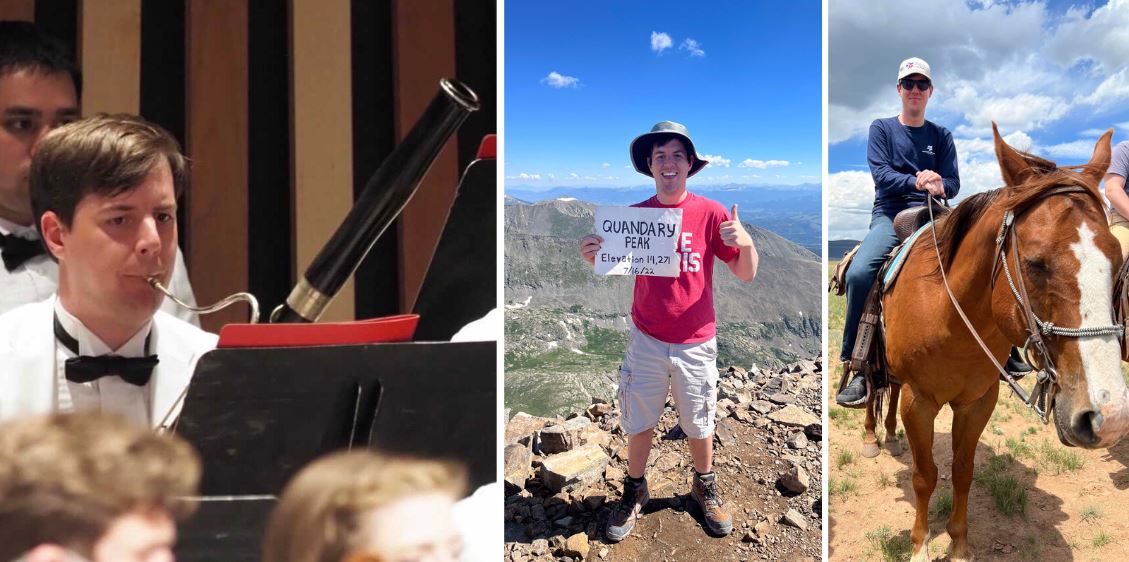 New Piano Fellow Noah Sonderling returned to Aspen for the third time this summer as one of the orchestral keyboard fellows. One of the highlights of the festival was performing with Renée Fleming and Rod Gilfry on Kevin Puts' recent piece, The Brightness of Light.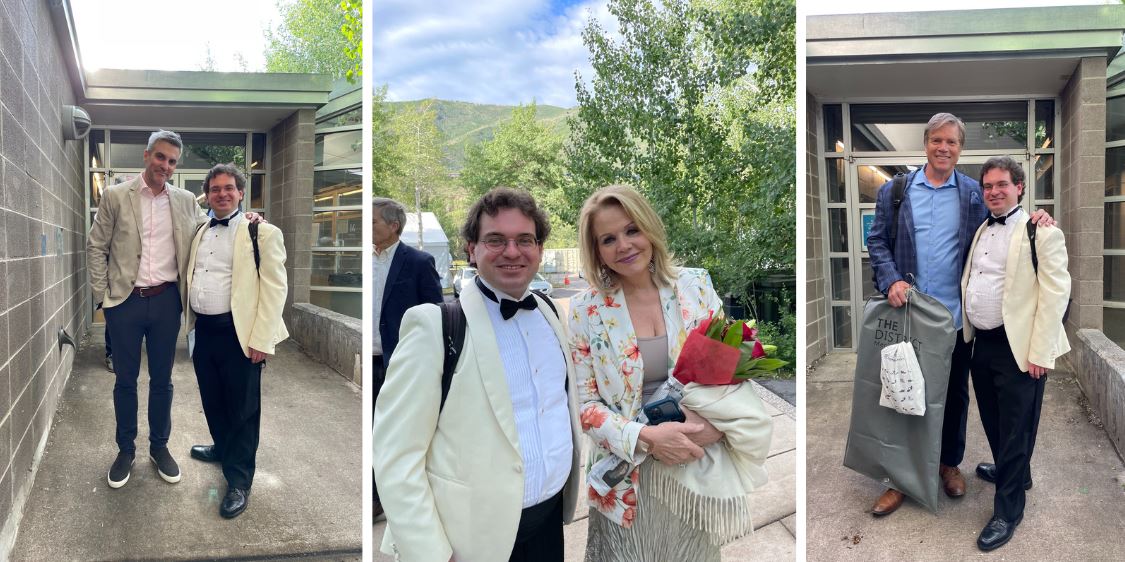 A large part of Violin Fellow Dominique Bégin's summer was to teach at and organize the Camp musical de Québec, a music day camp that he co-founded with his family in 2014. Dominique taught a class for children aged 7 to 10 and said he had an absolute blast! They had around 90 students in multiple instruments, including violin, viola, cello, piano, harp, organ and voice. They also for the first time included a theatre option led by his brother who studies in that field.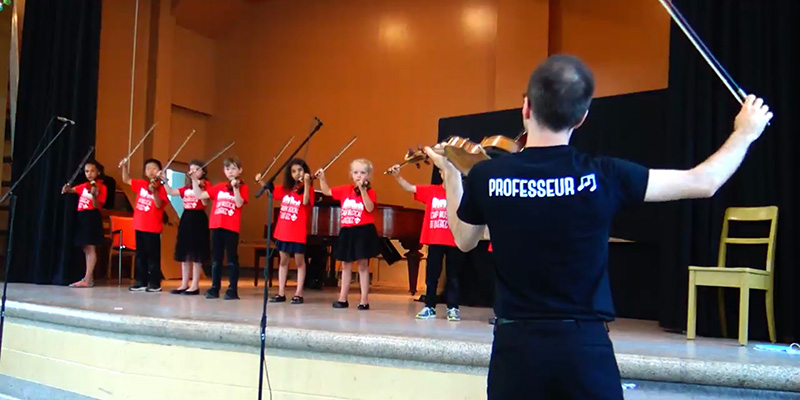 First-year Violin Fellow Allison Taylor attended Music Academy in Santa Barbara, California (with fellow Fellows Kenny Chauby and David Alexander). Highlights included working with Jessie Montgomery, playing Beethoven's Fifth Symphony at the Santa Barbara Bowl and enjoying the beautiful California beaches!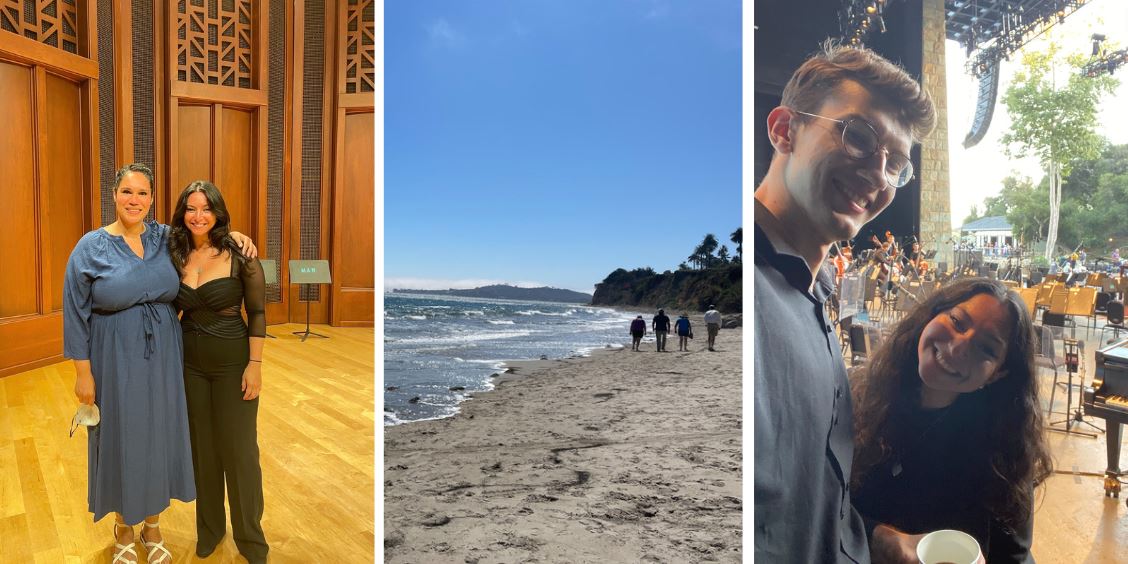 First-year Violin Fellow Beatrice Hsieh shares she had the honor of serving as concertmaster of the Spoleto Festival U.S.A. orchestra for the world premiere of Rhiannon Giddens' and Michael Abels' opera Omar, a Spoleto commission inspired by the true story of Omar Ibn Said, a West African scholar taken from his home in Senegal and enslaved in Charleston. While playing in this production and other Spoleto Festival concerts, she met and worked alongside many NWS colleagues and alums, including fellow first-years Logan May, Toby Winarto, Alan Tolbert, Henry Bond and Jakob Gerritsen. At both Spoleto and the Lucerne Festival (Switzerland), Beatrice worked with Tyshawn Sorey on several of his pieces, including his notable "spontaneous composition" Autoschediasms. At Lucerne, she also performed with Anne-Sophie Mutter, Kirill Gerstein and Thomas Adès as a violinist of the Lucerne Festival Contemporary Orchestra—her third time there as an ensemble young artist. NWS second-year Viola Fellow Carolyn Farnand gave Beatrice a warm New World welcome as they performed together on stages in Lucerne and Cologne. In between busy rehearsal and concert days, Beatrice took the opportunity to paraglide amongst the Swiss Alps surrounding Lake Lucerne, and ended the summer with a 533-step climb up to the top of the Cologne Cathedral and back down—in concert dress from a matinee no less!
---