News
July 1, 2021
Will Osborne and Dorothy Terrell assume new leadership roles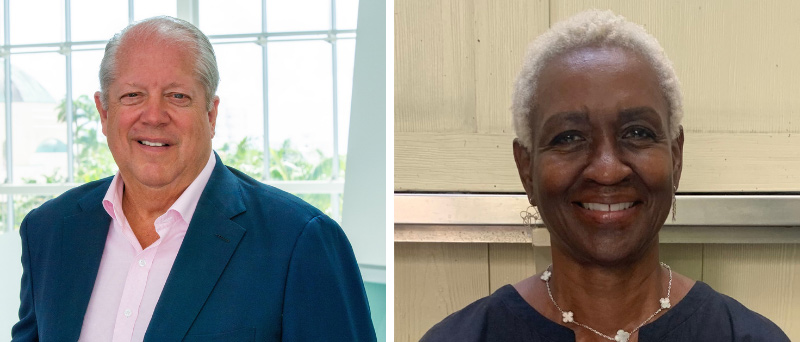 William M. Osborne III and Dorothy Terrell. Photo of Mr. Osborne by Gregory Reed.
William M. Osborne III has been unanimously elected Chair of the Board of Trustees of the New World Symphony, America's Orchestral Academy (NWS), and assumes his new role today. Mr. Osborne succeeds Edward Manno Shumsky, who served as Board Chair from 2015 to June 30, 2021.
Dorothy Terrell will take on the role of Vice Chair, alongside Vice Chairs Adam Carlin and Mario De Armas.
"The New World Symphony has a great tradition of trustee leaders who embrace our innovative spirit," said Michael Tilson Thomas, NWS Co-Founder and Artistic Director. "I am so pleased that Will Osborne has agreed to carry on that tradition. I look forward to working closely with him as we continue to respond to the needs of our Fellows and of our art. And I am happy that Dorothy Terrell has agreed to be a Vice Chair. Her belief and support of NWS has been a vital part of our recent history."
Mr. Osborne has served as a trustee of the New World Symphony since 2017. In addition, he chairs the NWS Development Committee and served as Chair of NWS's 2019 gala – A Celebration of John Williams – alongside his wife Karen Bechtel. It was the first time for NWS to present a WALLCAST® concert of its gala program to community members in SoundScape Park.
Mr. Osborne is a retired investment banker and asset manager and moved to Miami full time 12 years ago. He attended Yale University and was a member of the Spizzwinks, an all-male a cappella group. He continues to support his alma mater as a trustee of the Yale Art Gallery, the country's largest university art museum. In addition to his support of NWS, Mr. Osborne serves on the board of the National World War II Museum in New Orleans. In response to the Covid-19 pandemic, Mr. Osborne, his wife Karen, and his son Mac founded Meals for Heroes Miami, which provided 40,000 meals to first responders throughout Miami during the worst of the crisis.
"I am honored to succeed my friend Edward Shumsky as Chair of the New World Symphony," said Mr. Osborne. "Michael Tilson Thomas and the New World Symphony have led the global classical music field in how music is taught and presented. As we enter the second decade in the Frank Gehry-designed New World Center, NWS continues to innovate and expand the field in ways that will impact classical music for generations to come."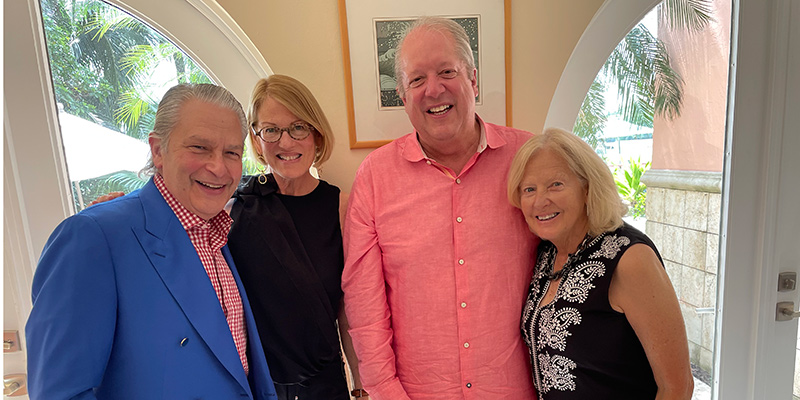 Edward Manno Shumsky, Susan D. Kronick, William M. Osborne III and Karen Bechtel, photo by Joshua Robison from an NWS Board Luncheon at his and MTT's home
Senior technology executive Dorothy Terrell is an investor, Founder and retired Managing Partner of FirstCap Advisors. As a corporate executive, Ms. Terrell previously served on boards for publicly traded companies such as General Mills, Herman Miller, Sears, Lightbridge (telecommunications) and privately held Endeca Technologies.
In addition to the NWS Board of Trustees, which she joined in 2018, Ms. Terrell is VP of the Board of Trustees at the Pérez Art Museum Miami and serves on the Boards of the SEED School, Miami and Black Angels Miami. She is an honorary trustee of the Massachusetts General Hospital. She was a Founding Board Member of The Rose Fitzgerald Kennedy Greenway Conservancy and the Commonwealth Institute.
Ms. Terrell is committed to NWS's equity, diversity and inclusion initiatives and, in 2019, pledged a leadership gift supporting NWS's College Track Mentorship Program, which provides talented local students access to NWS Fellow mentors, free lessons, professional-quality instruments, tuition and travel expenses to attend summer music festivals, as well as college preparation.
"I am inspired by New World Symphony and Michael Tilson Thomas's commitment to the next generation of classical musicians and an inclusive future for classical music," said Ms. Terrell. "I am thrilled to be taking on the role of Vice Chair and continuing to support NWS in its efforts."
Mr. Osborne and Ms. Terrell will assume their roles on July 1, 2021.
---