Support NWS
The New World Symphony Collaborations Fund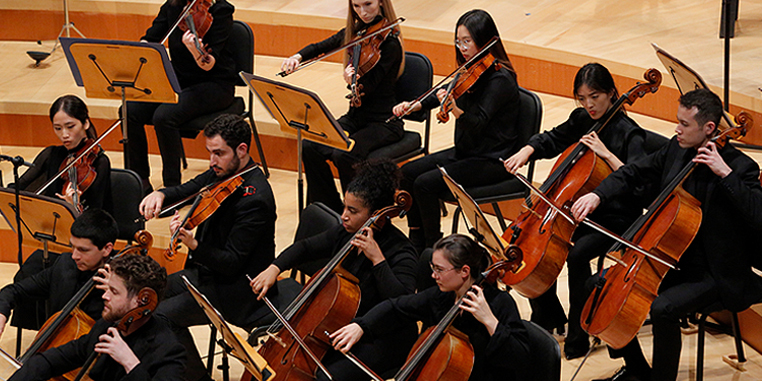 The Collaborations Fund supports the New World Symphony's partnerships with like-minded organizations from Miami's arts community and other non-profit groups whose mission and values complement those of NWS.
The Fund was established in 2021 with a lead gift of $500,000 by NWS Trustee William Kleh and his wife Patricia Kleh.
Of the establishment of the Fund, Mr. Kleh said "The City of Miami's identity, in many ways, revolves around a commitment to the arts. The Collaborations Fund seeks to build upon this commitment by encouraging NWS to continue to work with other arts organizations to present creative programs and events which include classical music as a key component."
Mr. Kleh was further inspired by his involvement with NWS's Equity, Diversity, Inclusion and Belonging (EDIB) Committee: "To this end the Fund will seek collaborations with other organizations (both within the arts community and other non-profits which may not be focused on the arts) who share NWS's commitment to the mission and values of the EDIB Committee. It is my hope and desire that the Collaborations Fund will inspire other donors, both individual and institutional, to invest in this concept, ultimately providing a robust stream of support that will enable collaborative projects and partnership ideas to come to fruition without unnecessary delay."
Projects will be selected to receive investment from this Fund at the discretion of NWS's Co-Founder and Artistic Director Michael Tilson Thomas, alongside a committee of NWS senior staff.
Of this new Fund, MTT said "I have always thought of the New World Center as a Musical Meetinghouse. This fund will help us expand on that concept. We are so grateful for the Kleh's generosity and their continued belief in our mission."
Recent partnerships have included a celebration of the artistic partnership between Igor Stravinsky and George Balanchine with the Miami City Ballet, and a collaboration with Human Rights Watch and pianist Awadagin Pratt exploring his own, and the universal, experiences of racism.
Your gifts to the Collaborations Fund will allow NWS to present educational and artistic programs that are suited for partnerships with local arts and social service organizations.
*Under Gift Options, please specify "This gift is being made for NWS Collaborations Fund".
Collaborations Fund Donors*:
$500,000
Kleh Family Foundation, Mr. and Mrs. William Kleh
$45,000
The Wege Foundation
$10,000
Dr. Matthew Budd and Ms. Rosalind E. Gorin
$5,000
Ann and Don Morrison
*as of April 4, 2022